Wondering how to create the perfect space for your wardrobe? So much can be done with the space in a walk-in closet to personalize the room and make it your own. Your choice of design and colours can give you much-needed flexibility to organize your entire wardrobe conveniently. Sometimes people are concerned about limited space and wonder whether they have enough room to install a custom walk-in closet of their choice.
Regardless of the size of your walk-in closet, you want a walk-in closet system that maximizes the space and gives you versatility and convenience. In this article, we will show you a number of walk-in closet design ideas you can select from to get to the walk-in closet of your dreams. By playing around with different layouts and colours, you may be surprised by just what you can accomplish and how much space you can create with limited space. So whether you are a homeowner or live in an apartment building or condo, there is a walk-in closet ideal for your home.
1.Brown Wooden Drawers with Chandelier
This his and hers closet design idea is timeless and offers plenty of space to neatly store clothes and other essential items in your wardrobe. The brown the wooden drawers and shelves add a richness to the closet and is a perfect blend of traditional and modern style. The light colour of the carpet matches the walls and ceiling and creates a beautiful contrast to the deeper brown. The chandelier lights add a nice touch and complement the cabinetry perfectly.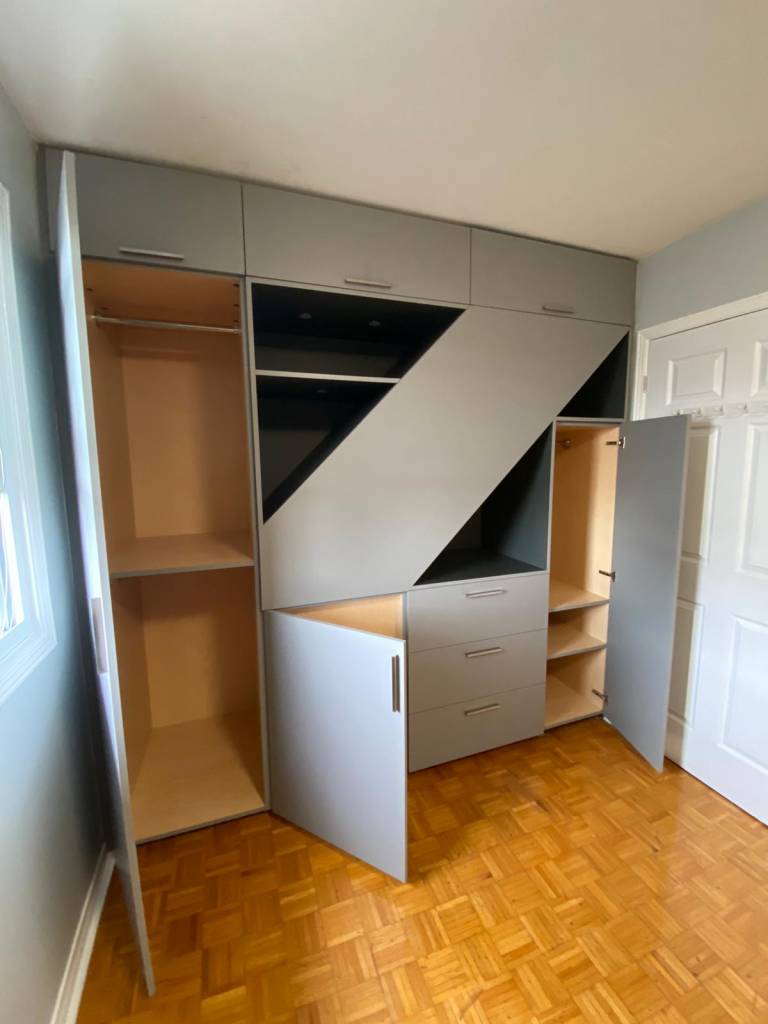 2.Rhomboid Walk-in Closet
Many people believe that they have to give up on the possibility of a custom closet because they do not own a home. This closet design idea is ideal for apartments and condos because it can be conveniently fitted into a smaller space and can be conveniently built into your bedroom. This is both a closet and focal feature of your room due to its unique design. The top shelves are a perfect spot to store shoes or other wardrobe items you want to store away.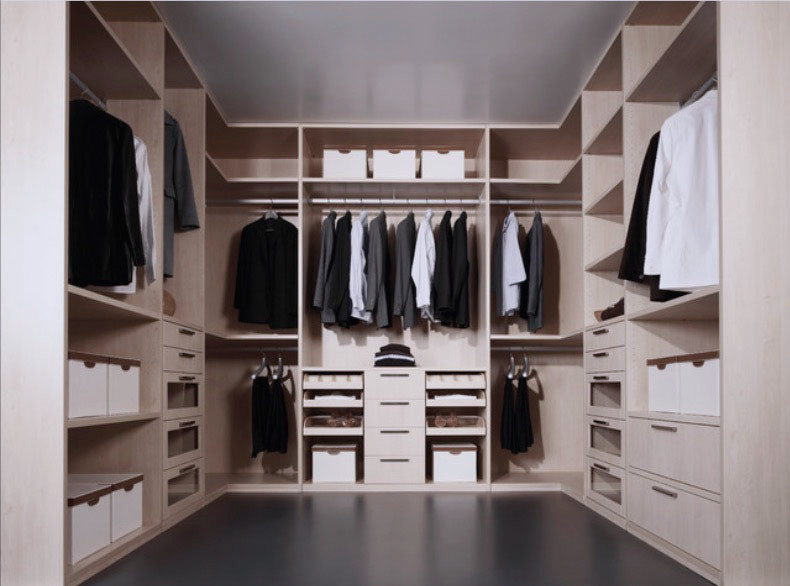 3. Light-Coloured Wood Closet
There is so much to appreciate about this particular closet space. The first thing that stands out about this modern walk-in closet is the generous storage space that allows you to find a perfect spot for every item in your closet. Lighter shades of wood can be just as alluring and darker ones. The light-coloured wood makes the room look brighter and contrast between the floor and the ceiling gives this modern closet two thumbs up.
4.Custom Classic Walk-in Cabinet
Talk about classic! There's nothing not to love about this walk-in closet. The detail is impeccable and may make your closet your favourite area in your home! The custom cabinets are breathtaking, and the white colour of the shelves makes the room look fresh and bright. The actual size of the closet is on the smaller side, however, the abundant shelves and drawers maximize the space and provide plenty of storage for your clothes. There is a simplicity to the room that is endearing while the cabinetry adds character to the space. This walk-in cabinet organizer is a total win!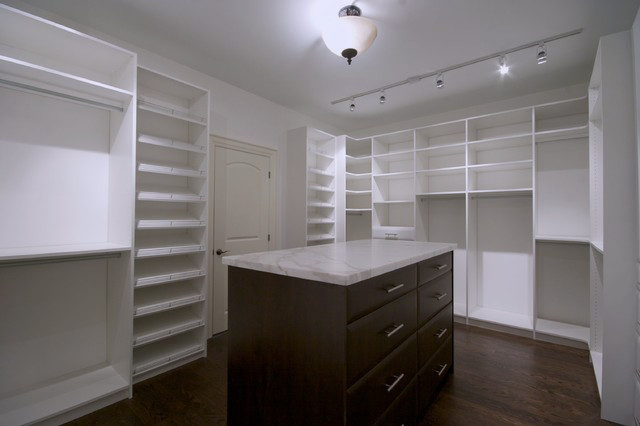 5.Custom Closet with Island
Shelves galore! There is plenty of room in this custom closet for your closet. The Island feature in this closet space is perfect for incorporating additional space for your clothes. This feature stands out even further due to the brown colour of the drawers which accentuates the floors while the rest of the shelving in the closet has a white finish which is classic and alluring.
6.White Classic Walk-in Closet
The design of this walk-in closet is simple yet classic. It offers sufficient storage space and the baskets are handy for storing accessories and other items that make you want to keep in your closet. The choice of flooring adds to the comfort and style of the room, and the white cabinetry gives this room a fresh look.
7.Dark and Light
This closet exudes class and style. The shoe compartment towards the bottom allows the top shelves to be used for storing other staples in your closet. The recessed lights hidden in the ceiling illuminate the room and the dark floor provides a unique contrast to the ceiling and cabinetry. Another example of how dark floor and light ceiling blends beautifully.
8.Luxury Organized with Island
This walk-in closet is exceptional! The white throughout the room gives it a clean fresh look and this is a perfect example of how a consistent colour can create a simple and pristine look. The closet is divided into appropriate sections for various clothing items and accessories, making it convenient to organize your closet. This closet is built on a single wall and has an island feature for additional closet room. The windows allow plenty of light into the room.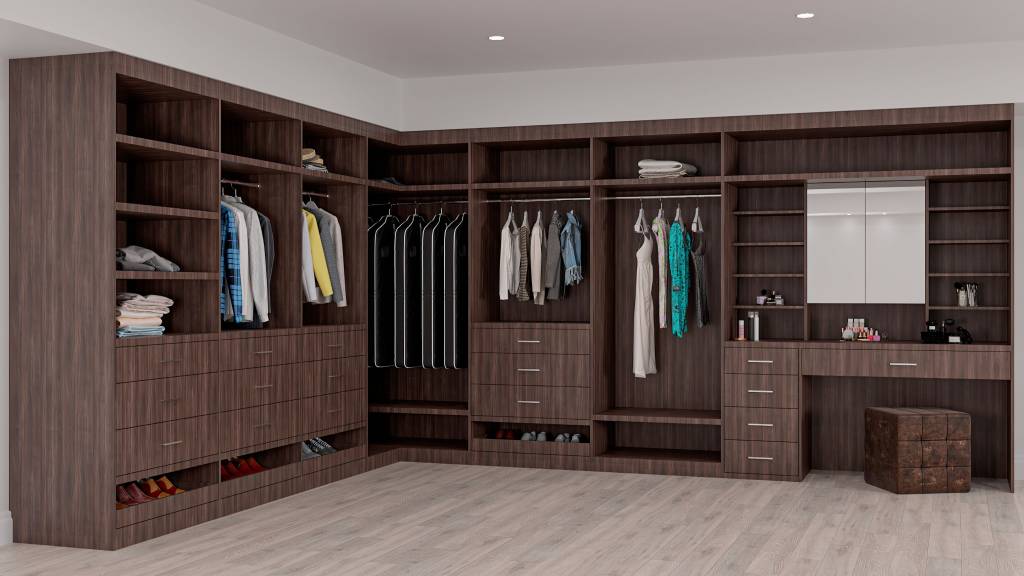 9.Elegant Walk-in Closet
This is more than your standard walk-in closet. The standout feature in this closet is definitely the cabinetry, which is loaded with character, commands attention and provides abundant storage space. If you have a large wardrobe, this custom closet design is perfect for you. It has a station for cosmetics and is equipped with a mirror to help you get ready for your day. The recessed lights add additional lighting to the room and are perfect because they do not detract from the cabinetry.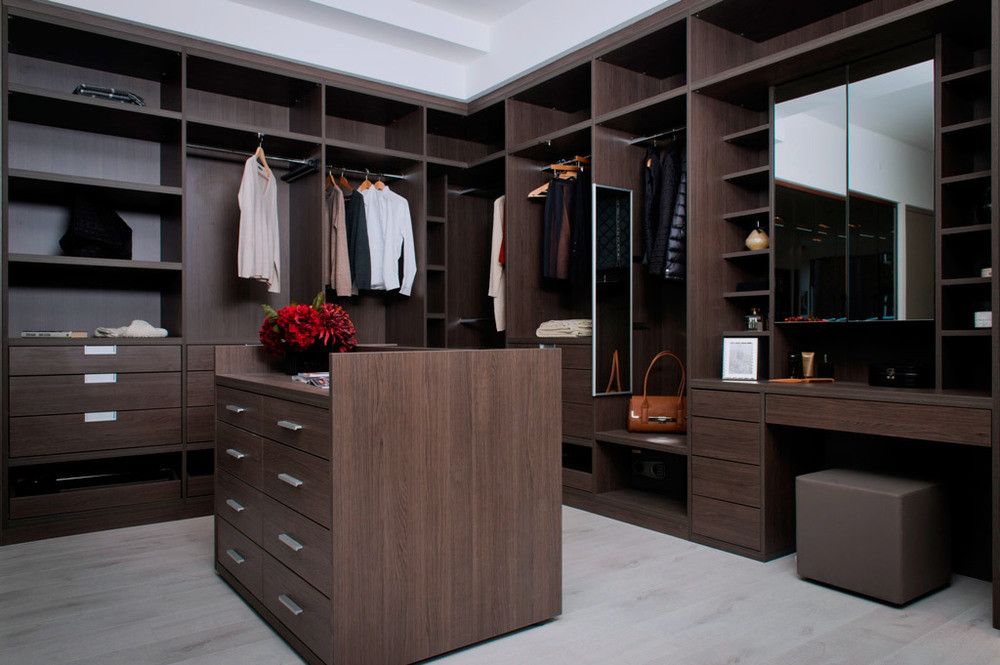 10.Sleek Designed Walk-in Closet
The sleek design of this walk-in closet is perfection. The double mirrors and cosmetic station are convenient and allow you to get ready for your day inside your closet. You can never go wrong with traditional brown.
11.Wood Theme Custom
One of the great things about custom-built closets is that you have the freedom to select just about any colour, design and layout. This custom walk-in closet is unique and the wood theme gives it a rustic look and feel. You can never go wrong with wood flooring to accompany the cabinetry.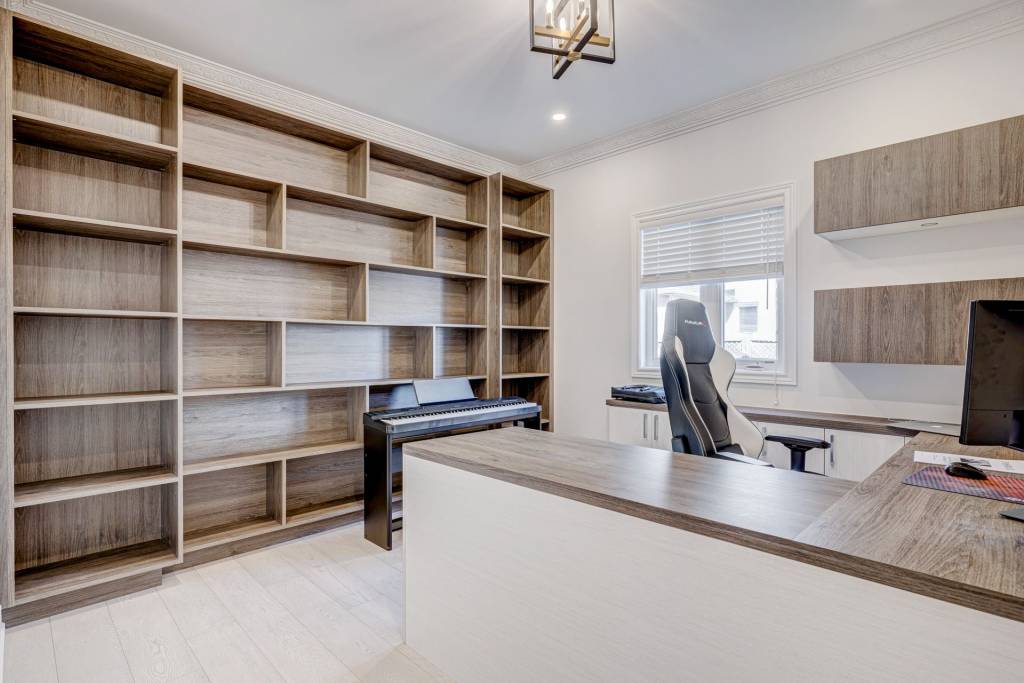 Don't let limited space hold you back from installing the perfect walk-in closet for your home. Our designers at Clearview Kitchen are happy to answer any questions you may have and help you achieve the best closet for your space.