There are few home renovation projects more exciting than the kitchen. As a focal point where family and friends will often gather, it's important to create a space that is warm, welcoming, and vibrant. Large in size, it can be challenging to determine exactly how you want to approach kitchen renovations, thankfully though, ideas are ample and new materials and technologies are making the project more affordable than ever.
In this article, we're going to explore some of the best kitchen renovation ideas around. Use them as inspiration as you work towards creating a space in your home that people love.
Modern Kitchen Renovation Ideas of 2022
Update Your Countertops
One of the first things that kitchen visitors will notice is your countertops. As the most commonly utilized piece of material, it's important that you have countertops installed that are both beautiful and durable. The decision between quartz, granite, marble, and laminate can be a difficult one, often coming down to a few key deciding factors like cost and style. That said, know that a countertop update is an investment in the future of your kitchen, and you should install something that will stand the test of time.
Install Translucent Cabinet Doors
Solid, one-piece cabinet doors are not the only option available for your modern kitchen renovation. With the help of translucent doors, you'll be able to create a brighter, open kitchen experience. Pairing the option with an elegant cabinet structure will also add to the experience and vibrancy of the space.
Install Vertical Storage
A beautiful kitchen is often a clean kitchen, and new storage options like this vertically stacked slider-shelved will help a ton with succeeding on that front. Designed to work as both cooking supply and pantry storage, vertical sliding drawers will add a unique element to your kitchen that increases both the visual appeal and functionality of the space.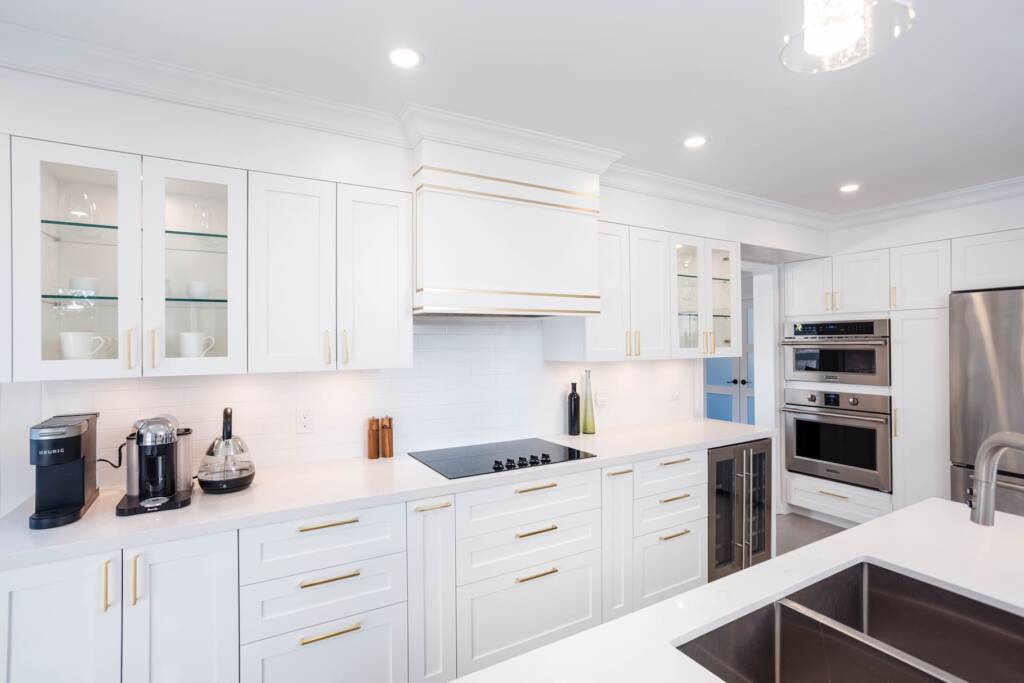 Install Your Pot Lights
The lighting fixtures installed in your kitchen will heavily influence the atmosphere and experience. Placing modern, dimmable pot lights throughout the space – both under cabinets, along with the ceiling, and anywhere else they'll work – can have a tremendous impact on creating a vibrant space that's inviting and warm. The example photo attached shows just how elegant a few cabinet and ceiling pot lights can be, and how important they are to the overall feel of the space.
Use Contrasting Colours
There is no rule stating that your island, cabinets, and trim must all be the same colour. By combining different colours and textures across the two or three fronts, as the example kitchen does with white and natural wood, you can create a truly unique kitchen experience. Pairing darks and lights throughout the kitchen will allow for a beautiful contrast that pops.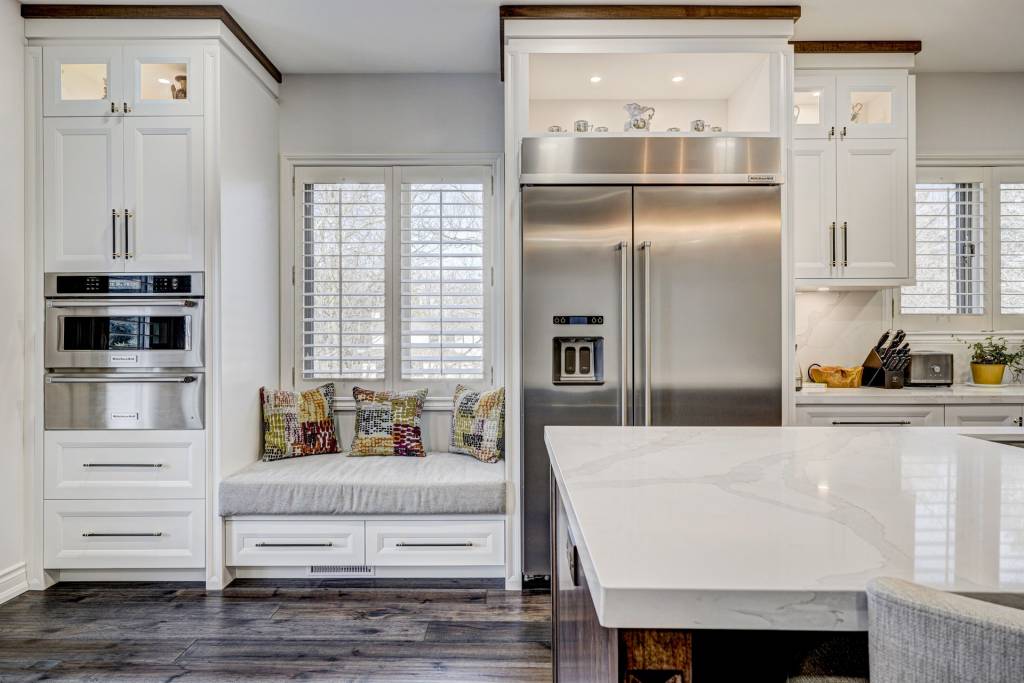 Install a Daybed
Your kitchen should be a place where people gather, and what better way to create a comfortable experience than with a cozy daybed installation. Best placed beside windows, a daybed will act as both a decoration piece and a lounge spot during event hosting. As an uncommon piece in most kitchens, a daybed will certainly add a modern elegance to your space, and will often be brought up in conversation for its originality.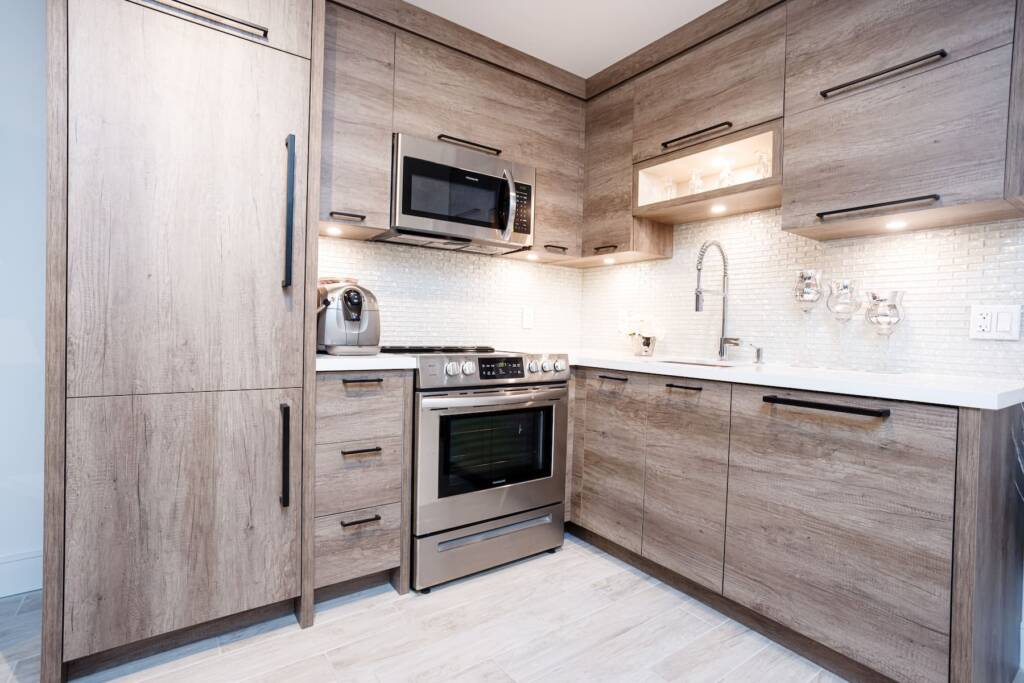 Install Textured Cabinets
Although simply designed, flat cabinets have been getting the spotlight in recent years, there is something very elegant and beautiful about well-designed textured cabinetry. When looking at your kitchen renovation options, don't count out the coloured – whether natural or dyed – and textured cabinets, as they'll offer you a unique space that will stand out from what most others are currently doing.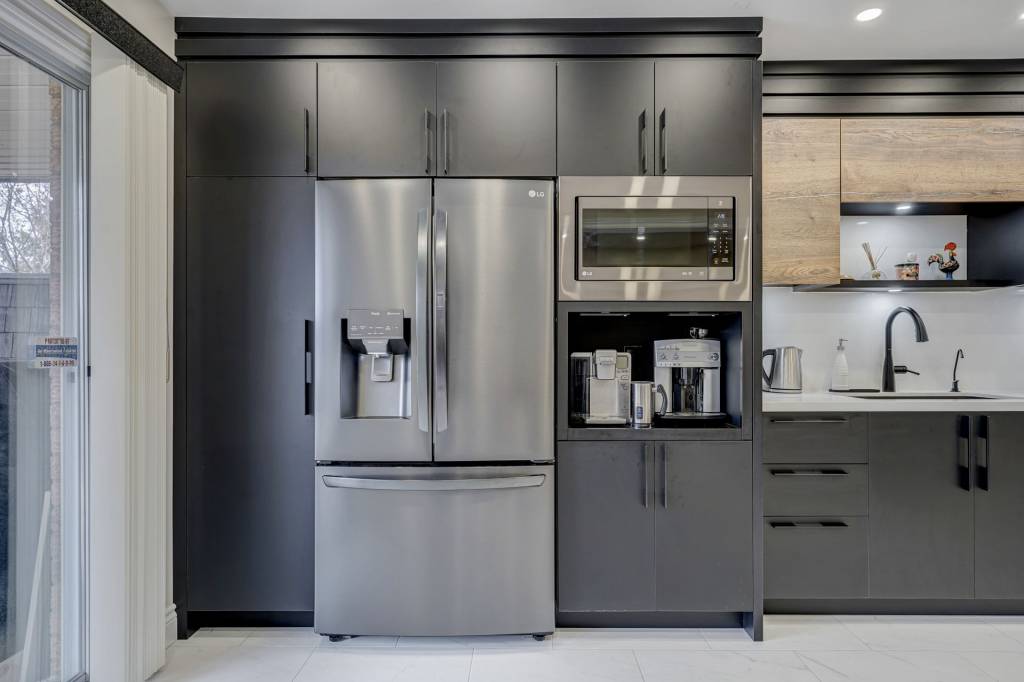 Install Black Cabinetry
Black cabinetry is often associated with luxurious, high-end architectural design, and there's absolutely no reason you can't use it as a way of turning your kitchen into an elegant, defined space. With the help of adequate lighting and contrasting elements, black cabinetry can be a truly beautiful addition to any kitchen renovation, and due to its uncommonness, you'll have a space that guests admire.
Install Contrasting Upper and Lower Cabinets
Taking the initiative to install upper and lower cabinets that differ in colour and pattern can have a major impact on the aesthetic and experience of your kitchen. As pictured, the use of a natural, textured cabinet alongside a smooth, flat option – whether black, white or any other colour of choice – can create an eye-popping finish that lends itself to refined elegance.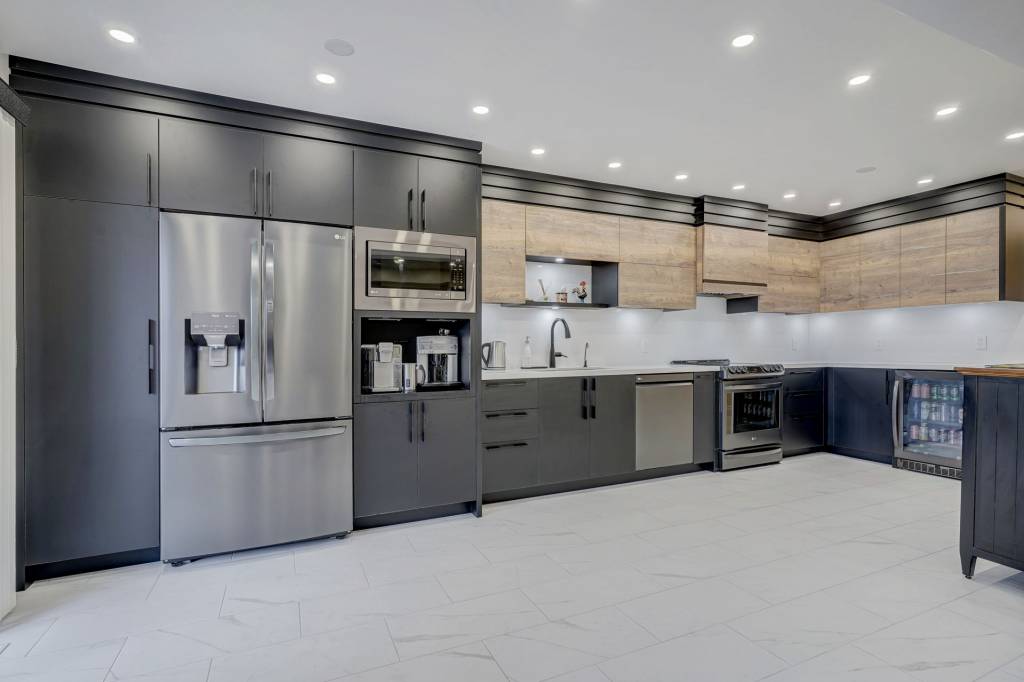 Install Complimentary Floor and Backsplash Tiles
When deciding on the kitchen atmosphere you're trying to create, don't overlook the importance of floor and backsplash tiles. As you work through your renovations, finding a way to utilize complementary or contrasting tile patterns will help define the flow of the space and create a unique experience.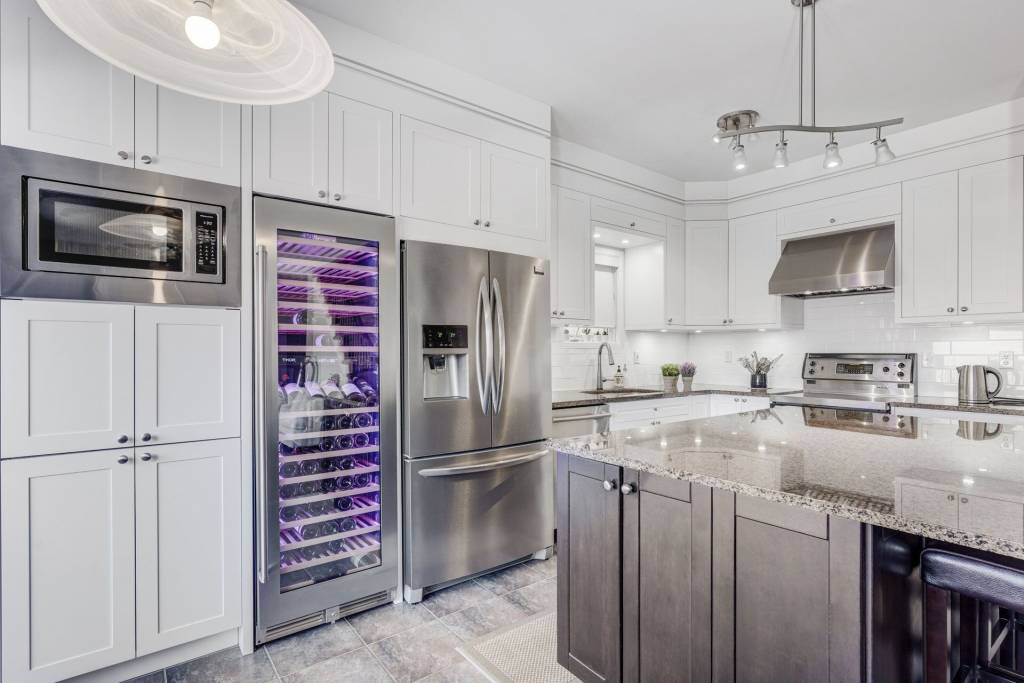 Install a Wine and Beer Fridge
From both a visual and function standpoint, there are few kitchen additions more impactful than a beautiful wine and beer fridge. Offering an element of elegance to the space, this fridge will almost immediately become the centerpiece of hosting. Not only that, but it will also make life easier, as you'll never have to worry about being without cold beverages for when the time comes.
Utilize Dark Countertops
If you're looking to create a kitchen that is modern, but that still has an element of traditional styling to it, don't overlook the installation of dark quartz, granite, or marble countertops. Pairing a warm, neutral countertop with white, airy cabinetry will allow for a sharp contrast that is both refined and elegant.
Install a Unique Sink
Whether you like it or not, most of your time spent in the kitchen will be at or around the sink. An incredible way of defining your kitchen experience is by installing an untraditional, modern sink. Like the example photo above, a large, overlapping sink will add an element of luxury to your space and create a very timeless aesthetic.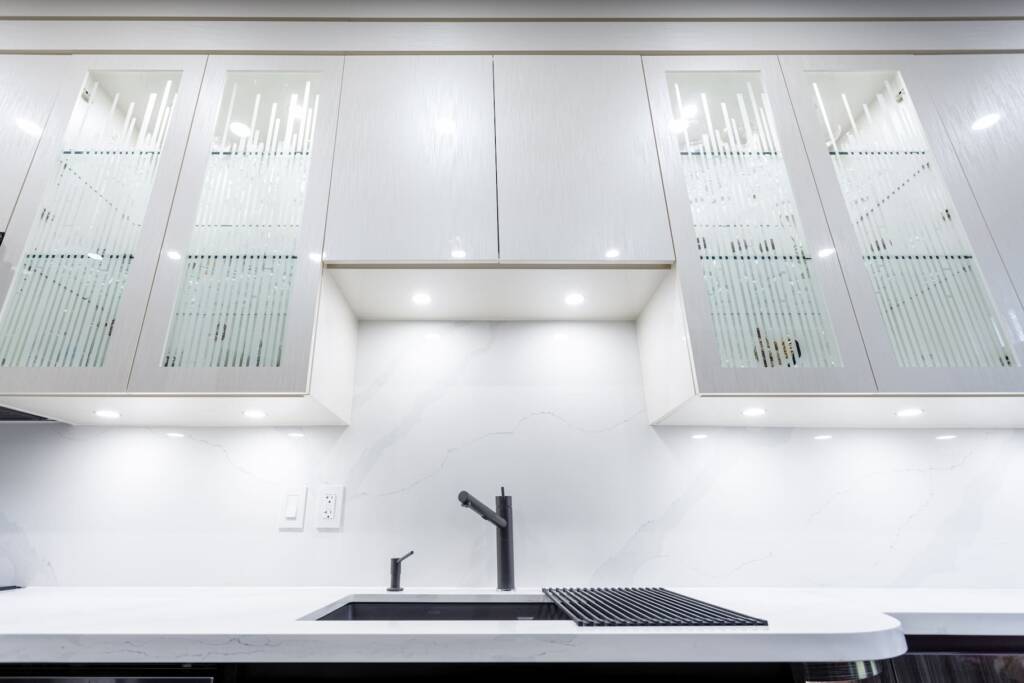 Match Your Countertops and Backsplash
As opposed to finding a way of contrasting your backsplash tiling, another kitchen renovation option is to simply carry your countertop design straight onto the wall. This unique approach will allow for a beautiful flow from counter to the wall and will make your space look consistent throughout.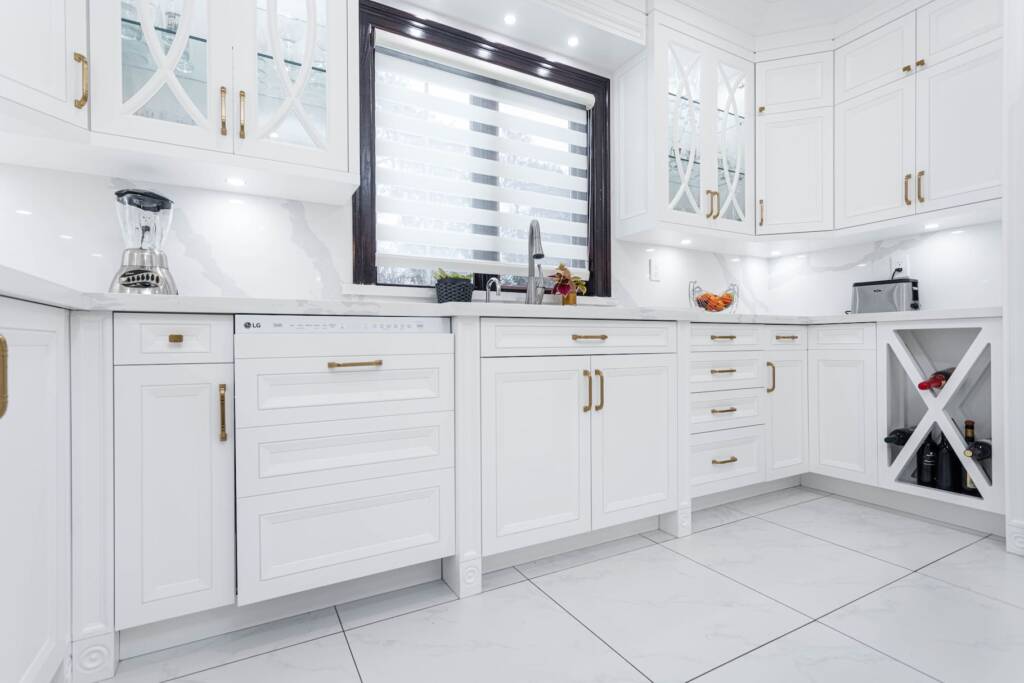 Get Creative with Handles
The finer details of your kitchen are often just as important as the major ones. When putting the finishing touches on your kitchen reno, explore the cabinet and drawer handle options available. Thick and thin, dark and light, you'll be able to really define the space well by selecting a unique handle style.
Create Kitchen Levels
Defining your kitchen with the use of levels, as shown in the picture above, can be an incredibly valuable way of creating more space with less. When designing your kitchen, it may be worth trying to find ways to tier shelves, counters, and other items in an effort to open the space up and not have it all look so uniform.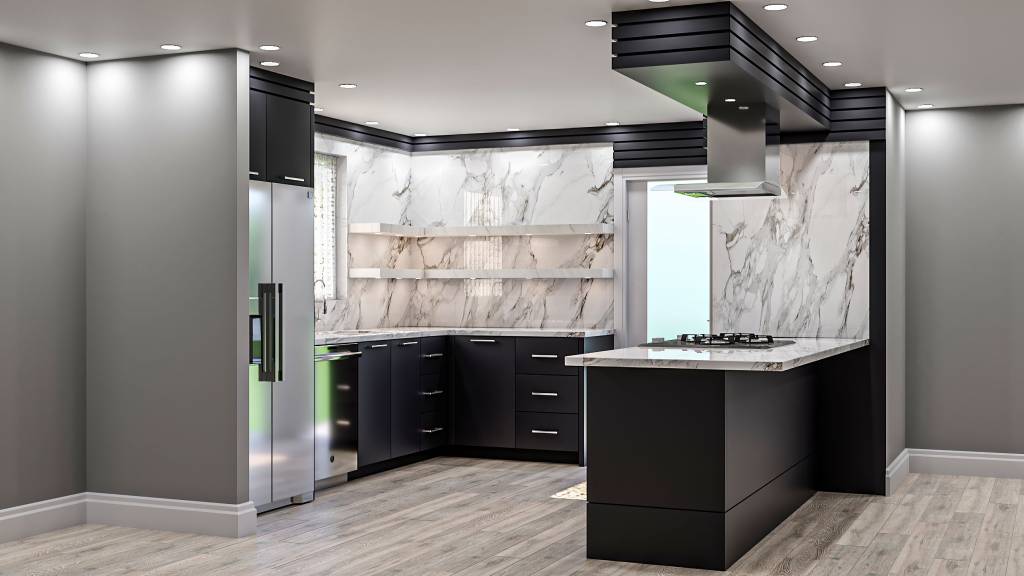 Go Without Upper Cabinets
If you want to create a more open, vibrant space, you may be best to opt out of upper cabinetry completely. In its place you can try installing floating shelves with pot lights. Although they offer less storage capacity and privacy, you'll still be able to utilize them for the stacking of items and will benefit from not having any clutter or an overfilled kitchen.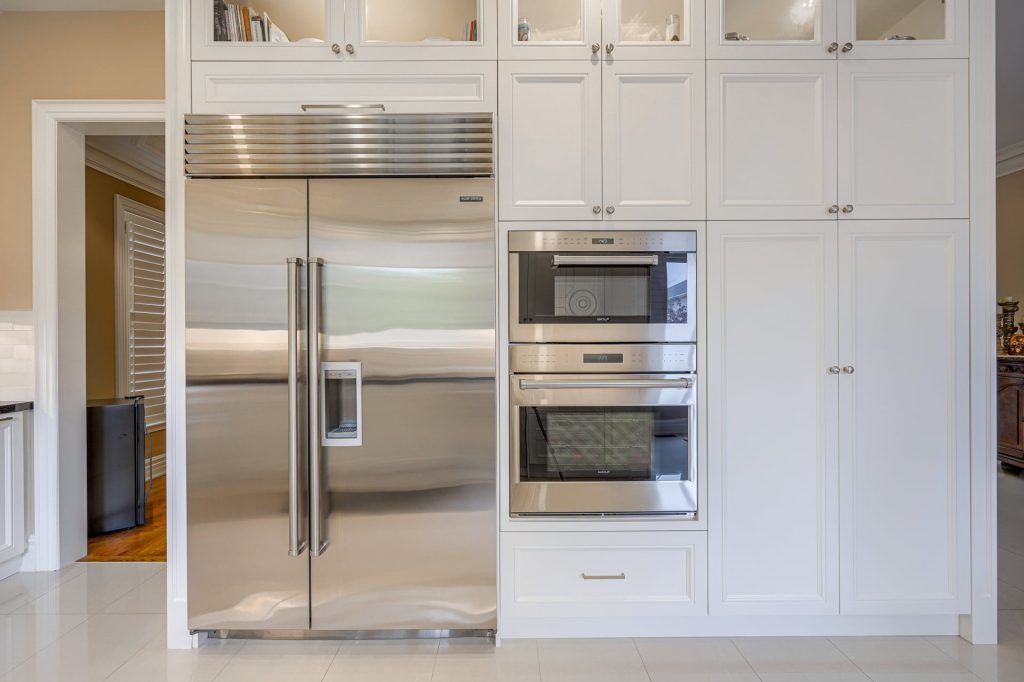 Install Modern Appliances
When working through your kitchen renovations, appliances – your stove, fridge, microwave, and more – will be one of the largest items you need to purchase. You should invest in modern appliances that both look great and offer energy saving opportunities. With the advancement of kitchen tech in recent years, you'll be able to outfit your renovated space with beautiful, high-tech pieces for less than you'd expect.
If you'd like to renovate your kitchen or upgrade your kitchen cabinets, get in contact with our team or call us directly at 905-767-6766.