There are few things more charming than a perfectly designed modern kitchen complete with unique kitchen cabinets and breathtaking finishes. Designing your incredible kitchen doesn't have to be an arduous task. With so many kitchen cabinet ideas to choose from, you can make a selection that's perfect for you and will complement your modern kitchen nicely.
Kitchen cabinets come in a wide array of colours, styles and finishes. We've compiled a list of 14 modern kitchen cabinet ideas that might just inspire your new kitchen.
1. Luxury White
These custom white kitchen cabinets are dazzling and complement the overall theme of the kitchen and home. The white colour gives it a pristine and elegant look. White is an excellent choice for this design and the touch of gold on the cabinet knobs and handles make this one of our favourite kitchen designs. Sometimes there's an emphasis on having more bold colours incorporated into the kitchen, but the subtle hues incorporated in this kitchen are angelic and prove that light colours can be just as alluring as bold ones
2. Perfect White and Silver
This is another perfect example of how appealing white cabinets can be in your kitchen. The light from the sun radiates through the large window and illuminates the entire room, showing off the beautiful cabinetry. The clean lines on these kitchen cabinets are spectacular and the silver colour on the cabinet handles is the perfect accent colour.
3. Eye-Catching Polished Finish
The polished finish on these custom cabinets is immaculate, and the fact that these cabinets and drawers do not have handles on the outside makes them unique and eye-catching. These cabinets are the perfect choice for any modern kitchen. While the idea of no handles on kitchen cabinetry may seem inconvenient and strange for some, it is actually one of the reasons behind the "WOW" factor of these cabinets. Though smaller in width, these kitchen cabinets offer apple kitchen storage.
4. Blending Solid and Clear
Not everyone wants an island. This kitchen is a perfect example of a beautiful modern kitchen without an island. It offers a spacious working area and plenty of counter space. The custom cabinets are well fitted around the kitchen appliances. Blending solid and clear cabinet panels shows that you can incorporate more than one look into your kitchen.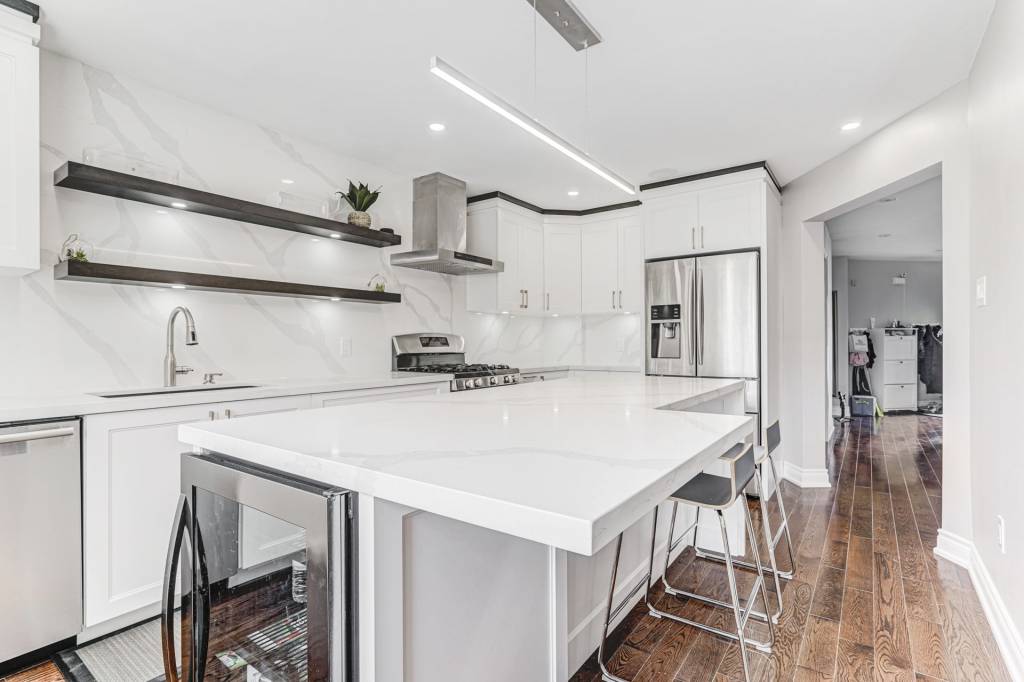 5. Brown Striped Light Cabinets
The brown strip at the uppermost part of the cabinets offers a unique touch, and the silver appliances in this kitchen are a perfect combination. The additional lighting underneath the cabinets and shelves further illuminates the room and this is a great idea to incorporate into your modern kitchen.
6. Well Organized Cabinets
Storage space in a kitchen is golden. These bottom cabinets are designed for ease and make organizing your kitchen such a breeze. Simply store away your seasonings, and other food necessities to maximize space and avoid clutter. You can neatly tuck away handy items conveniently with these cabinets in your kitchen. Modern kitchens are not just about sleek design, it's also about convenience.
7. Dark Counter Open Concept
This open concept kitchen is spacious and the dark counter provides a stark but beautiful contrast to the white cabinets. The glass pane in the top cabinets and one of the main cabinets is a trend we are seeing more of in modern kitchens. This just goes to show you that combining light and dark colours in the kitchen can work beautifully.
8. Stylish White with Wine Cooler
The wine cooler incorporated into this modern kitchen is a growing trend. The countertops complement the kitchen well. Combining the white cabinets, silver appliances and gray cabinets in this kitchen blends all the aspects of the kitchen together nicely.
9. Elegant Gray Custom Cabinet
Wood floors are timeless and add elegance to any room. The gray-toned tiles on the wall infuse a rustic appeal and are paired nicely with the flooring. Having a wine rack incorporated into the cabinetry adds a nice touch and the additional counter space above the wine rack makes for a convenient breakfast table.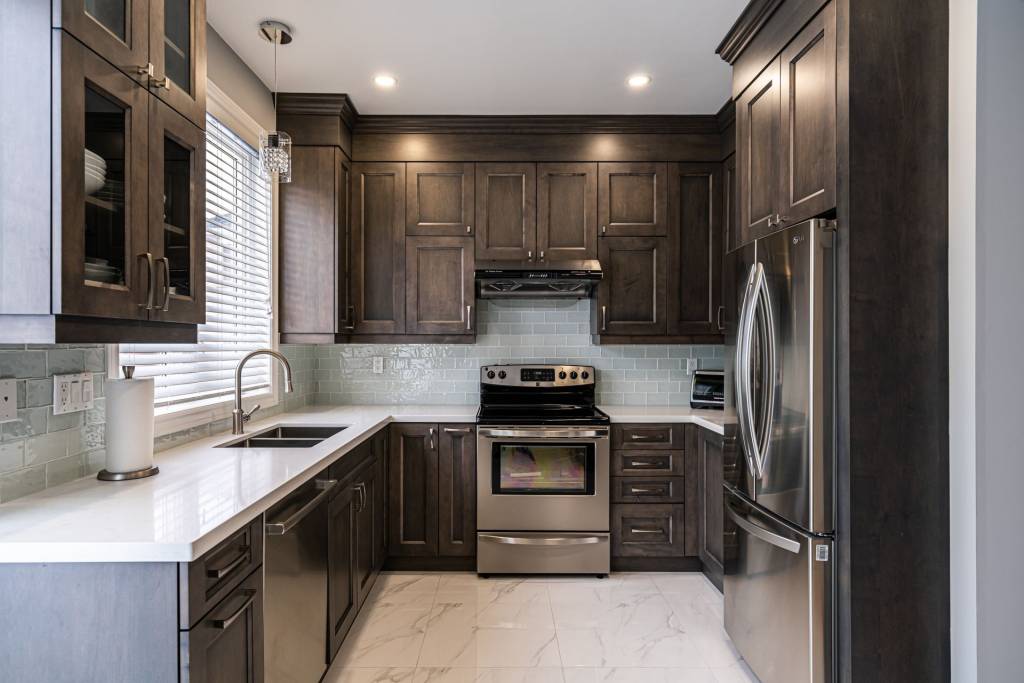 10.Old School Rich Brown
The rich brown colour of these cabinets makes for a stunning modern kitchen. The brown adds warmth to the kitchen and creates a timeless look. We also see a blend of solid and glass panes, and against the white tiles and countertops, these cabinets shine.
11. Touched with Ultra Modern Island
The design of this kitchen is unique and alluring. The kitchen island is connected to a portion of the kitchen wall, offering plenty of storage space in the drawers and cabinets. The wide handles on the drawers are stylish and the gold incorporated into the kitchen is a major plus and pairs well with the flooring. The vibrant golden brown around the fridge and top cabinet is exceptional.
12. Dark and Light Harmony
This kitchen is a perfect example of how blended custom cabinets are ideal for any modern kitchen. The silver bell pendant lights are breathtaking and are a focal point in this kitchen. The custom cabinets, pendant lights, and white countertop all have a glossy finish that creates an overall allure to the room. The incorporation of some white cabinets against the gray is just the right touch.
13. Classic White on Modern
Another example of how cabinets without exterior handles create a classic look. There is simply nothing not to love about this elegant kitchen design. From the gray and white tiles on the walls to the white counters and cabinets and gray appliances, this modern kitchen stands out for its fine design and appeal.
14. Deep Dark Kitchen Cabinets
Who says deep colours have no place in a modern kitchen? This kitchen proves that darker hues paired well can create just the right look. You can also mix different types of cabinet handles like in this design.
When it comes to choosing the right kitchen cabinets for your kitchen, what's important is choosing an option that appeals to your personal preferences and brings out the beauty of your kitchen. Clearview Kitchens specializes in kitchen cabinet design and can help bring your vision to life.