As the focal point of your home, a kitchen is a place where much time will be spent living, hosting, and growing. To ensure that it's up for the job, you need a kitchen design that is both beautiful and functional, capable of handling all of your cooking, cleaning, and entertaining needs while still looking sharp. Although every kitchen is unique, there are some tried-and-true design principles that will help you create an incredibly useful space. In this article, we're going to explore how to design a kitchen, covering the planning, organization, and must-have kitchen features that you'll want to consider during your next round of renovations.
Tips for Designing a Kitchen You'll Love
In order to design a kitchen you love, you must first understand the primary use-cases of the space. Who will be using it? How will they be using it? Below are five kitchen design tips that will help you answer these questions and more.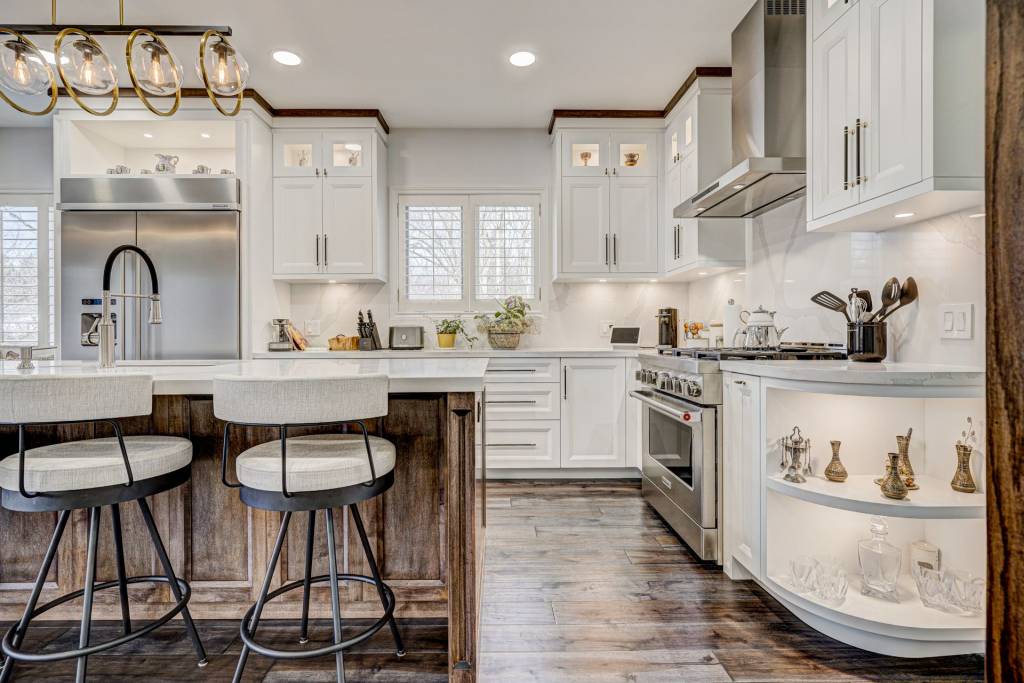 Implement Wide Walkways
You must ensure that your kitchen floor plan includes enough space between cabinets, counters, and islands to allow for easy movement. There are few things more frustrating than a bottlenecked kitchen, and this is one small way of drastically improving the space functionality. As a general rule, paths should be a minimum of 36 inches wide. For kitchen cooking zones in a one-cook kitchen, aim for 42 inches of width, and in the cooking zone of a two-cook kitchen, plan for 48 inches.
Pay Attention to Corners
One way to encourage steady flow through the kitchen is by eliminating corner hindrances. Be aware of cabinetry and appliances that block corners while open, and adjust door clearance and swing direction to prevent them from hitting each other while open.
Find the Right Height for The Microwave
The proper microwave height will vary depending on a few factors, including the height of the primary chef and whether or not the kitchen is kid-friendly. For the average adult, 15-inches above the countertop level will be an optimal microwave height. If children must be taken into consideration, it may be best to place the microwave below your countertop.
Determine the Kitchen Island's Function
When determining the specifics of your kitchen island, the form must follow the function. It's important to consider how the island will be used within the space prior to deciding on a specific design. For example, if the island will be used as an area for preparing food and dining, ensure that it's large enough to accommodate these needs. Island can go far beyond basic counters – many including sinks, dishwashers, and stovetops – and you'll want to consider whether these solutions are right for your usage.
Consider Electrical Outlets
For kitchen functionality in the modern world, there are few things more important than access to electrical outlets. When planning your space, you'll want to ensure that there are several outlets available in high-use areas for the likes of your coffee pot, blender, toaster oven, and more. A best practice is to have multiple outlets installed along your counter backsplash and throughout your island, ensuring that power is available wherever and whenever you need it.
Choosing a Layout for Your Kitchen
When planning your kitchen remodel, there are a variety of kitchen shapes and designs that you can select to meet the needs of your home. Based on its previous design and flow, some may work better with your current space than others, but most are available with enough renovation work. Below are a handful of the most popular kitchen layouts alongside some information about each.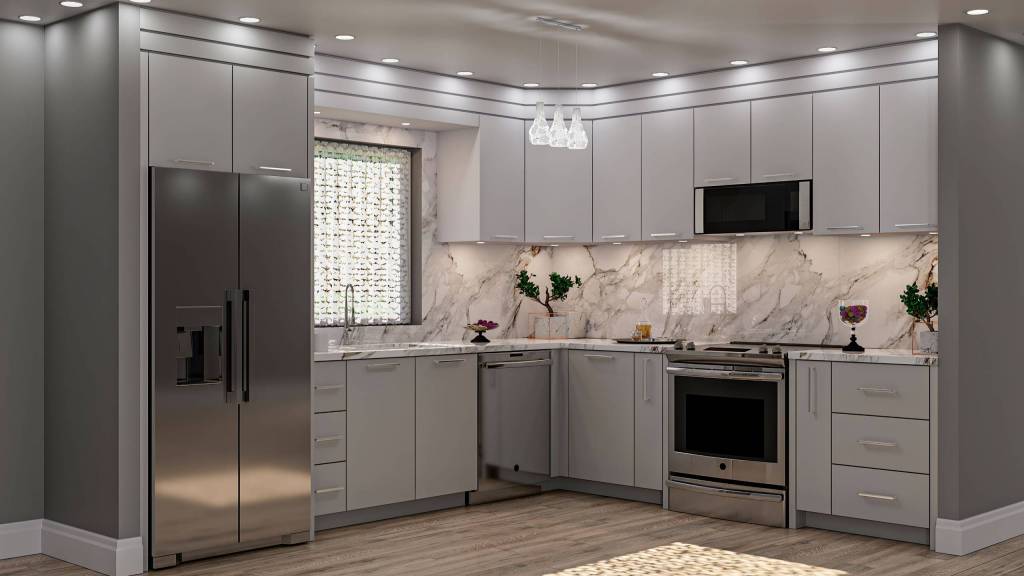 L-Shaped Kitchens
L-shaped kitchens are the standard in most North American homes. They feature a two-wall design that houses two of the three major appliances along one wall, with the third on the adjacent. The existing plumbing and electrical infrastructure will determine where you are required to place each item – unless, of course, you're keen on repositioning all of the power lines.
L-shape kitchens are known for their open space and ability to accommodate large center islands. When selecting an island style and size, ensure that you're leaving between 42 and 48 inches of walkway space for the cooks to move around.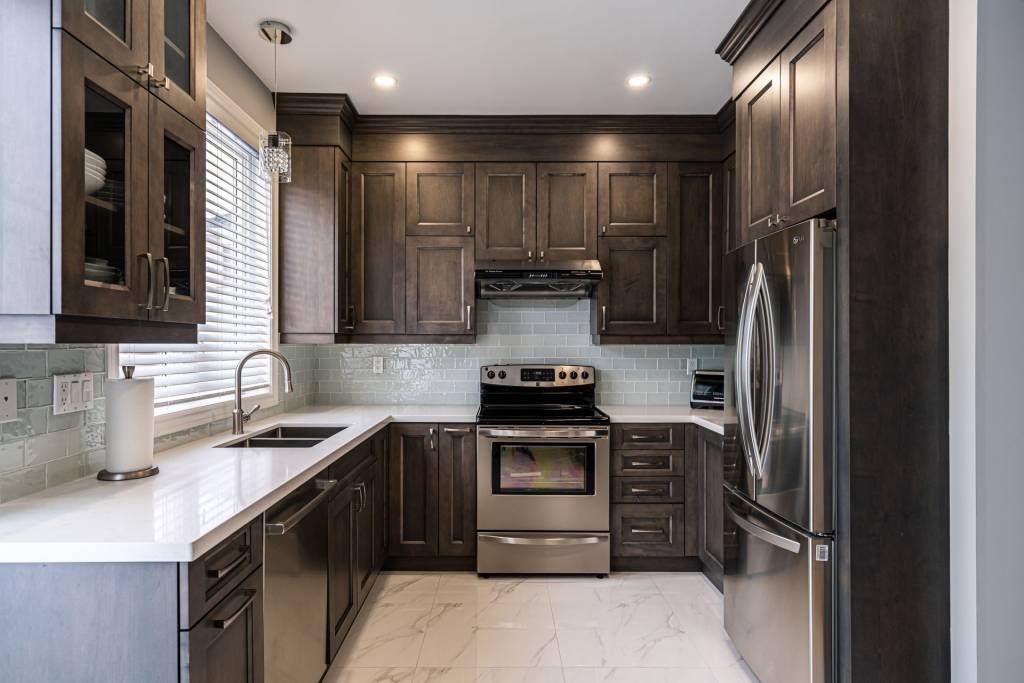 U-Shaped Kitchens
A U-shaped kitchen will feel similar to an L-shaped kitchen, the difference being that a third wall will have countertops, cabinetry, and appliances. In most U-shaped kitchen setups, one wall will host the sink and dishwasher, another the stove, and the third a refrigerator.
When compared to other designs, the U-shaped kitchen boasts the most counter space per square foot. Given that countertops run along each wall, there is plenty of room for prep, and given the extended cabinetry, space is ample. From a day-to-day usage standpoint, the U-shaped kitchen is incredibly functional.
That said, the large corners often become wasted space, as they are too deep under the cabinetry to be usable for any purpose other than storage. Additionally, the space between all of the appliances may pose efficiency issues during busy cooking sessions. Ultimately, it depends on what you're willing to sacrifice in the name of space.
G-Shaped Kitchens
G-shaped kitchens are a relatively new style, converting a U-kitchen by adding a fourth wall that acts as additional storage and counter space or as a dining nook. Because of the similarities between G-shaped kitchens and U-shaped kitchens, you'll experience many of the same benefits and drawbacks regardless of which one you select.
One thing to keep in mind for this kitchen style is that having counters and cabinets on each wall will limit floor space in the center. Ensure that the kitchen area you're working with is large enough to create a fluid, wide cooking area while inside of the G-shape.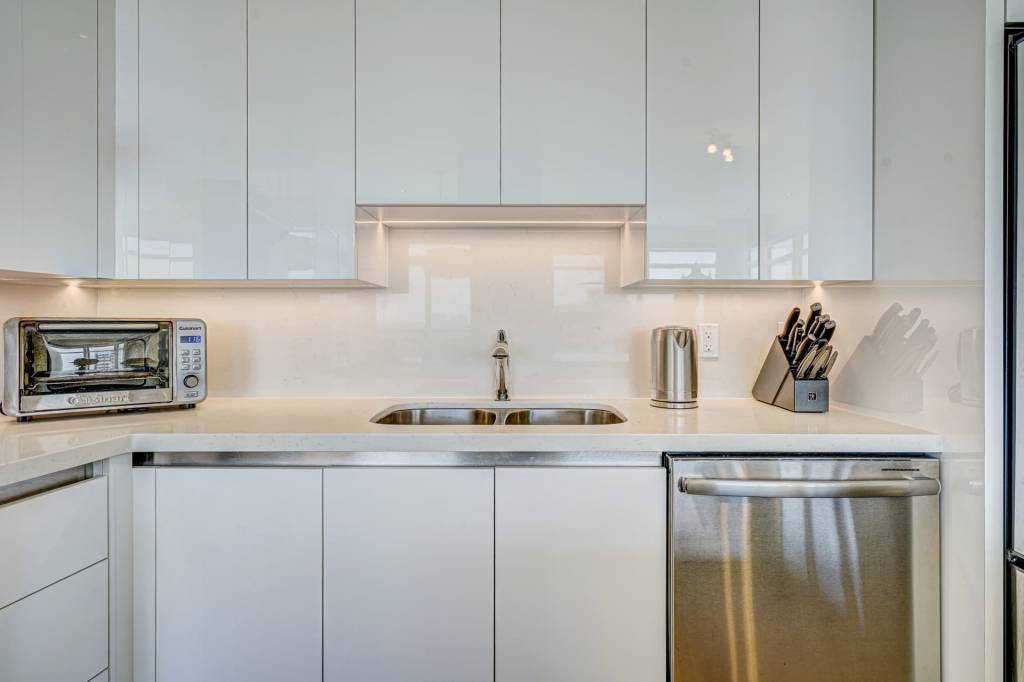 I-Shaped or Single Wall Kitchens
As the smallest kitchen variation, I-shaped (otherwise known as single-wall kitchens) excel in spaces where square footage is minimal. They work by placing all appliances, countertops, and cabinetry along one wall. Although not incredibly efficient, they provide a usable solution to small homes or condominium units that don't have the capacity for larger kitchen areas.
If you have no option but to select an I-shaped kitchen, there are a few best practices you should consider. First, place the sink between the refrigerator and the stove, as it will allow for some wonderful workflow efficiencies. Additionally, you'll want to ensure that the refrigerator hinges away from the sink – this way, an open fridge won't disrupt your cooking workflow.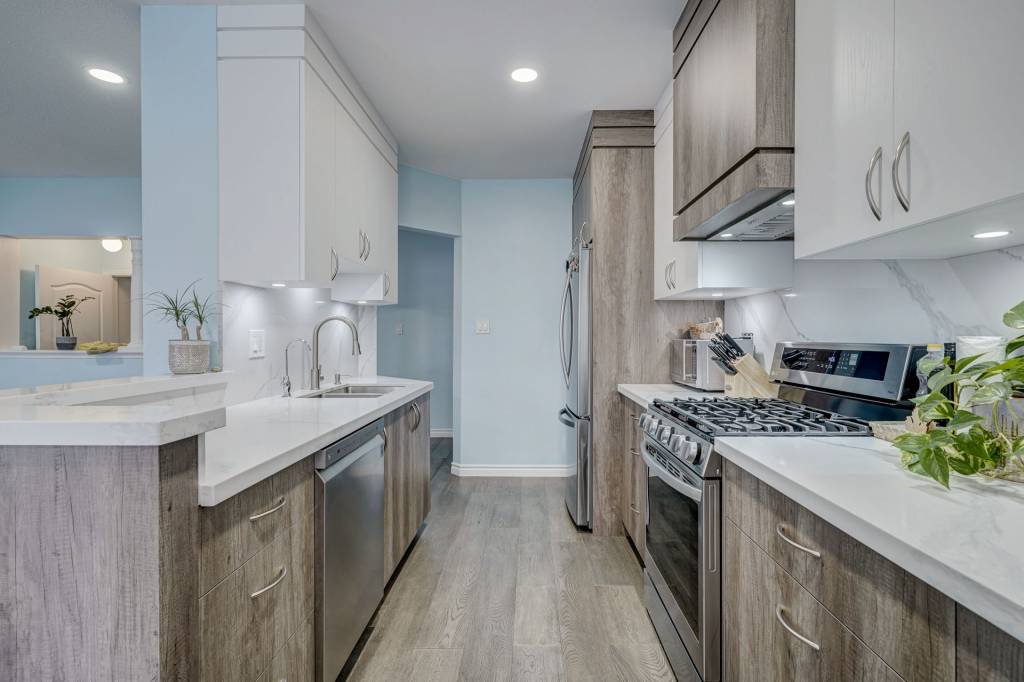 Corridor/Galley/Parallel Wall Kitchen
Corridor Kitchens (otherwise known as Galley and Parallel Wall Kitchens) are going to be your best option when space is limited. With this kitchen style, appliances are placed alongside varying walls – much like the L-shaped kitchen design – with the oven and refrigerator on one and the sink on the other. This layout allows for the effective linking of all three major appliances, offering workflow efficiencies while in the kitchen.
When deciding on the kitchen layout that works best for your home, it is important to consider the worker's triangle – created in 1949 at the University of Illinois. The idea is that in order to maximize kitchen capacity, you must place all three major appliances (stove, refrigerator, and sink) in an efficient manner. The space between all three appliances should be no greater than 26-feet, with the distance between each appliance ideally being no shorter than 4-feet and no longer than 9-feet. The use of this methodology will allow you to create a kitchen that not only looks great but that also has an incredible functional workflow to it.
When it comes time to remodel your kitchen, it's important that you work with a team capable of bringing your dreams to life. Clearview Smart Solutions has specialized in the design and development of custom kitchens for years, and with our expert design services, customer support, and craftsmanship, you'll be taken care of from the moment we begin. To ensure that no kitchen design is unattainable, we offer free 3D modeling and design solutions. Additionally, you can expect local high-quality wood, a one-year kitchen warranty, honest and transparent pricing, professional services, and more. To learn more about our custom kitchen solutions or to discuss an upcoming project, contact our team today!