If you need ideas to remodel your kitchen island you have come to the right place. A kitchen is the central space of any home. Whether it be for hosting or bringing the family together, it's a space where memories will be created and wonderful moments shared. Working to develop a kitchen that is both functional and stylish, you'll want an island that allows for adequate space and presents a memorable visual experience. Whether you're considering a kitchen renovation or are simply looking for some inspiration, here are 15 beautiful kitchen island design ideas that will create an unforgettable space.
Kitchen Island Ideas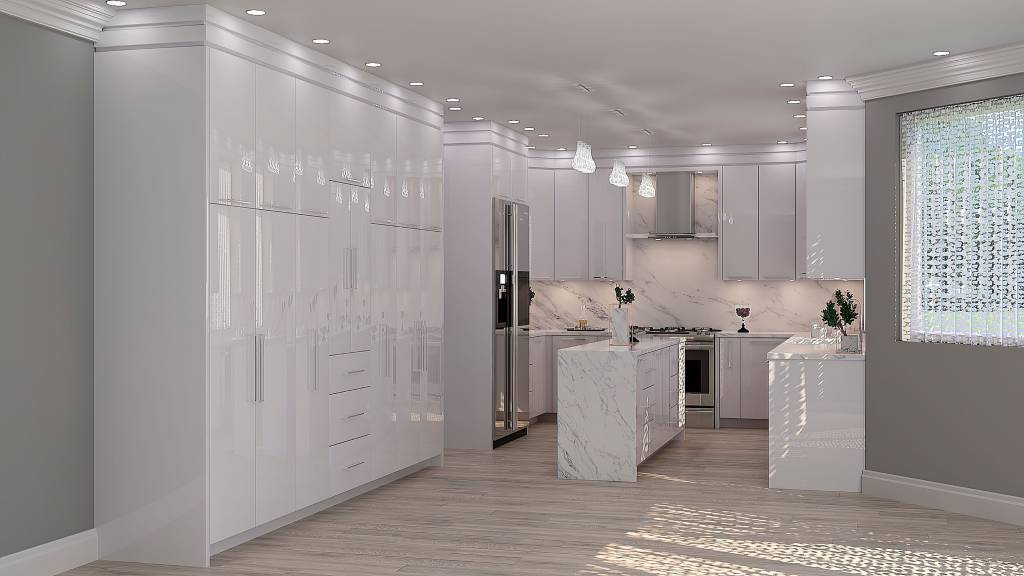 1.White Marble-Cased Island
Starting the list off with a showstopper, this completely stone-cased kitchen island is an incredibly unique insert and will leave home visitors in awe. Removing the need for a wooden base, the marble or quartz stone slabs wrap entirely around the island, covering both the sidewalls and top. The uniform, clean-cut look provides an incredibly elegant, luxurious visual.
2.Traditional Asymmetrical White Island
This traditional-looking island will add an element of luxury to your kitchen. The design utilizes a large asymmetrical granite or marble countertop placed on a beautifully carved wooden base. With the help of support posts and drawer inserts, you'll get an incredible amount of stability and functionality from this unique installation.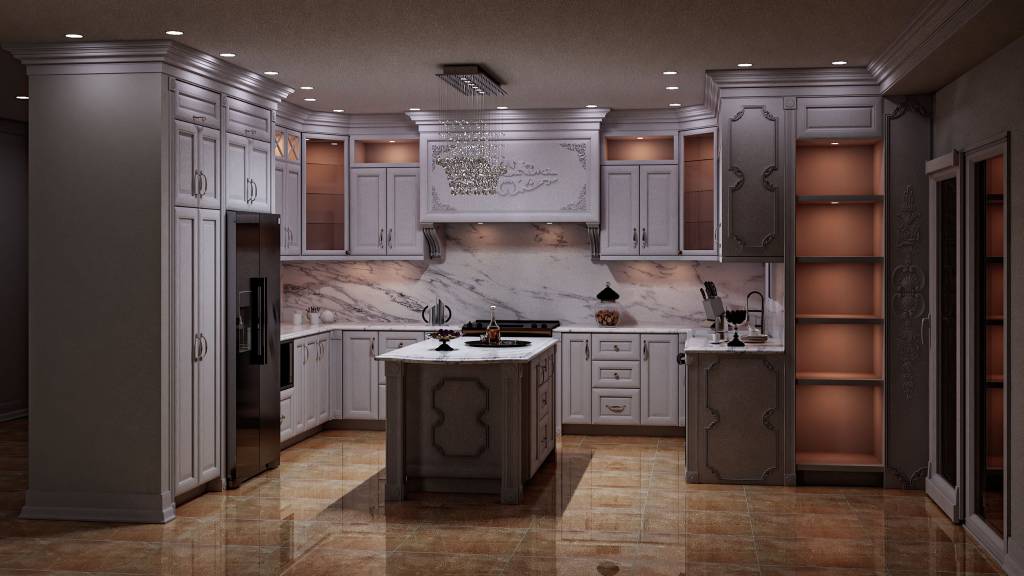 3.Asymmetrical Traditional Dark Island
Drawing inspiration from timeless design styles of the past, this dark-grey island installation pairs a thick, detailed base unit with a thin stone countertop to create a beautifully balanced kitchen centerpiece. If your goal is to create a space that oozes elegance, this kitchen island idea should be at the top of your list.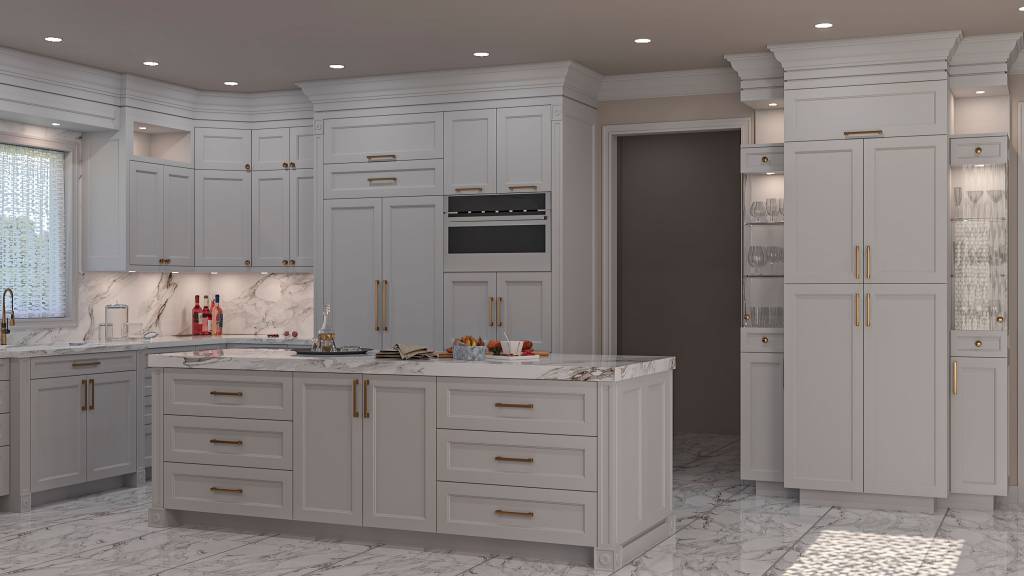 4.Grey and White Kitchen Island
This beautiful two-toned kitchen island pairs a large, neutral base with a beautiful white marbled countertop to create a luxurious feel. To pair the two perfectly, brass handles are installed on the cabinets and drawers, as they pull from the light brassy undertone of the white countertop.
5.Sleek Grey Kitchen Island
A modern kitchen should be outfitted with a modern island. This beautiful two-tone installation utilizes flat, reflective siding to create a minimalist, airy feel throughout the space. Paired with a neutral countertop that highlights the grey tones, you're provided with a large space that is both inviting and functional.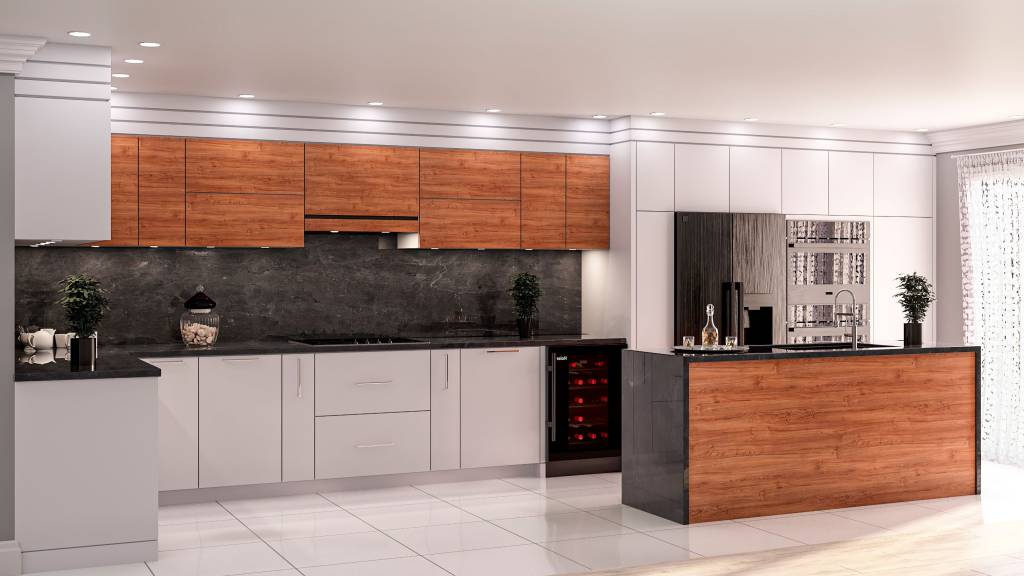 6.Walnut Veneer Island
This beautiful walnut veneer island will add a tremendously elegant feeling to your kitchen. Pairing natural, walnut-grain veneers with a dark countertop creates a popping visual experience that is both warm and inviting. As an added style element, you can wrap the countertop around the base siding, as pictured above, to create a beautifully unified visual.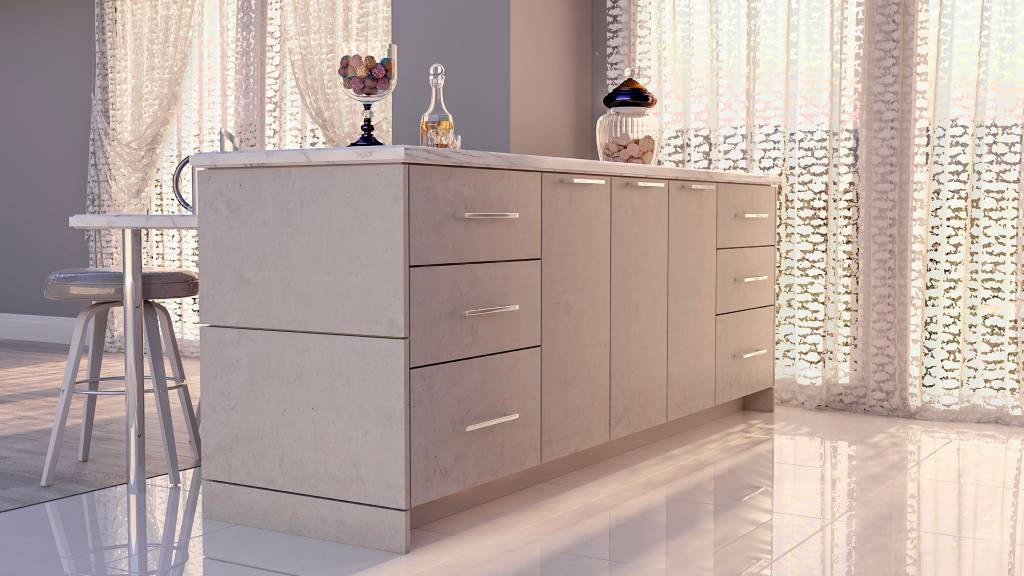 7.Natural Stone Tiered Island
Create a beautiful, minimalistic kitchen experience with the help of this stone-colored, tiered kitchen island. The base is finished in a textured, stone-grey that works perfectly with the grey-infused white countertop. Pairing the single counter space with a smaller, secondary shelf-style countertop, you can create additional kitchen space and improve the functionality of the unit.
8.Grey Wood Island
Pairing a flat-grey island base with a grey-infused white-marble countertop allows for the creation of a neutral, breath-taking kitchen centerpiece. Both the base and countertop are thick visually, allowing for the perception of quality and prestige. Paired with some small color-matching stools, this installation can be an incredibly functional kitchen centerpiece.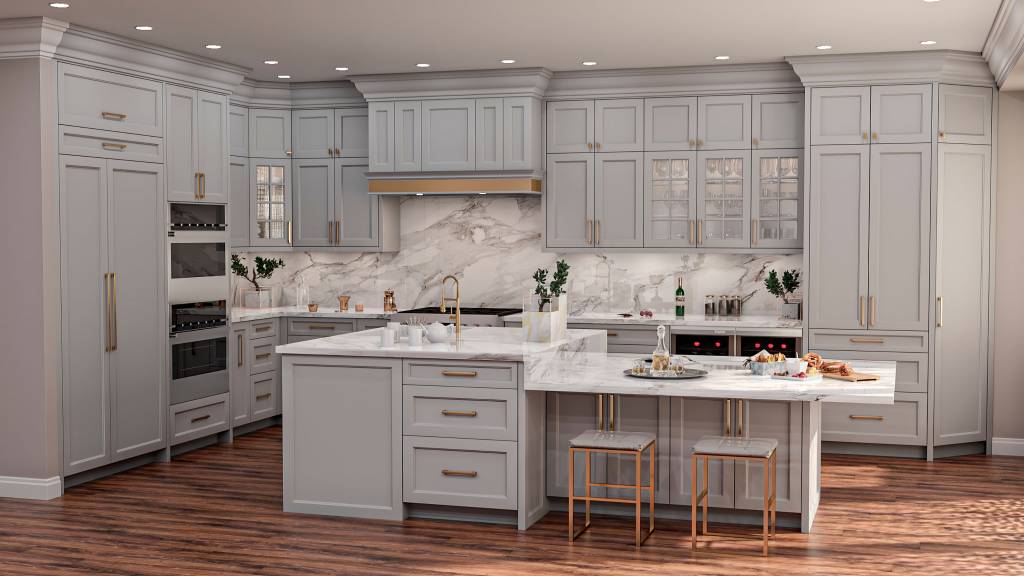 9.Multi-Level Floating Island
Combine elegance with ultimate functionality by installing a large, multi-level floating island. This 2-tiered island offers space for food preparation, presentation, and consumption, and it is the perfect kitchen centerpiece for hosting large gatherings. Pairing a neutral grey base with a grey-infused white countertop creates an airy, elegant visual experience. Add on some copper handles to really make the piece pop!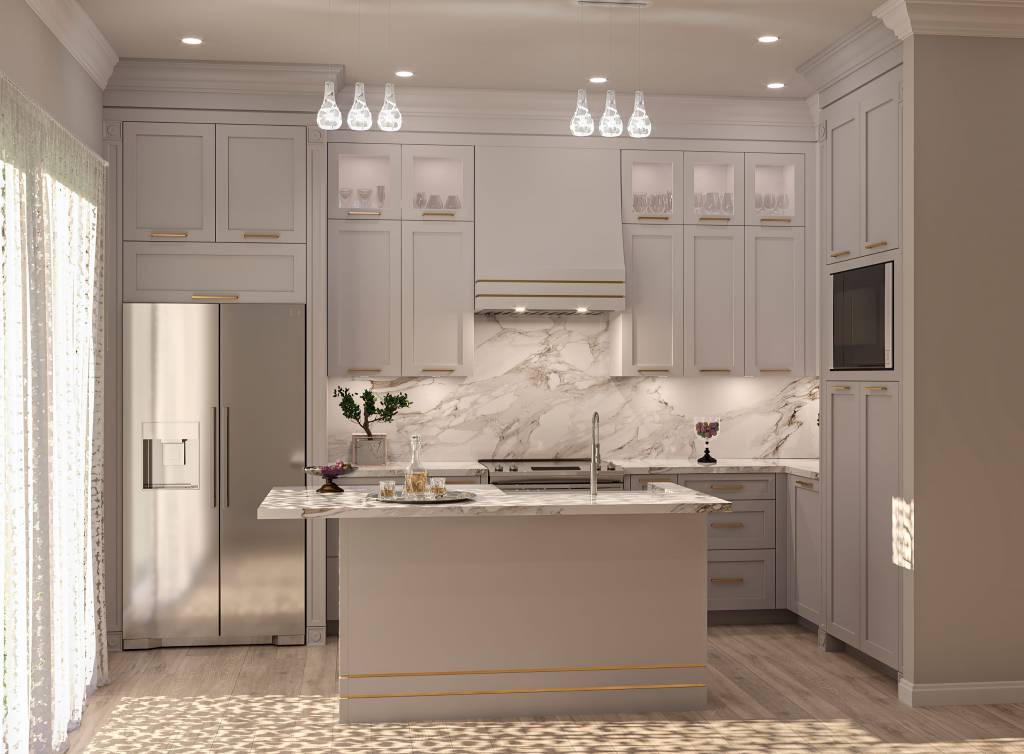 10.Gold Trimmed Floating Island
A beautiful kitchen island leans heavily on fine details. This slim, neutral-colored, minimalist island installation creates an approachable kitchen experience with plenty of workspaces. Pair the flat color palette with elegant, gold-trimming at the bottom to define the standard of luxury.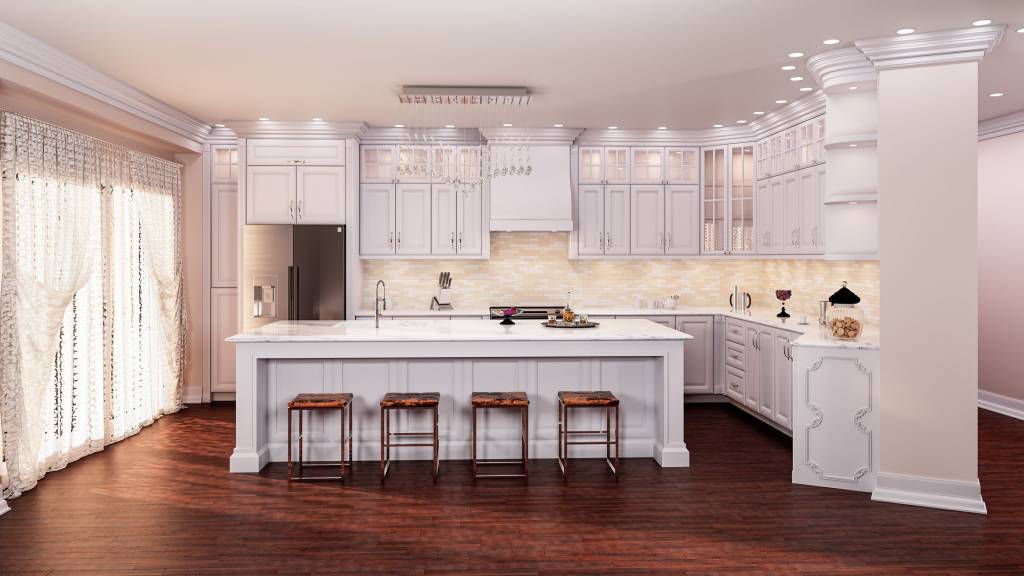 11.Oversized All-White Island
Create incredible kitchen functionality with the use of an oversized kitchen island. Pairing traditional style elements, such as an etched white base and corner pillars, with a sleek all-white countertop, allows for a large island installation that doesn't feel cluttered. This island installation offers maximum functionality without compromising the visual quality of the space.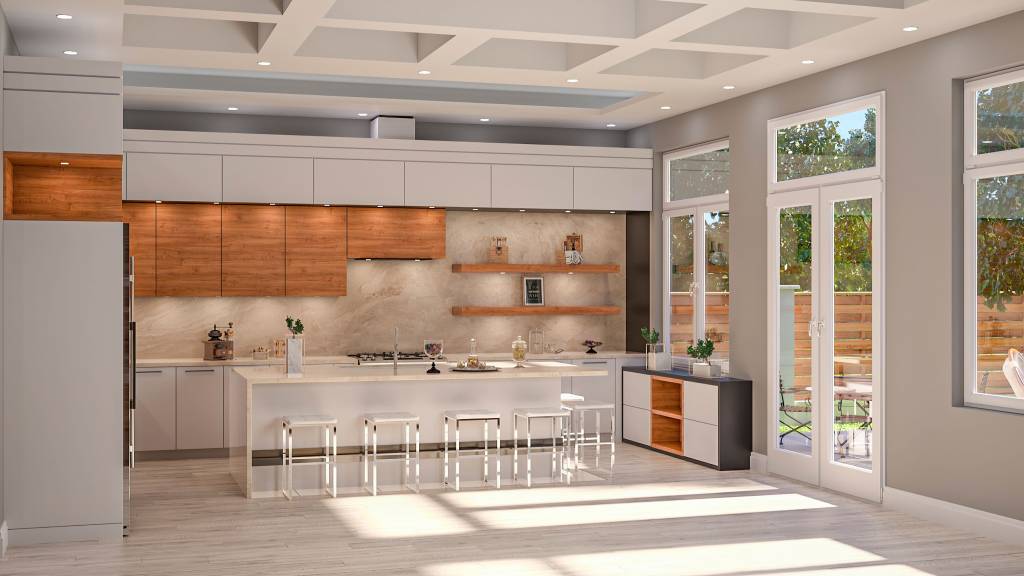 12.Transparent Kitchen Island
Create an airy, unique kitchen experience with the help of this transparent kitchen island. Pairing a natural-toned countertop with a white, semi-transparent base will allow for light to travel incredibly throughout the space. Pair the island with some simple white-on-steel stools to complete the modern design.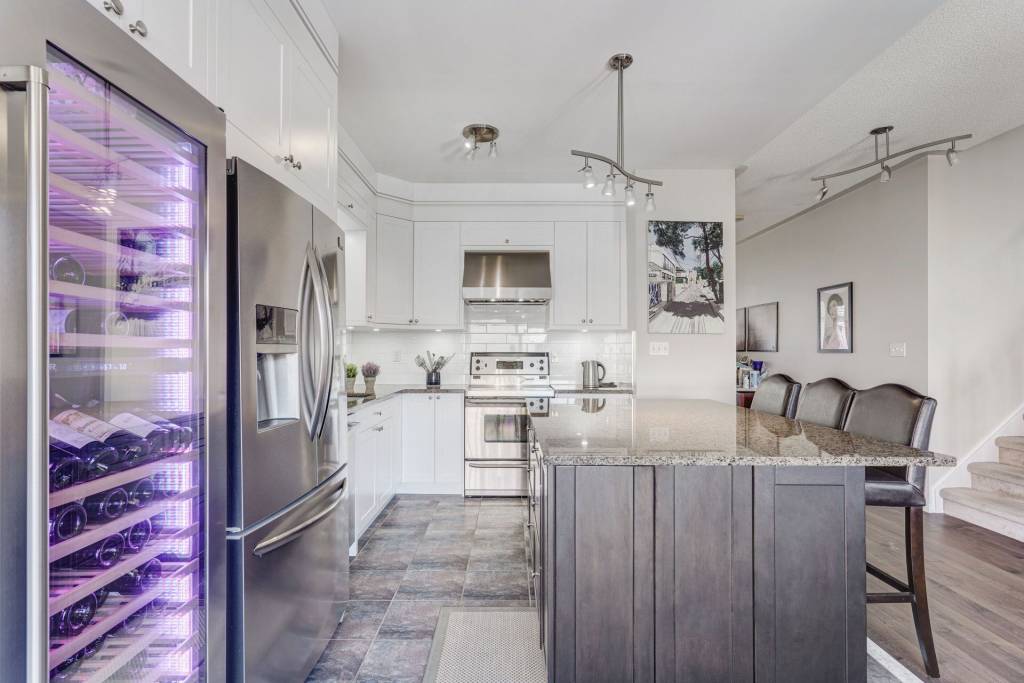 13.Dark Wooden Island
This timeless, dark-on-dark kitchen island will allow you to create a space that withstands the test of time. Combining a natural wood-colored base with a dark marble countertop grants a low-key, refined kitchen experience. This design style works best if you're looking for a simple, elegant visual that won't need updating for years.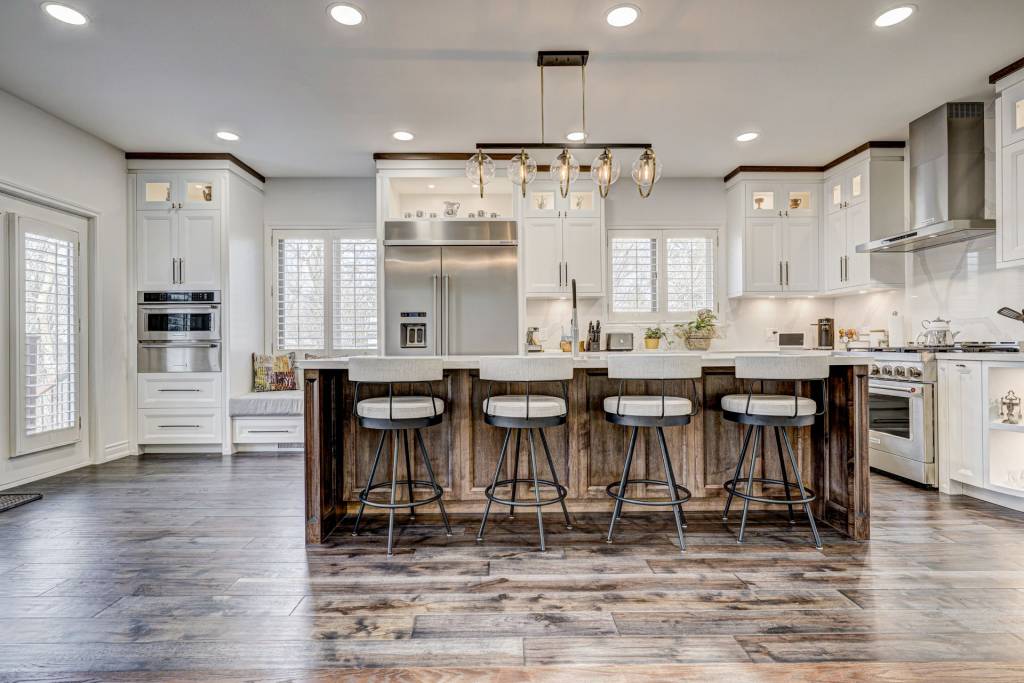 14.Modern Dark-Wood Island
Create a beautifully modern, Boho-Chic kitchen with the help of this dark-wood island installation. Pairing a deep wood tone with a light-grey granite countertop allows for an incredibly complex, yet captivating island experience. Pair the island with some elegant countertop color-matching chairs to tie the entire experience together.
15.Classic Light Kitchen Island
There is a reason why classic kitchens are titled as such. Pair an elegant white wooden base with a grey-white marbled countertop and silver accessories to create a truly timeless kitchen experience. This is perfect for those looking to install a centerpiece that will create an inviting, airy space while standing the test of time design-wise.
Every home is unique, and as such, so too is every kitchen. If you're in the process of exploring kitchen renovation opportunities or are simply looking to learn more about the options available, the ClearView Kitchens team is here to help. With years of experience in the kitchen design and renovation space, we're well equipped to help you develop the space of your dreams. Contact us today to learn more!