Here at Clearview Kitchens, we understand that your kitchen is the heart of your home. That's why we offer a wide range of renovation services to suit your every need and budget. Whether you're looking for a complete kitchen makeover or just a few cosmetic updates, our team of experienced professionals will work with you to create a space that you and your family will love for years to come. Each client is unique, so for that reason we offer a personalized approach to every project.
We'll take the time to get to know you and your style so that we can create a kitchen that perfectly reflects your personality and lifestyle. With our outstanding expertise and dedication to customer service, we'll guide you through every step of the renovation process, from initial design to final installation. And because we only use the highest quality materials, you can rest assured that your new kitchen will be built to last. Contact us today to learn more about our kitchen renovation services and see how we can transform your home!
Benefits of Kitchen Renovation
A well-designed kitchen can make life easier and more enjoyable, but a poorly designed one can be a source of frustration. If your kitchen is outdated or impractical, a renovation can make a world of difference. Even a small change, like adding an island or expanding the pantry, can have a big impact on the way you use the space.
By opening up the kitchen and expanding into adjacent rooms, you can create a more open and inviting space. Additionally, newer appliances can add both style and function to your kitchen. From energy-efficient refrigerators to induction cooktops, there are many ways to upgrade your appliances and improve your cooking experience.
Kitchen renovations can also lead to more efficient energy use. By increasing insulation and upgrading windows and doors, you can make your kitchen more energy-efficient and reduce your monthly bills. Finally, comfort and safety should always be considerations when renovating your kitchen. From ensuring that countertops are the proper height to adding nonslip flooring, there are many ways to make your kitchen more comfortable and user-friendly.
And if you're planning to sell your home, a kitchen renovation can be a great investment, adding extra value to the property. Whether you're looking for more storage, better appliances, improved aesthetics, or to benefit from a number of additional advantages, it's no wonder that kitchen renovation is such a popular home improvement project.
Our Kitchen Renovation Process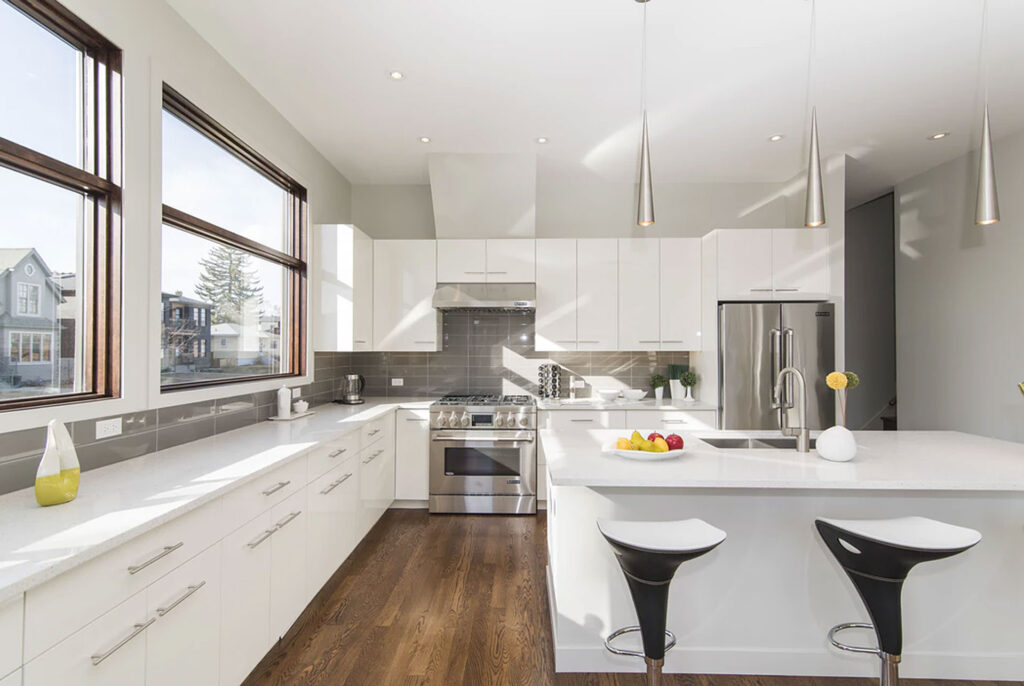 The kitchen renovation process at Clearview Kitchens is designed to be simple and stress-free, so you can enjoy your new kitchen as soon as possible. We start with a floor plan so that we can get an idea of your space and what you would like to change.
Then, we move on to design, where we create a 3D rendering of your new kitchen. If you have any adjustments, we will make them at this stage.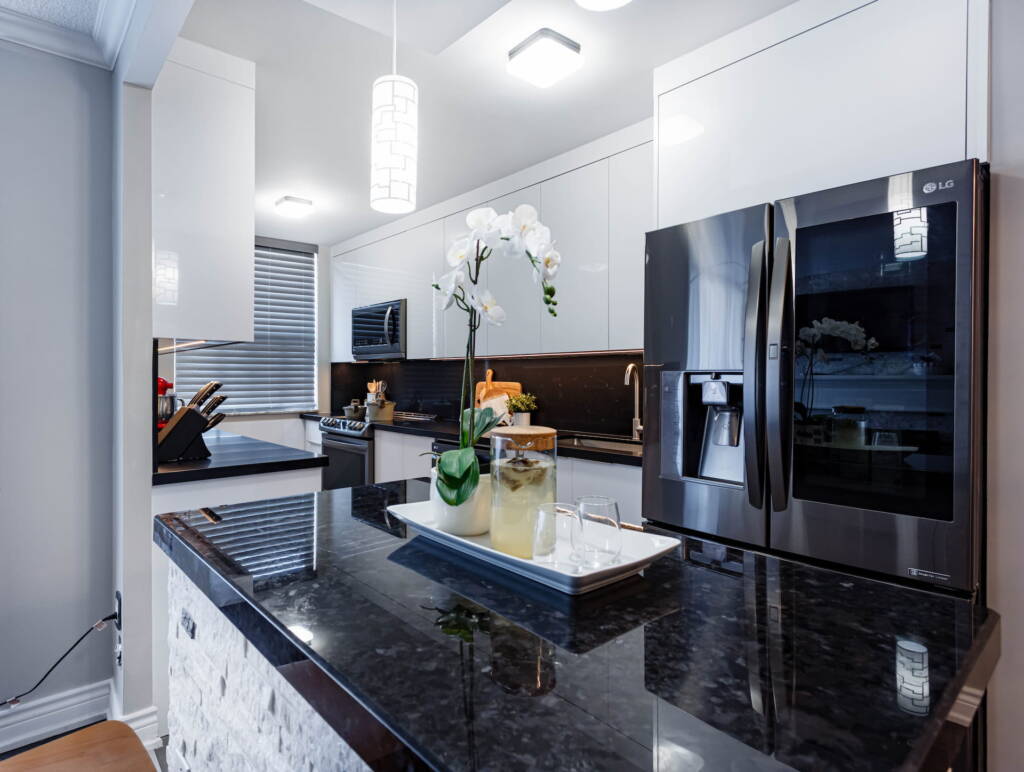 Once you are happy with the design, we finalize the order and take payment. We then deliver and install your new kitchen, and provide a warranty for all of our work so that you can rest assured knowing that your investment is protected.
So whether you are looking for a complete kitchen makeover or just a few minor changes, we can help. Contact us today to get started on your dream kitchen.
Custom Kitchen & Cabinetry Design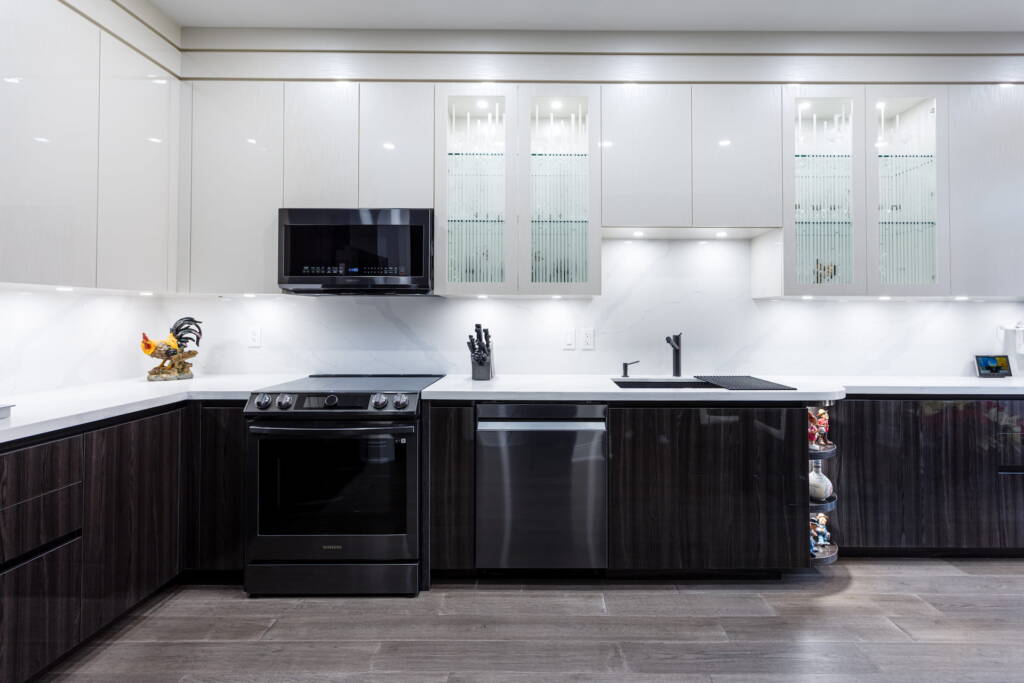 Designing and creating custom cabinetry is our passion here at Clearview Kitchens. Whether it's a new kitchen for your home or a complete overhaul of the cabinets in your office, we work with you to create a space that is both functional and stylish.
We take pride in our workmanship and only use the highest quality materials to construct your new cabinets.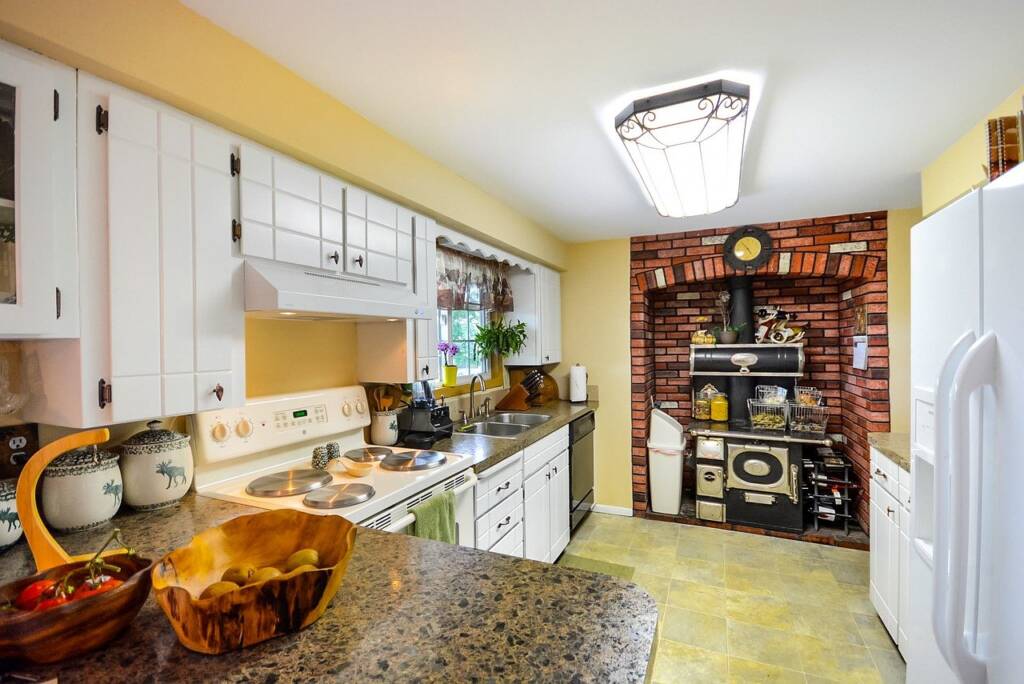 Our attention to detail and commitment to customer satisfaction is what sets us apart from other cabinet makers. We will work closely with you to create a custom kitchen design that meets your specific needs and budget.
When you choose us for your custom cabinetry needs, you can be confident that you're getting the best possible product. Contact us today to discuss your project and see how we can help turn your vision into reality.
Kitchen Layouts & Types
One of the most important aspects of any kitchen design is the layout. The layout of a kitchen will determine how efficient the space is and how well it functions for the needs of the chef. There are a variety of different kitchen layouts that Clearview Kitchens offers, each with its own benefits and drawbacks.
The One Wall Kitchen is the simplest layout, with all appliances and workstations arranged along one wall. This layout is very efficient and is a great choice for a small space because all of the elements are close at hand and there are no traffic patterns to navigate. However, this layout can feel cramped and claustrophobic.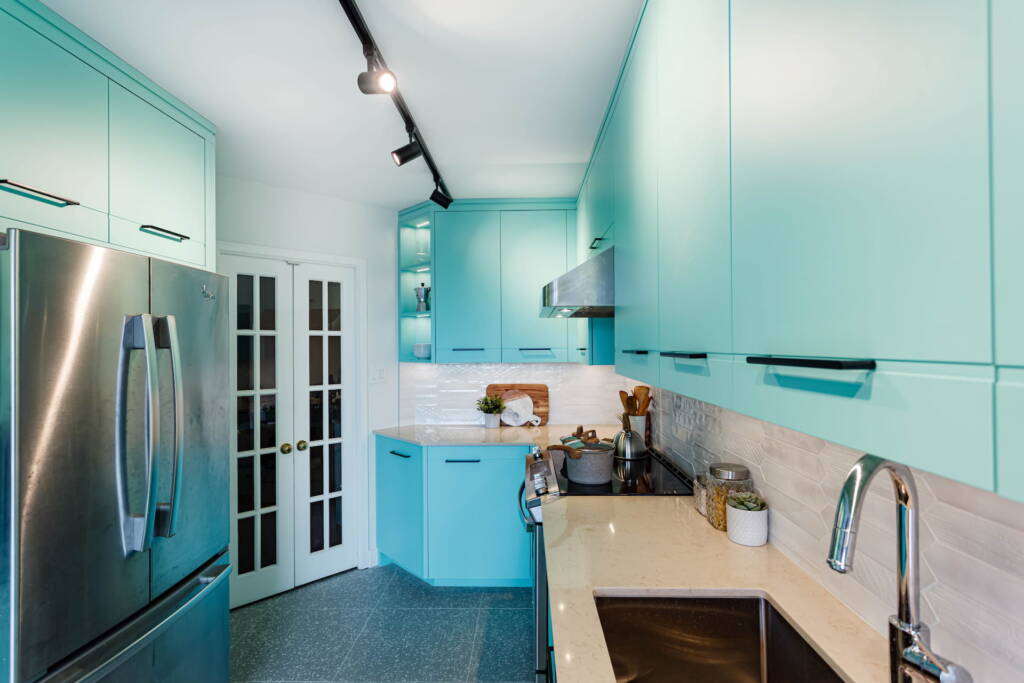 The Galley Kitchen is similar to the one wall kitchen, but with two parallel rows of appliances and workstations. It is long and narrow, with all elements arranged along one or two walls. This layout is efficient for cooking because everything is within easy reach, but can be difficult to entertain in because this layout can feel quite cramped.
The L-Shaped Kitchen is a popular choice for many homes. It features two walls of appliances and workstations, with an empty space in the middle. This empty space can be used for dining or as a work triangle for the chef. However, this layout can be inefficient if traffic has to cross through the work area.
The U-Shaped Kitchen is similar to the L-shaped kitchen, but with all three walls used for appliances and workstations. This layout can be very efficient as everything is within easy reach, but it can also feel quite claustrophobic if the kitchen is small.
The Island Kitchen is a popular choice for many homes. It features a work island in the center of the room which can be used for food preparation or dining with appliances and workstations on all sides. However, this layout requires extra space and can be difficult to clean around.
The Peninsula Kitchen is similar to the island kitchen, but with a peninsula instead of an island in the middle of the room. This layout is similar to an L-shaped kitchen but offers more counter space and can be used to define different areas within the kitchen. It can however also feel quite claustrophobic if the room is small.
Kitchen Renovation Cost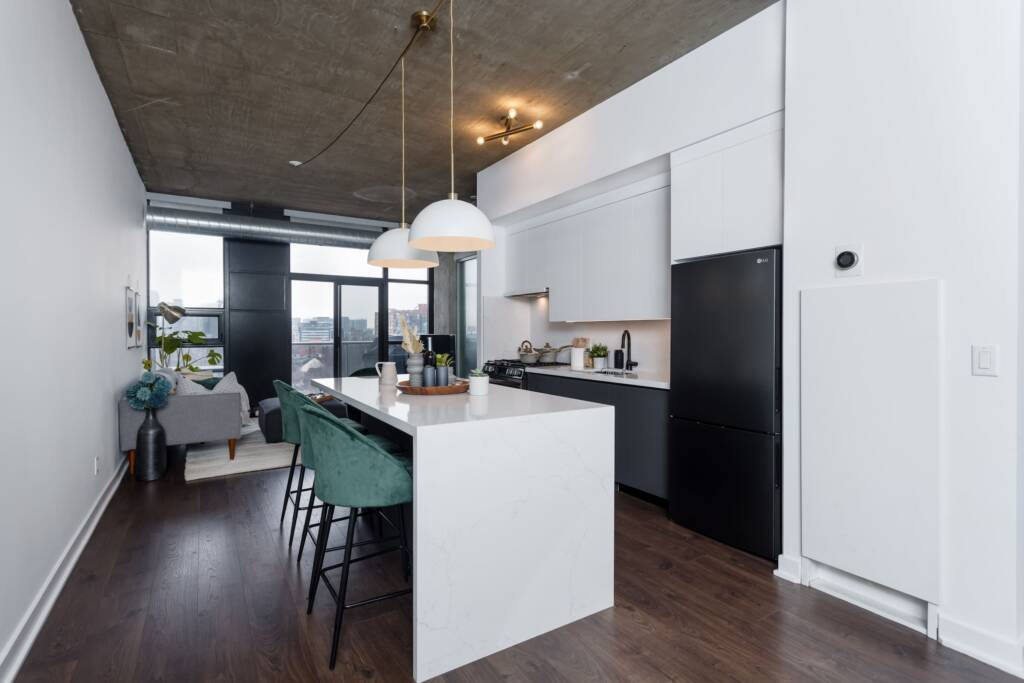 The costs of kitchen renovation in Toronto can vary depending on a number of factors, including the location of the home, the time of year, the contractor's pricing, the condition of the space, the kind of supplies needed, and the amount of work necessary during preparation.
The project details will also play a role in determining the overall cost. For example, a simple refresh may just require new paint and hardware, while a complete gut job will need new floors, walls, cabinets, and appliances.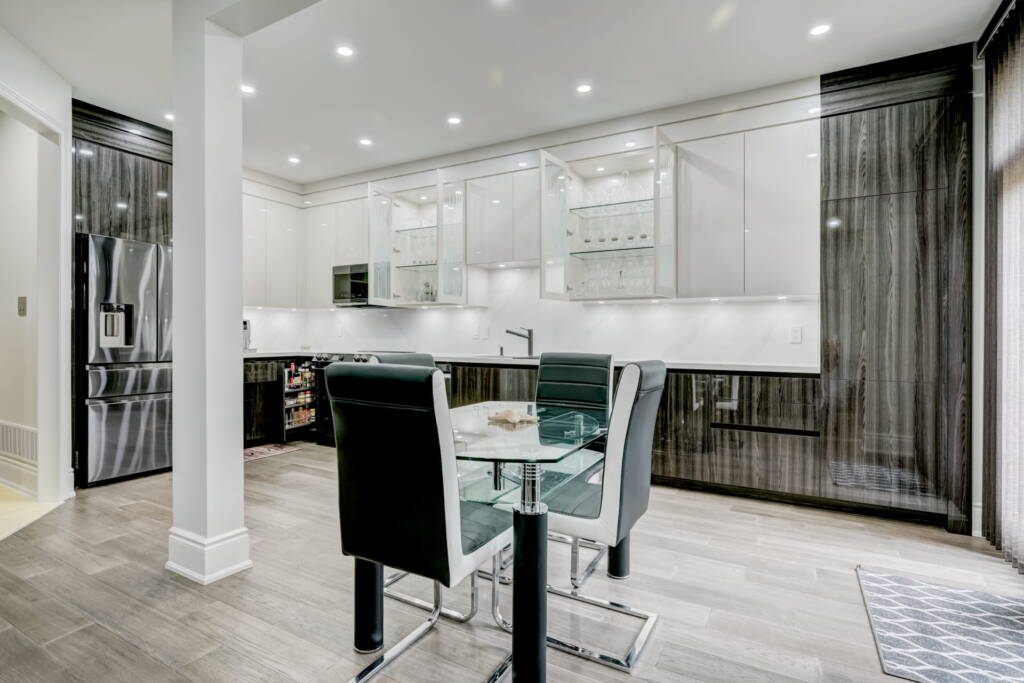 By taking all of these factors into consideration, homeowners can get a better sense of what to expect in terms of cost when embarking on a kitchen remodel.
In general, the average cost of a kitchen renovation is between $15,000 and $25,500, and a high-end kitchen will cost you around $60,000.
Kitchen Remodeling Company You Can Trust

At Clearview Kitchens, we pride ourselves on being the best kitchen renovation contractors. We stand by every kitchen we design, and we offer a free quote so that you can see for yourself how much value we can add to your home. Our top-notch design team will work with you to create excellent visualizations of your new kitchen, using the best materials on the market. And because we approach things differently, this helps us create a truly unique space that you'll love for years to come. So if you're looking for a kitchen remodeler who can deliver on all fronts, contact us today.