Are you looking to get new modern kitchen cabinets in Barrie? Clearview Kitchen has you covered! Installing kitchen cabinets with Clearview Kitchen can be affordable and admirable. Renovating your kitchen provides many advantages given the fact that it is a commonly used space where families can meet, enjoy their time together, and spend time together every day. Our vast experience has only refined our skills in custom cabinetry; therefore, we promote quality work and provide you with high-quality custom cabinets that are carefully crafted to your liking.
Modern Kitchen Cabinets in Barrie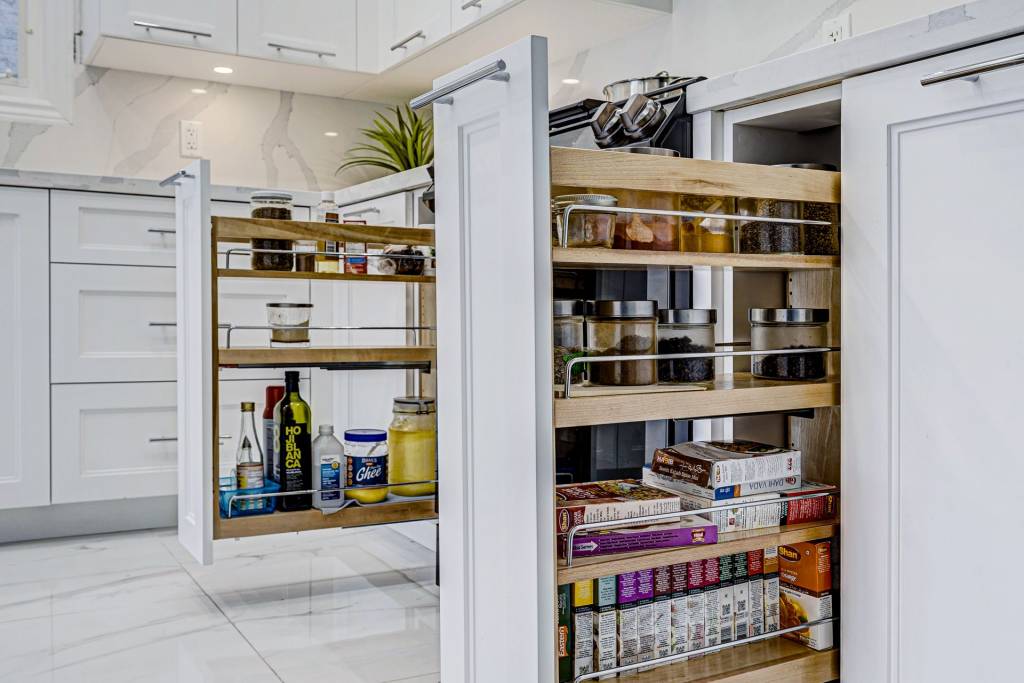 Clearview Kitchens is a pioneer in custom kitchen cabinets. Our cabinets are fabricated from the best materials available. Our kitchen design process consists of 3-steps: to design, manufacture, and install. We are sure that we can supply you with custom cabinets that you will truly adore. From the moment you come to us, we understand your needs, pair you with our design team to assist you in picking out every detail – trim, color, handles, materials, and more! We can customize every aspect of the kitchen you desire to be installed into your home. You can have confidence that you have a certified group of design specialists you can rely on to be meticulous, organized, and helpful. To begin with, we show you a variety of kitchen cabinets to browse and help you in the dynamic by giving you significant assistance that incorporates estimating the advantages and disadvantages of each kind of material.
We set aside the effort to disclose this to you since we realize how crucial this choice is. Our exceptionally gifted group of specialists offer a free 3D model of your future kitchen. This allows you to make changes at an early stage and realize what's in store before you finish the first step. After the design phase is complete, we secure the high-quality and environmentally friendly materials needed for your specific custom kitchen. The final and exciting phase involves our highly skilled contractors installing your newly designed kitchen. Once completed, we offer post-installation cleanup as we understand it can be a cause for concern for our clients.
Our group of specialists works intimately with each client ensuring that every one of their requirements is perceived and understood. We believe in 100% customer satisfaction and will always provide our customers with extra communication efforts.
Why Choose Our Modern Kitchen Cabinets in Barrie?
At Clearview Kitchens, we are there for you consistently and throughout to help you with every decision and question you could have about our cabinets. Our only job isn't to provide you with the best cabinets for your kitchen but also to provide the best service to help you feel comfortable throughout. We provide quality cabinets for your home and kitchen, services tailored to your needs, and amazing costs on our cabinets. Clearview Kitchens is the right choice for you. We offer our esteemed customers only the best with regards to quality items and remarkable support. We intend to provide quick installations and therefore, we make sure to have all the details ready to have your chosen cabinets installed quickly for you.
At Clearview kitchens, we value sustainability which is the reason we construct custom cabinets that are environmentally friendly in Barrie. They are made of feasible materials that are reused and better than others for the environment. At an affordable rate, you can install your custom dream kitchen into your home for all members of your family to enjoy. We provide quality cabinets that are robust and can last a very long time. This further saves you time from having to repair and upgrade your cabinets every couple of years. We construct your kitchen of choice in a short time frame (a month) and provide a 1-year warranty.
We specialize in constructing custom cabinets in Barrie; however, we also specialize in the custom and design construction of extra rooms in the home; storerooms, divider units, vanity units, as well as closets, and more. Regardless of what sort of cabinetry you need, we are the specialists you ought to pick. As a growing company that loves what they do, we intentionally ensure our clients remain happy with our services and products.
Contact Us Today!
We are the best custom kitchen and cabinet makers in Barrie. With an assurance of great custom designs made especially for you. Call us today to find out more about our custom quality kitchens! Our staff is always ready and available to help you immediately with any questions or needs you have.
Our Last Projects in Barrie