For the risk-taking homeowner, two tone kitchen cabinets are one of the hottest kitchen renovation ideas to implement. Although many worry about having dual-tone cabinets in their kitchen, taking that extra step in interior design might just be exactly what you need to elevate your space.
In this article, we're discussing the advantages of two tone kitchen cabinets, as well as some of the most popular cabinet ideas to consider for your upcoming kitchen renovation.
Two Tone Cabinets Transform Your Kitchen
Two tone kitchen cabinet ideas
Typically, implementing two tone kitchen cabinets includes having the top row of cabinets in one colour and the bottom row in another. This approach is innovative but uniform enough to keep your kitchen from looking too busy. Here are some of our ideas.
Black and White Kitchen Cabinets
A classic two tone kitchen cabinet design involves mixing cool, neutral colours. To this end, black and white go incredibly well together. With white kitchen cabinets at the top and black at the bottom, you will be creating a breathtaking contrast. Having light coloured cabinets at eye level also makes the kitchen seem a lot more open and spacious.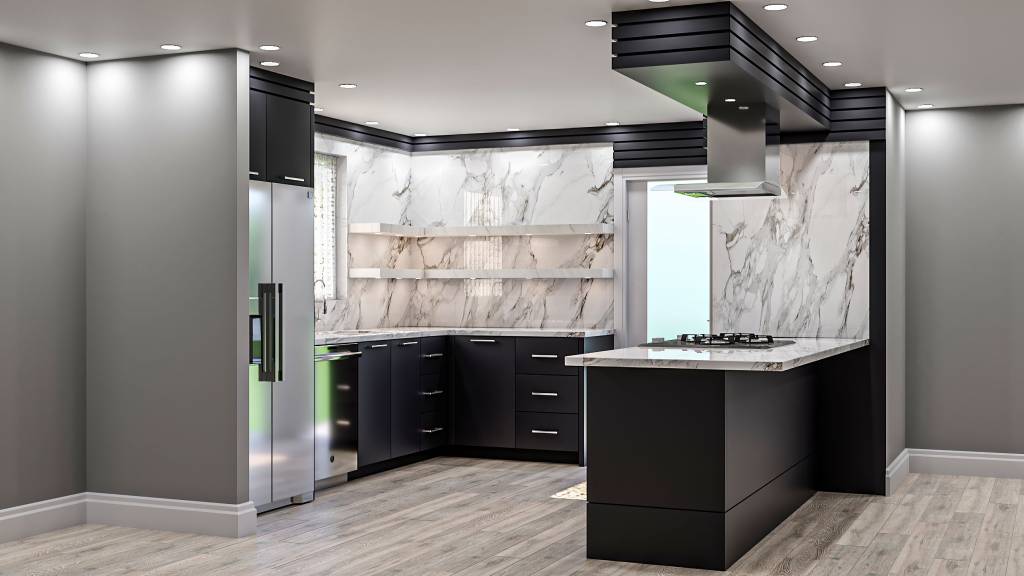 Matte Black Kitchen Cabinets
Many interior designers write off cabinets with a shiny finish as a relic of the past. Nowadays, it's all about cabinets with a matte finish. But this doesn't mean you have to remove all your glossy cabinets. Finding a balance between matte kitchen cabinets and shiny ones creates a fabulous harmony that will leave your guests in awe every time.
Blue Kitchen Cabinets – Those Kitchen Blues
Installing blue kitchen cabinets goes incredibly well with brown laminate floors. Pair them with some cream kitchen cabinets at the top, and boom! Your cabinets are every designer's fantasy. You can also take it up a notch and install some white marble kitchen countertops while you're at it.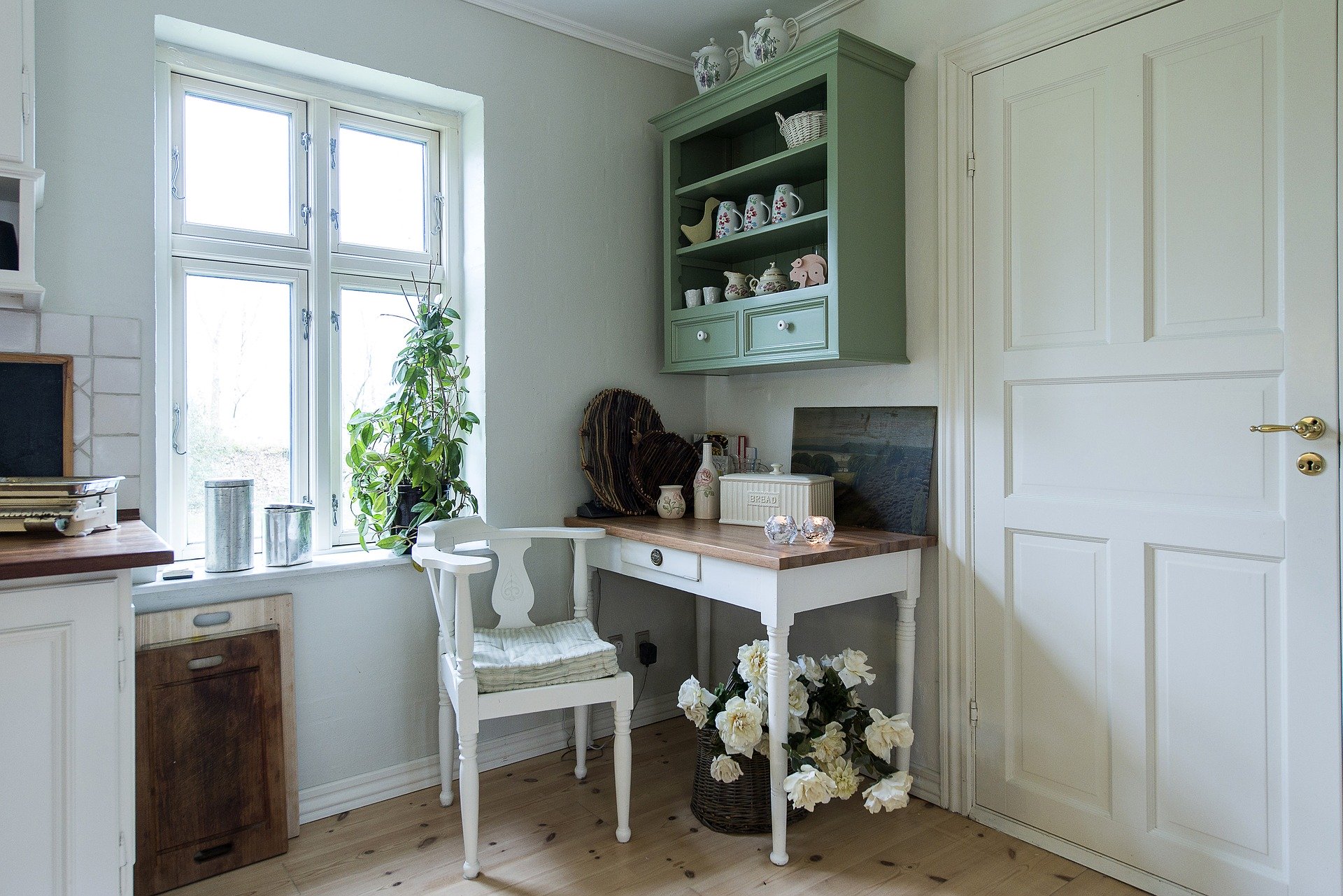 Going Green? – Green Kitchen Cabinets
Green is certainly not your typical "kitchen cabinet colour." But have you considered different shades of green? (And no, we're not talking about Shrek-green. We're talking about teal). We think teal is one of the most beautiful colours to implement in your kitchen. Teal kitchen cabinets with any shade of brown are two peas in a pod. This combo along with a brick kitchen backsplash is enough to zhuzh up the room.
Kitchen Island Cabinets
This two tone kitchen cabinet idea is one of our most affordable! Many kitchen islands come with built-in cabinets these days due to homeowners' ever-growing need for storage space. And since you can buy a kitchen island on its own, it makes for a wonderful opportunity to add some colour to your kitchen design. If you're working with all-wood kitchen cabinets, the world is literally your oyster. A kitchen island with maroon cabinets is dramatic enough to spice up your kitchen design.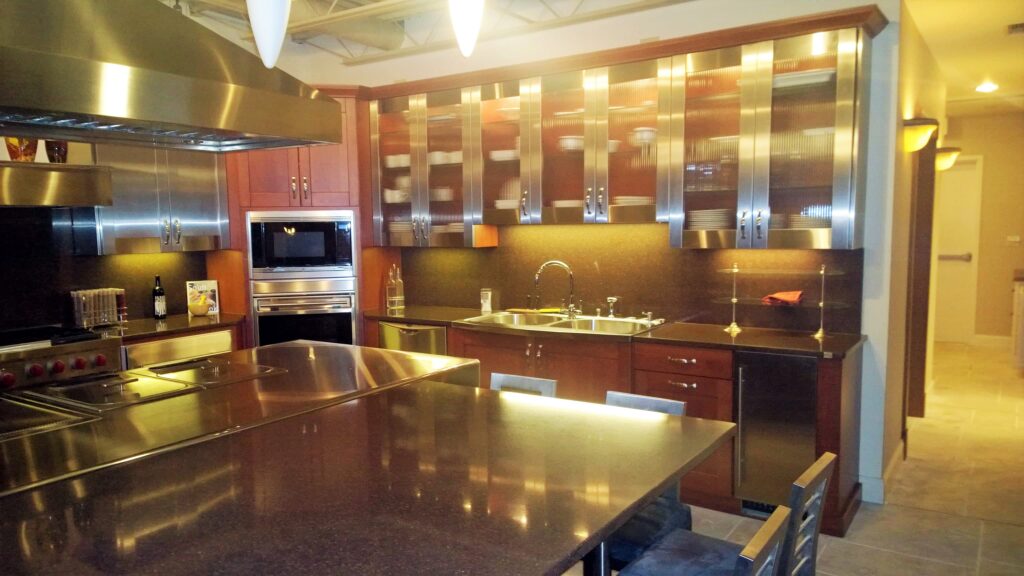 Stainless Steel Kitchen Cabinets – Steel the Show
We get a lot of questions about steel kitchen cabinets and whether they are a good idea. The answer is simple: it goes without saying that stainless steel cabinets are durable and built to last. And although steel cabinets are usually associated with industrial kitchens (i.e. at major chains, restaurants, and the like), combining stainless steel with another cabinet colour will give your kitchen some edge while maintaining a cozy, family-friendly feeling.
Here you have it: our professional design insight on two tone kitchen cabinets. Looking for more kitchen design inspirations? Our portfolio is one to see! Check out some of our favorite kitchen design projects and contact Us for more terrific kitchen cabinet design ideas.
RELATED ARTICLE: How to Paint Kitchen Cabinets – A Step by Step Guide