Creating a stunning vanity not only enhances the look of your bathroom but also increases functionality. As homeowners look to upgrade their bathroom or build a new one from scratch, one of the most common requests is a vanity that serves multiple roles.
There is nothing more frustrating than trying to share vanity space when trying to get ready in the morning. So if you are finding yourself squeezed for space in front of the mirror, it may be time for a new bathroom vanity.
Many factors influence a new bathroom vanity design. Homeowners want to be sure they have enough counter space for getting ready in the morning. They also want enough storage so that the bathroom vanity doesn't become cluttered with bottles and jars.
If you are ready to build your bathroom vanity, it is important to make sure to follow a few simple steps. These helpful hints will make sure you include all the right elements in your bathroom vanity plans from design to material choice.
Let's look at some bathroom vanity design tips so you can finally have the prep space you have always wanted.
Plan a layout
Every bathroom is different, so it is important to consider your specific bathroom needs when planning your washroom vanity design. Start by confirming where your vanity will be placed. Are you keeping it in the same spot or are considering moving or expanding your space?
Recently design trends prefer a gallery layout with two vanity spaces. This allows homeowners their own dedicated space when getting ready in the morning or getting ready for bed.
To achieve additional counter space, you may want to consider an L shape design which allows you to take full advantage of counter and wall space, giving you even more storage and prep space. This design works best in large such as primary bathrooms and allows you to create seating space in front of the vanity too.
Establish the number of sinks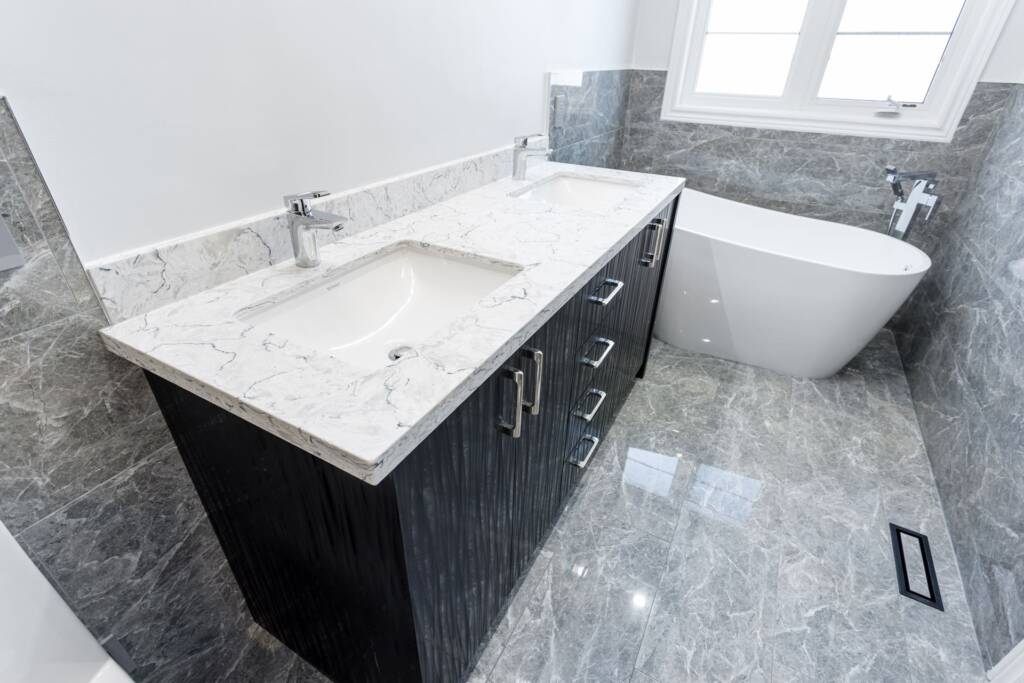 We mentioned earlier that many homeowners are choosing to go with bathroom vanity designs that feature two sinks. Not only does this improve the speed of your morning routine, but also allows you to create a truly elegant bathroom. If you're sharing a bathroom, having a double vanity is the perfect solution.
Your sink is one of the most important elements of your vanity design so enjoy choosing a design that not only increases functionality but becomes a true statement piece in your bathroom.
Guest rooms and ensuites usually have just one sink, however, depending on your vanity size, you may be able to expand to multiple sinks. Vanities that are over 60 inches, can usually accommodate more than one sink.
Your bathroom vanity installation expert can help you determine what size best suits your bathroom space.
Choose vanity style
Your vanity style should blend into the overall decor of your bathroom. Once you have decided on the layout, you can then begin planning the style of your vanity. The type of look you want to achieve will influence your vanity style. Are you looking to create a minimalist look? Do you prefer having an unobstructed surface with a low sink? Do you want an all-white look or are you ready for a splash of colour?
Here are a few simple things to consider
Design: Modern vanity designs have moved away from a simple box design against the wall. Today, bathroom vanities can be floating or freestanding designs. Many homeowners are exploring other unique design ideas such as repurposing furniture to act as a vanity.
Material: Do you want solid wood, MDF, plywood.
Colour: Do you want to go with a traditional paint colour or would you like to add a more rustic feel with a stain?
Hardware: Are you looking for a modern, sleek design for your hardware or do you want to go with antique or industrial fixtures?
If vanity design is for an ensuite or guest bedroom, then you likely only need one sink, which means you want to maximize your vanity design to have maximum impact.
Use your style and design preferences to guide you as you create your vanity design. This will allow you to create a piece that truly fits into the overall design of your home and seamlessly blends into your lifestyle needs.
Choose the right countertop
Your bathroom countertops get significant daily use. They also have to be easy to clean away messes from things such as make-up, personal care items, and washing up after kids' activities. That's why it's important to choose a vanity countertop that is not only stylish but versatile.
In addition to your style wishes, your budget will also help determine which countertop best suits your vanity design. The most popular bathroom vanity countertop materials are:
Quartz
Granite
Marble
Laminate
Concreate
Wood
Stone
Your bathroom design expert can help you determine which stone best suits your vanity design to ensure you get a beautiful and polished look. Remember to keep in mind how your vanity will be used when choosing your materials. Softer stones may chip or scratch easier, so choose a material that will be able to handle day-to-day use.
Choose the sink style
Step away from a traditional pedestal-style sink and explore unique design options. Today bathroom vanities are designed to create countless storage opportunities and make getting ready a snap. Sink styles create a feeling of luxury with modern sink designs that are sleek, elegant and add beauty to your bathroom design.
Undermount Sink: These sinks are the popular choice for stone countertops. They are mounted under the countertop, which usually requires professionals to cut the stone top and install it properly. It provides a seamless look and makes it easier to clean.
Vessel Sink: creates a unique design opportunity allowing the sink itself to be a work of art within your bathroom
Drop-in sinks: the classic sink design is the most economical and works well with arborite or wood countertops.
Custom Sink: are you ready to get creative with your sink design? Choose a sink that truly reflects your personality such as a custom-designed or artisanal sink made from pottery or glass.
Your sink is one of the most important features of your bathroom vanity. It allows you to express your style and create a space that is truly unique to your home. Homeowners no longer need to have a boring plain white sink. Today, it is a design feature that can truly be a work of art.
Choose remaining fixture
When putting together your bathroom vanity plans, it is important to consider your fixture design and material. Your fixtures should be a reflection of your bathroom vanity design. They should also be able to stand up to daily use. So it is important to pick fixtures and accents that are durable and designed from quality materials that can withstand exposure to water and humidity.
As you review your fixture options, it is important to ask yourself a few questions before picking a final design.
Are you going for a modern and minimalist look?
Do you want automatic or manual options? Today many homeowners are looking to hide fixtures, preferring automated taps that activate with a simple wave of the hand.
Do you prefer an antique or industrial feel?
Do you want your fixtures such as wall sconces to match your drawer handles?
Do you want a gloss or brushed matte look to your hardware and finishes?
Do you want your bathroom fixtures to have the same look as other fixtures in your home such as the kitchen, sticking to a consistent colour or finish?
Answering these questions will help you create a flawless design scheme that enhances the look of your bathroom vanity. Looking at your fixture and choices from multiple perspectives can help you create a look that seamlessly flows throughout your home, while still creating distinct design features.
There are thousands of design options to choose from so it's important to take the time to carefully plan your fixtures to create a look that is cohesive and fits your overall design scheme.
Many important steps go into how you build a bathroom vanity. Each detail requires careful consideration and planning to create a finished design that meets your needs.
Contact Us
A professional bathroom vanity installation and design expert can help you capture the vision of your vanity plans and bring them to life. The experts at Clearview Kitchens work with you from start to finish, helping you create a bathroom vanity design that not only looks amazing but reflects the needs of your family. We provide free renderings so you can easily visualize your plans and customize them to suit your needs.
We help you choose the right bathroom vanity design paired with expert advice on how to enhance the overall look of your bathroom vanity with accents that enhance the look of your bathroom vanity.
We can help you choose the right design, materials, and space usage to help you create a morning or evening routine that works for you. Contact us today for a free estimate and get ready to add a bathroom vanity that adds beauty and value to your home.