When it comes to remodeling your kitchen, it's best to avoid what's new and trendy and opt for a classic design that will withstand the test of time. There is nothing worse than shelling out big bucks on something just for it to go out of style in a few years. The following kitchen-remodeling guide brought to you by the good people at Clearview Kitchens provides a handful of options for you to consider that might be new to the industry, but will surely be around for years to come. This is especially important because you might not be living in this house forever and your resale ability could be hindered by a less-than-desirable kitchen. The trick is to couple a classic layout with your own touch of personality through easy-to-replace accessories like wallpaper, window treatments, and paint.
NEUTRAL COLOURED CABINETS
It's always a good idea to opt for a neutral tone when selecting cabinet colors. White is a classic, timeless option that will surely please for years to come. If you have your heart set on injecting some color into your kitchen – cream, light shades of grey, light greens and blues, and beige are all safe plays. Remember – kitchen trends come and go – so selecting a traditional cabinet design is important. Shaker-style and more contemporary flat-front cabinets are good options for kitchen cabinet styles in 2022, while white painted and wood cabinetry are additional classic looks.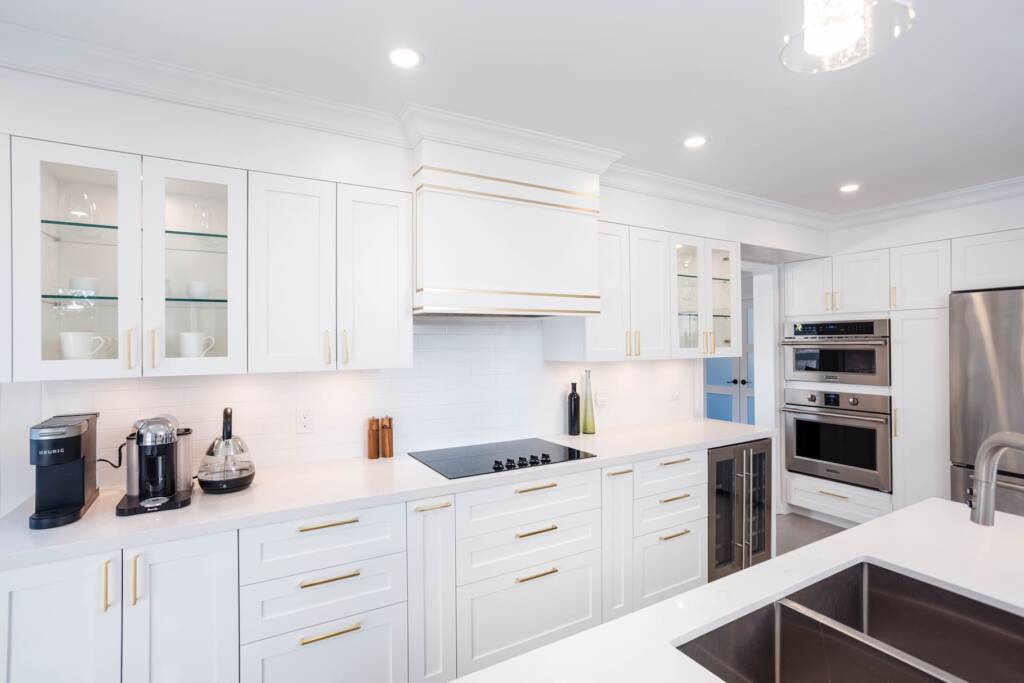 WHITE KITCHENS
One perk of opting for a classic white kitchen is that your matching white appliances are very easy to clean. Far easier than their stainless steel counterpart. One of today's trends are smaller appliances as condo living, which is becoming increasingly more common, offers limited space.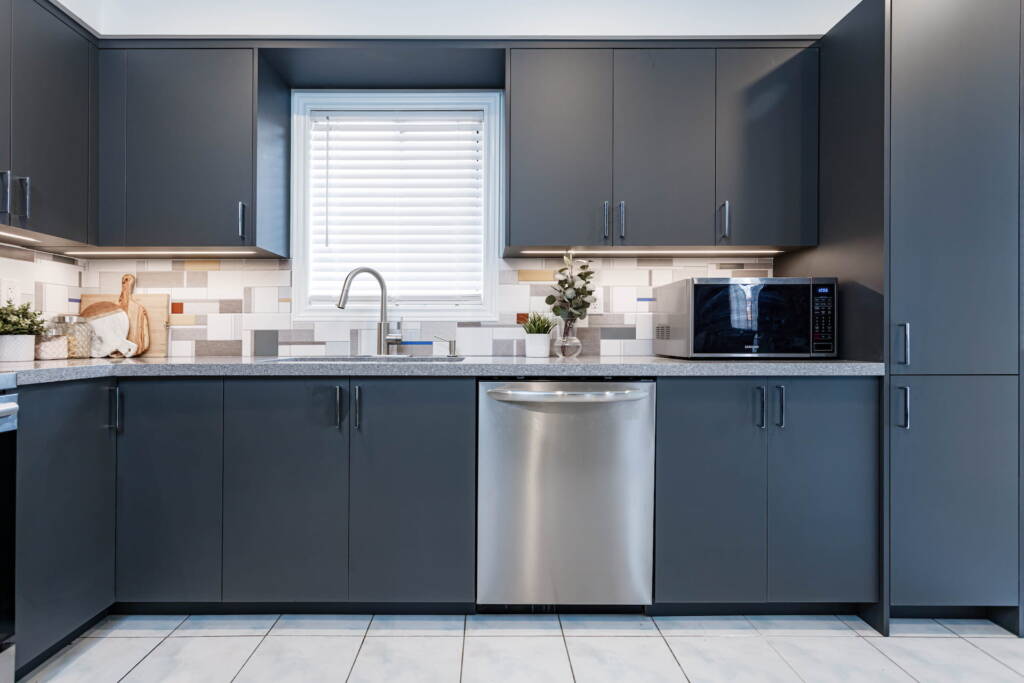 QUARTZ COUNTERTOPS
Quartz is one of the most durable countertop options on the market. It resists scratches, burns, and chips. These countertops are created through a process that sees crushed quartz stone mixed with a resin to produce a finished product that can range from solid colors to granite lookalikes. But unlike granite, these are far easier to maintain and you don't have to seal it periodically to prevent stains. From a design perspective – it's a good idea to choose countertops that have timeless looks rather than opting for something bright and bold because it's simply the flavor of the week. Easy ways to improve the look of a countertop include adding pattern or texture with natural stone, or a stronger marble veining is always a possibility.
LED ROPE LIGHTING
Ribbon LED lighting is becoming more and more popular, and for good reason. This latest kitchen trend is here to stay for a number of reasons:
LED lights come in a variety of colours – from bright to soft white, red, blue, and even green.
Easy to install and can be placed in a number of different places
LEDs produce next to no heat, so they can stay on without any worry of burning cabinets or walls
LEDs are also very energy efficient, on average they can light for 50,000 hours – five times longer than compact fluorescent lamps (CFL).
A bonus is that LED lights are becoming more affordable each day, which is a major factor in the popularization of the product.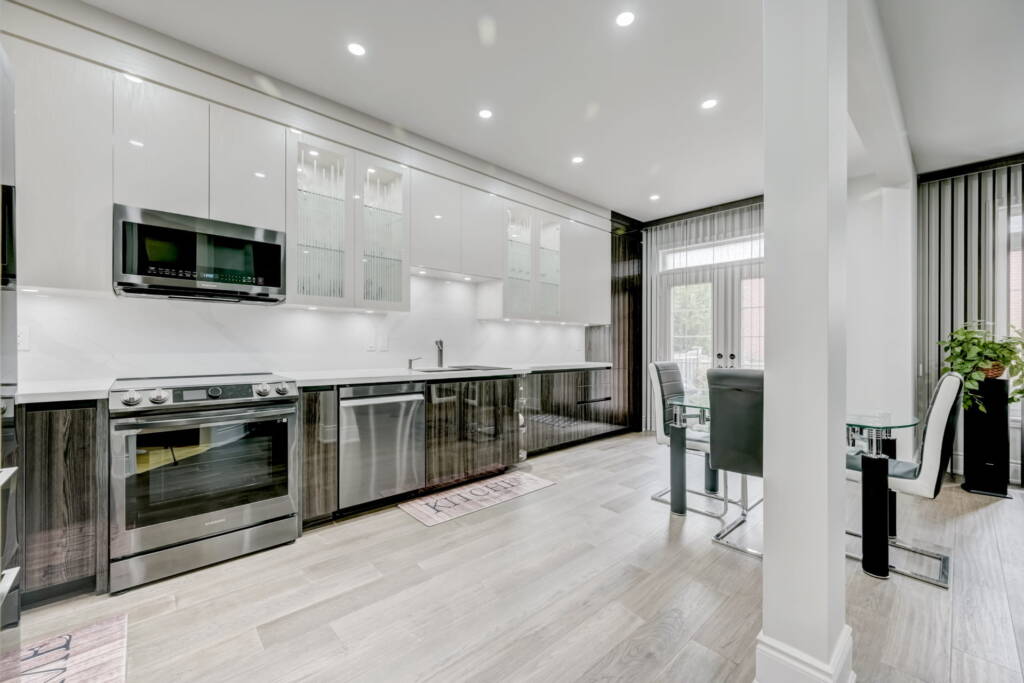 TOUCH-ACTIVATED FAUCETS
Much like LED lighting, touch-activated faucets are another popular trend popping up in kitchens across the country. Sure, these fixtures cost a little more than a regular faucet, but over time you'll likely learn to love them. There is a little worse feeling than having your hands dirty after handling raw chicken and trying to fiddle with a tap. Touch-activation is a great way to combat this. Or perhaps you have someone in the household that has a bad habit of leaving water running – touch-activation's auto turn off easily solves this problem and helps to save on your water bill.
TRANSITIONAL KITCHEN DESIGNS
Contemporary kitchens with sleek, simple designs are said to be the latest growing style. These sleek and clean designs encourage a non-cluttered look, which can admittedly be hard to maintain in a busy household. This is why it's best to opt for a transitional design, which combines both contemporary and traditional styles to create the best of both worlds.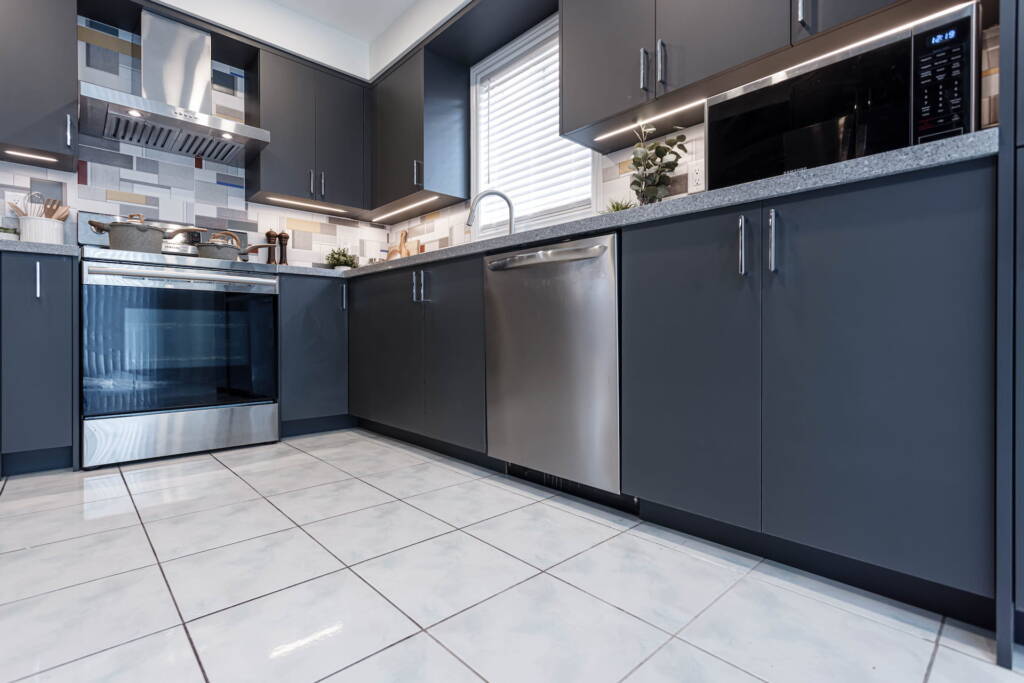 ACCESSIBLE APPLIANCE HEIGHTS
Aging at home is becoming more and more sought after and having appliances in easy-to-reach places is one trend that is allowing this to happen. A properly planned kitchen layout is also important when considering accessibility. The most important thing to consider when planning the layout is 'the kitchen triangle' which is made up of the sink, oven, and fridge. The positioning of these are important in order to achieve a successful layout. They can create the nucleus that the rest of the kitchen functions around – it doesn't matter if yours is L-shaped, U-shaped, a galley, or built with an island in the middle.
A few trends you can expect to see in kitchens for years to come include:
Side-opening oven at counter height – you will no longer have to reach up or bend down to get food out of your oven – you can now simply slide it out. This simple little tweak has made cooking better on backs and more accessible for home chefs. Deep-pocket drawers – base cabinets have evolved greatly over the past few decades. No longer will you have to contort your body to reach the pots and pans. 24-inch deep drawers are becoming the standard in classic kitchen designs, which makes storing ill-fitting cookware much easier. A byproduct of these deep drawers are deep draw organizers – these devices range from just a few to several hundred dollars but all set out to do one thing – prevent your cooking utensils from rumbling around chaotically. Microwave drawers – similar to the side-opening oven, installing a microwave below counter height, in a drawer, is making life easier for everyone. Simply open it up and put the food inside, close the door and start. The above oven height where these appliances became famous is no longer the tradition and for good reason.
OTHER POPULAR KITCHEN TRENDS:
Multi-functional island – in this day and age it is far more likely to encounter a kitchen with an island than a kitchen without one. Their simple yet useful design has cemented them into timeless kitchen designs across the country.
Fixtures and fittings – Door handles, knobs, faucets, and hinges are places where you can really push the design envelope. Since these features are so easily changeable it never hurts to take a risk and really opt for something unique. But remember, in order to create a timeless kitchen it is important to create a cohesive look, so make sure that your selections match the rest of your classic kitchen's ambience.
Regardless of how you envision your kitchen remodel coming together – one surefire move that will make the project much smoother is hiring the experts at Clearview Kitchens. Our team of professionals will help to create the classic kitchen design of your dreams.