When a homeowner is trying to create new feelings and looks for the kitchen, selecting the perfect countertop can become daunting and challenging. The massive variety of countertop materials can make it challenging to pick the right one for your budget, design vision and lifestyle needs. Ideally, a kitchen countertop should have style, be durable and do not require a ton of maintenance. Quartz kitchen countertops meet all of these standards and more.
But before you purchase your own quartz kitchen countertop let's review what you need to know about the material including the pros and cons, cost of quartz countertops, how quartz differs from granite, and how are quartz countertops made.
Quartz Countertops Pros and Cons
One of the most widely utilized decision-making tools is the classic pros and cons list. Let us take a look at the pros of quartz kitchen countertops first, followed by the cons.
Pros:
Quartz stone countertops have many advantages as the chosen material for a kitchen countertop.
Resembles natural stone
This is a pro that stems from a design point of view. Depending on the look you are going for in your kitchen the natural look may suit it best.
They are low maintenance
Quartz countertops do not stain and quartz slab is non-porous making it low-maintenance and very easy to clean.
On the topic of easy to clean
quartz kitchen countertops are stain resistant. This is a plus if you have small children in the house or you are prone to spilling or messes.
Low water absorption
A countertop that doesn't absorb a lot of water? Perfect for a kitchen. This includes liquid spills, and sink splatter.
No sealing is required
Save time and money with this pro as there is no need to seal a quartz kitchen countertop.
Non-Porous
Because it's non-porous you don't have to worry about any bacteria, germs as much as other materials.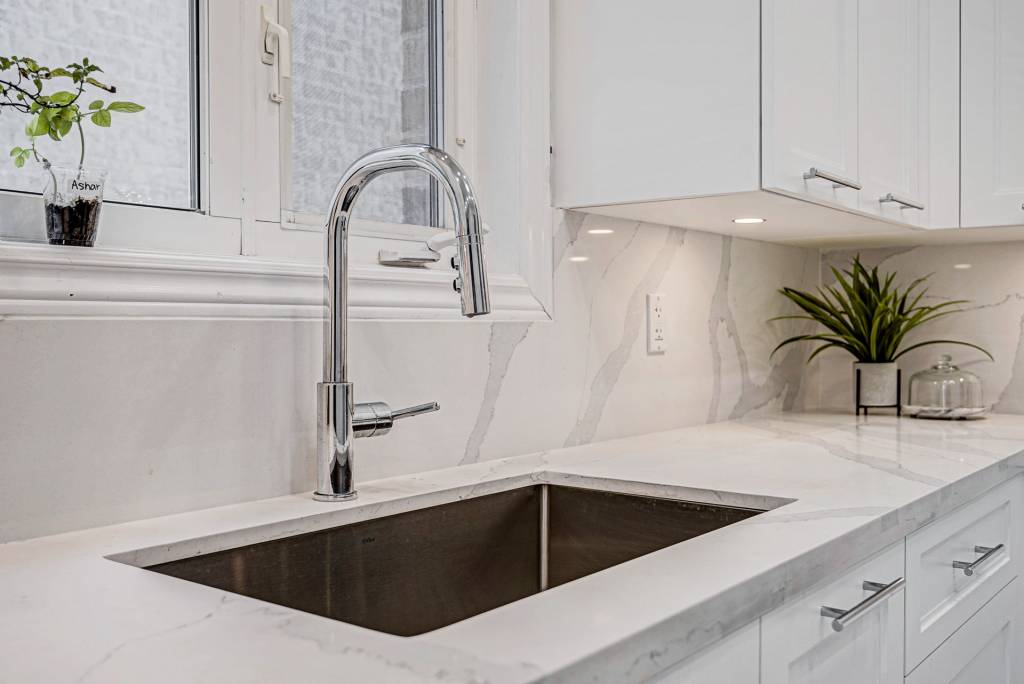 Cons:
Now of course, nothing is perfect so the quartz kitchen countertops do have some downsides.
Quartz is technically not a real stone
There are some homeowners who may not want a replica of a stone material as opposed to the real thing.
Very expensive
If you are budget conscious or simply do not want to spend a lot of money on your kitchen countertops then this is not the material for you.
Extremely heavy
Given the massive weight of quartz countertops some cabinets may have to be reinforced before the installation can even begin
By the analysis of the ratio of pros to cons with the addition of a quartz countertop in the kitchen you can see the pros outweigh the cons.
How Are Quartz Countertops Made?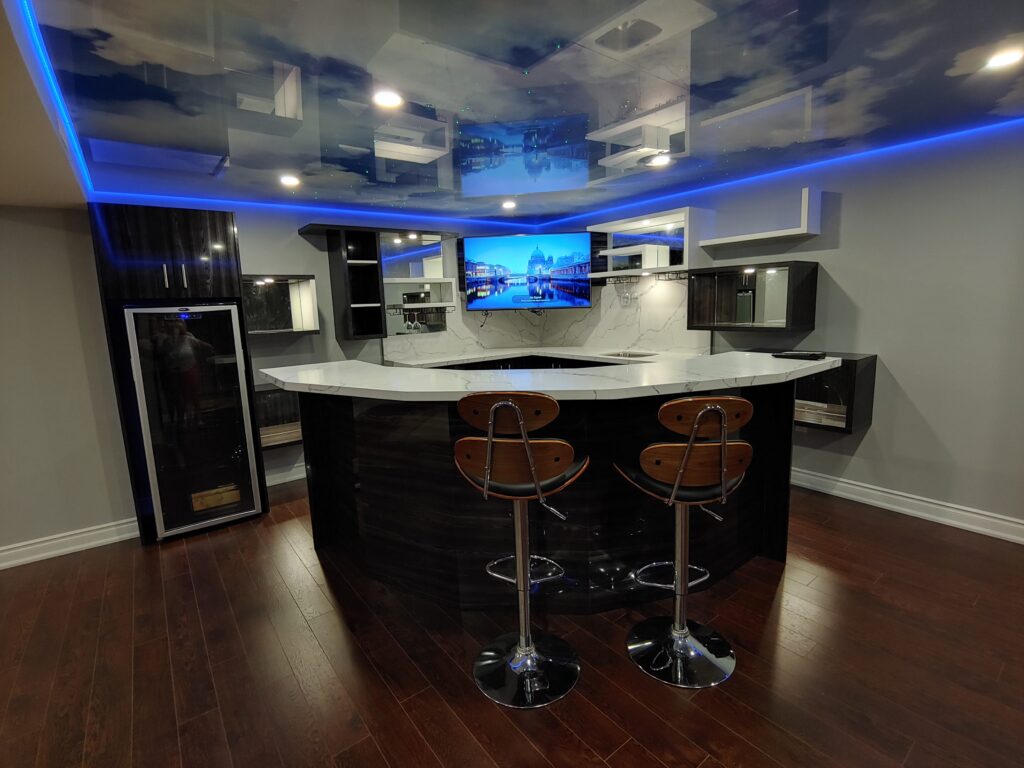 Quartz ledges and countertops are man-made and designed stone ledges shaped by joining 90% ground quartz with 8-10% pitches, polymers, and shades. This first step structures an exceptionally hard stone-like surface. The appearance of the surface will depend upon how the quartz is ground. If it is coarsely ground quartz it will create a spotted appearance, while finely ground quartz delivers a smoother look.
However, there are some quartz countertops that are made of quarried slabs of the natural stone but they are more difficult to find as the newer method above is most common.
Cost of Quartz Countertops
As previously discussed as a 'con' of quartz kitchen countertops they are on the pricier side. But the question is: how pricey?
Typically a quartz countertop for the kitchen cost around $125 per square foot, so depending on the size of the counter in question this may or may not fit a remodel budget. To purchase the materials for this project average $75 per square foot to start. It is suggested to do your research on prices in your range, and your area as they may differ to this general price.
Why Consider Quartz Countertops
Quartz countertops is easily one of the more popular choices in kitchen design and there is a reason for that, well there are a few reasons actually.
Design
Quartz offers a look of modern style and versatility. And quartz is a great choice when you are looking at it from a design aspect because it is a great alternative to marble.There are many patterns of quartz that resemble marble but without the cost and daunting maintenance factors of marble.
The depth and sleek aesthetic that quartz can provide to a kitchen is something that is desired by many homeowners and designers.
Environmental Impact
Engineered stone countertops like granite and quartz are better for the environment than many other types of countertops, yes you read that correctly.
Quartz is an element that is mined, which is not environmentally-friendly on its own however quartz countertops are made using quartz that is previously mined. No quartz has to mined just to make quartz countertops making it one of the more environmentally friendly materials for stone countertops.
Maintenance
Quartz countertops are non-porous which is why they do not need to be sealed and creates a surface that is easier to clean. On top of that they are durable, stain, and heat resistant making quartz one of the most easy-to-maintain countertop materials available.
When it comes to chips and scratches, which lets face it can happen more than you think in the kitchen,quartz countertops basically are hard to scratch, and very difficult to chip.
Lastly, with the need to seal quartz countertops non-existent there is no need to worry about resealing.
Things to Consider with Quartz Countertops
Before you jump to order your own quartz kitchen countertop you may want to consider two main things.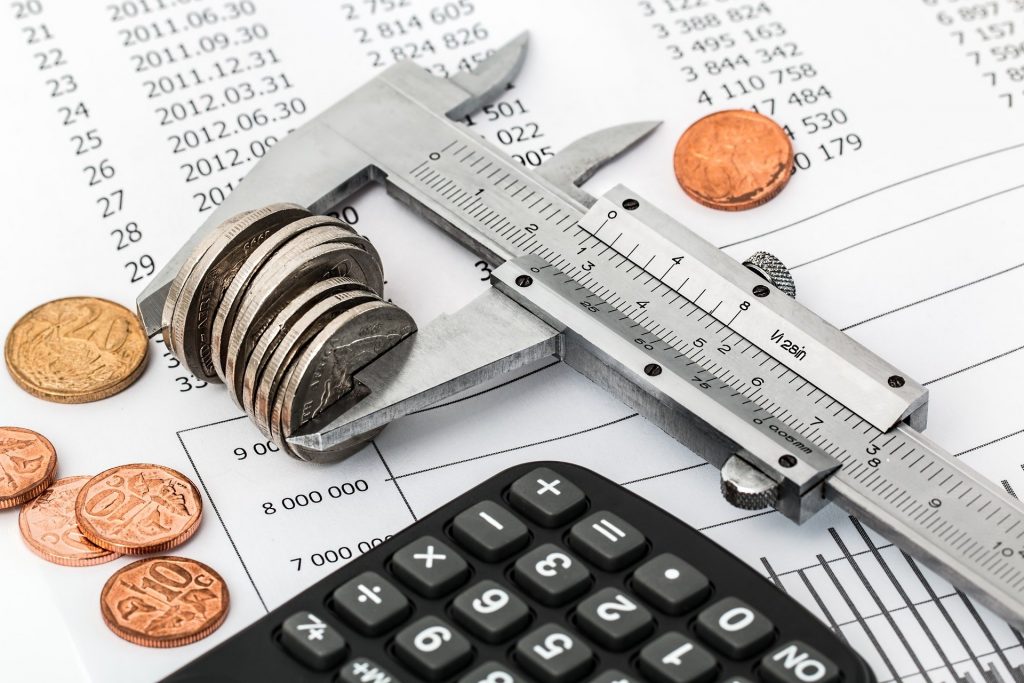 Cost
We have discussed that quartz is one of the more expensive materials (similar to the cost of granite) for a countertop so cost needs to be considered.
Compared to marble, quartz has quality, style, and durability that is similar and much cheaper in comparison.
You should expect to pay up to $125 per square foot for quartz and that is before installation costs being factored into it all.
When you are remodelling your your kitchen no matter your budget whether high or low you need to watch how every dollar is spent.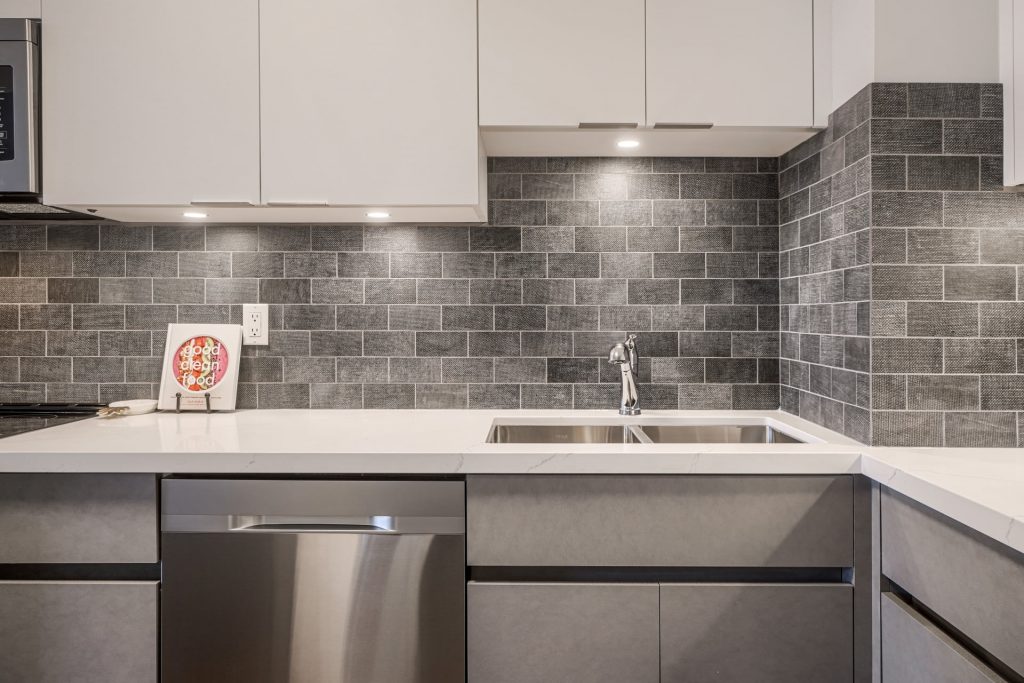 ROI: Return On Investment
The installation of quartz countertops can add significant value to a home, this will additionally make it look much more attractive to potential buyers, and easier to sell if you choose to sell your home.
The Question: Does this fit my style?
If you are leaning toward a design that falls in the boho, or farm categories then quartz is not going to suit that style. When you are considering quartz you are considering the style that is evoked and you have to decide whether or not that fits with your kitchen vision.
Is Quartz Better Than Granite?
Before we can determine which material better we must draw the comparisons.
Granite is a natural stone that must be cut from slabs or tiles after being quarried, whereas quartz remains untouched. Given the natural nature of granite their slabs are one of a kind. This adds character and a unique appeal to granite which some homeowners are drawn to. However, the drawback to this 'unique appeal' is that you may not be able to replace your granite countertops with a perfect match should you be in need of a replacement.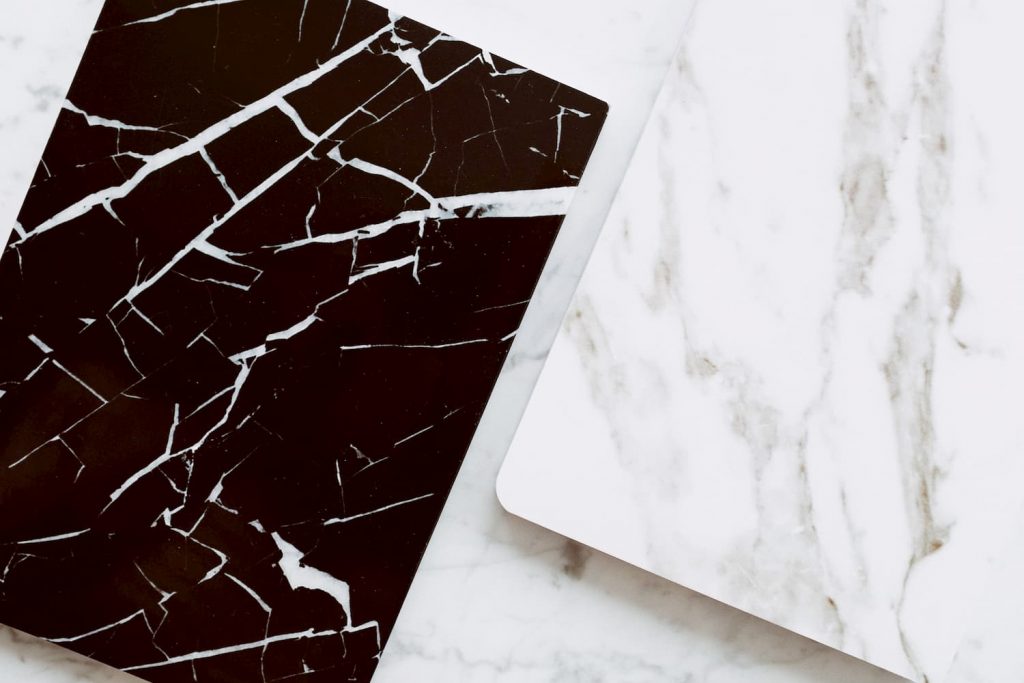 Durability and resilience are important for a countertop and both granite and quartz have those pros. Granite, however, is more likely to sustain chips and cracks to the surface, unlike quartz that is far less likely to be damaged. Worried about sealing?Quartz is non-porous and thus does not have a need to be sealed. Granite on the other hand is porous and can absorb stains easier than Quartz can meaning it will need to be sealed, and resealed yearly.
In terms of pricing, the two are quite similar but granite is marginelly smaller.
So which material is the winner? Quartz appears to be taking the blue ribbon here It's easier to maintain, longer-lasting, and has no need to seal.
How to Clean Quartz Countertops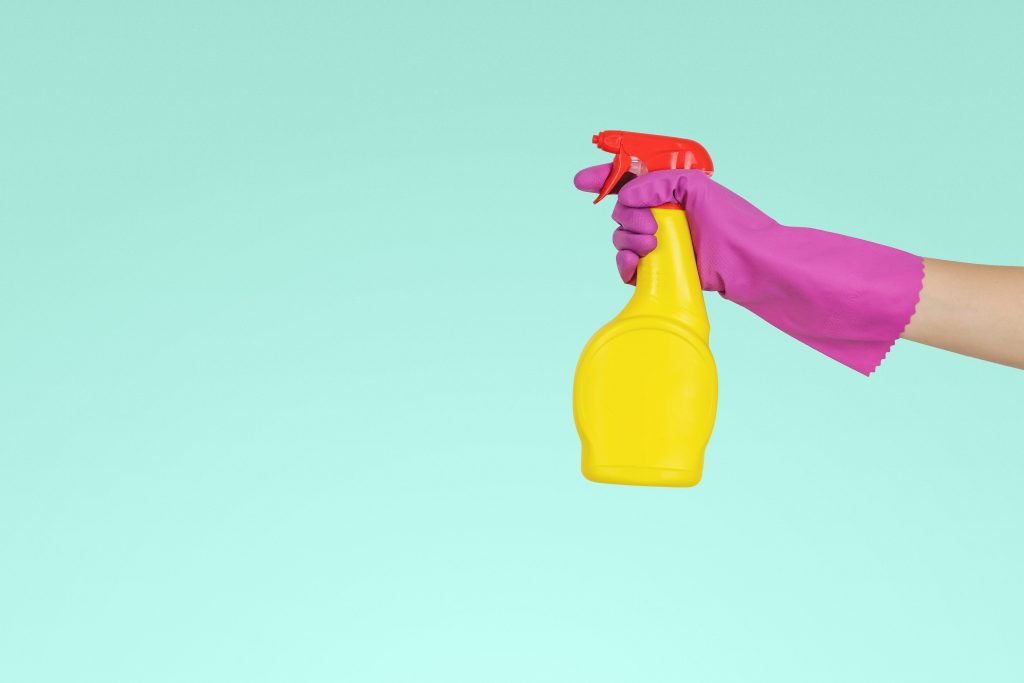 It is important in order to maintain the integrity and the cleanliness of your quartz countertop to know how to properly clean it.
When cleaning a quartz countertop you must be aware of which cleaning chemical you are using. There are some cleaners which contain harmful chemicals that can cause the discoloration of the quartz pigments within the resin. Always use a natural stone (as most quartz is manufactured with natural stone now) cleaner when cleaning quartz surfaces with a soft cloth.
Difference Between Quartz vs Quartzite
The most notable difference between quartz and quartzite is that quartz is a man-made countertop material, while quartzite(much like granite) is a natural stone. A quartzite countertop starts out as sandstone, and is then put through a process of heat and pressure is fused with quartz crystals that sparkle to form quartzite. Whereas quartz is merely manufactured with some natural stone elements.