Your kitchen is more than just an area in your home designated for meal preparation. It's a special place where families can come together, share moments and create lasting memories with one another. It's where families congregate to talk about their day or chip in to make a holiday dinner.
Today, modern kitchens are also used as a space to entertain guests or get some paperwork done. This gives rise to an even greater need for your kitchen to be functional, organized and appealing. The design of your kitchen should work for you. One of the leading trends in modern kitchens is glass kitchen cabinet doors. So why is there so much hype surrounding this feature? We'll discuss the pros and cons of a kitchen cabinet with glass doors and why this may be the perfect choice for you.
Pros:
There are many reasons why glass cabinet doors for your kitchen are a great idea.
Display possibilities
One of the first things that come to mind when people are considering glass kitchen cabinets is the opportunity to display their appealing kitchenware. Why hide beautiful kitchenware behind a solid cabinet door? If you've invested in high-end ceramics, cookware or glassware, this is the perfect chance to showcase the beauty of your delectable items.
This doesn't only apply to your cookware, you can store other decor items easily behind a kitchen cabinet glass door. If you're worried about unappealing items becoming visible, do not worry. You can always place such items strategically behind the fancier items to conceal them.
Versatility
Another benefit of glass for kitchen cabinet doors is that they're available in a variety of designs and glass types. You'll have a wide range of options to choose from that range from pebbles, seeded, textured, swirled, stained and many more.
This is your opportunity to make your kitchen glass cabinet doors uniquely yours. With so many options to choose from, you are destined to find one that fits your needs.
Increased light
Glass doors can reflect natural light, which creates a spectacular view and makes your kitchen look brighter. This natural reflection will swallow up any dark areas in your kitchen and brighten up the space.
Not only does natural light help to make the space look better, but studies also show that natural light can help improve your mood and increase productivity – all great reasons why you should consider a glass cabinet kitchen.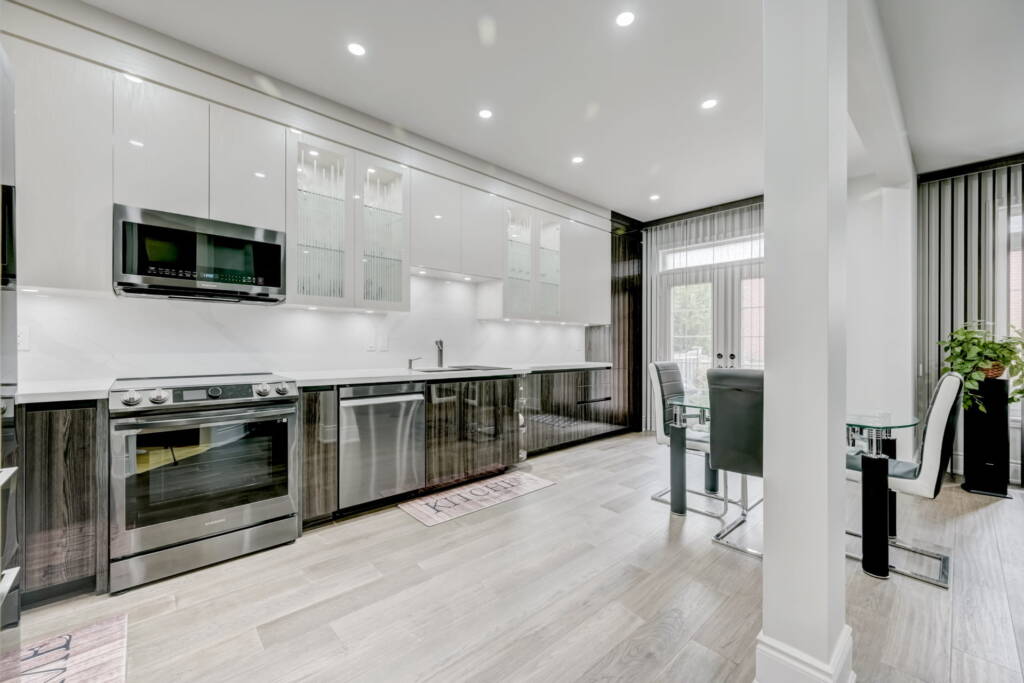 Protection
When you store your dishes or other items in your kitchen on open shelves, they tend to collect dust, oil and other dirt. Keeping your cookware in a closed cabinet is a smart decision. By storing your most valuable kitchenware in glass shelving, you protect them from stray particles. Save yourself from having to regularly wash or wipe off dust and dirt from items unnecessarily by storing them in a glass kitchen cabinet.
Increased interior design options
This speaks again to the versatility you have with glass cabinet doors. With them, you have the flexibility of installing a design to the interior of the cabinets that makes them even more appealing.
Consider the use of colour or material that stands out for a winning interior design. You can choose between traditional, modern or transitional styles.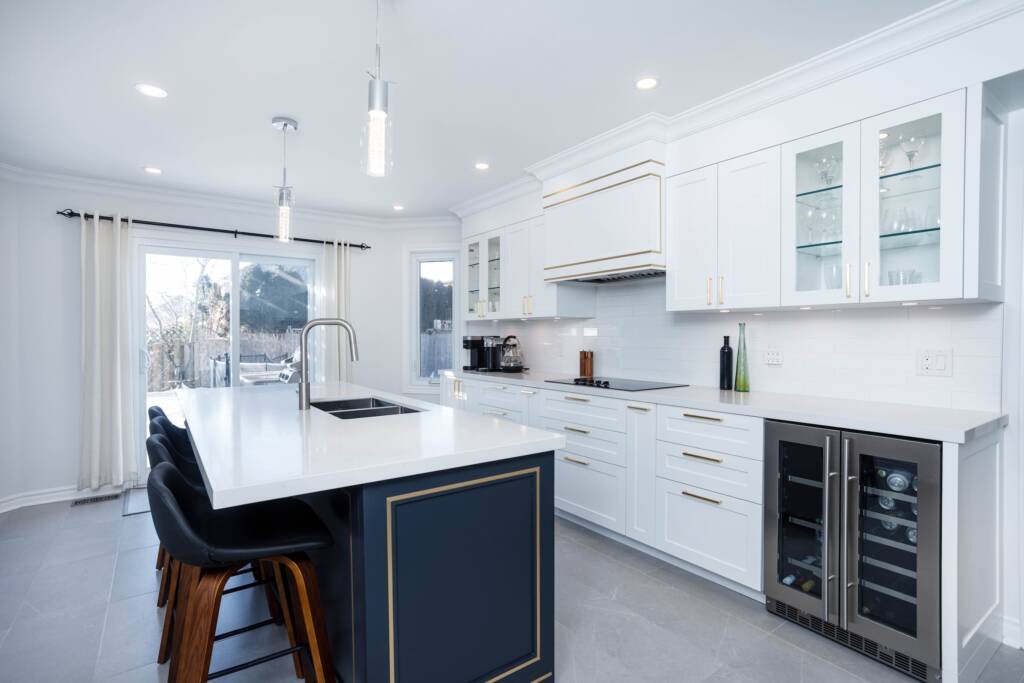 A feeling of spaciousness
One of the things that glass does exceptionally well is making a room look more open. Just by installing glass kitchen cabinet doors, your kitchen will look a lot bigger than it actually is.
You'll be amazed at the impact glass panels have. Solid cabinets have a way of making the room look closed off, which is terrible if you have a small kitchen.
Easy to clean
Many other types of material used for cabinets require special cleaning solutions, and careful attention must be taken when attempting to clean these types of cabinets. You won't have this problem with glass cabinet doors in your kitchen.
One of the easiest surfaces to clean is glass. All you need is an all-purpose glass cleaner to make your glass shine again. No fuss or hassle required!
Find objects easily
How many times have you found yourself opening multiple cupboard doors trying to locate a particular item? You won't have to worry about this with glass cabinet doors because you can see the contents of the cabinets right through the glass!
This makes your movement in the kitchen more seamless because you can easily spot the items you need quickly without having to open and shut the wrong cabinet doors.
Increased openness
Cabinet doors tend to have a heavy look and can make your kitchen seem closed off. This is not the case with glass cabinet doors. Given their ability to reflect light around the entire room, glass cabinet doors can be a game changer for your kitchen and make the entire room look and feel lighter and more open.
If you have a small kitchen, glass cabinets can do wonders by reflecting light and making the room seem much larger than it is.
Added luxury

There is something very luxurious and high-end about glass doors. It makes the entire space look more modern and intriguing. You can take your kitchen to the next level and make it look sophisticated simply by swapping out your solid cabinet doors for glass cabinet doors.
Experiment with various options and consider using frosted, stained or leaded glass. By selecting a unique style for your glass cabinet doors, you can take your kitchen from ordinary to extraordinary.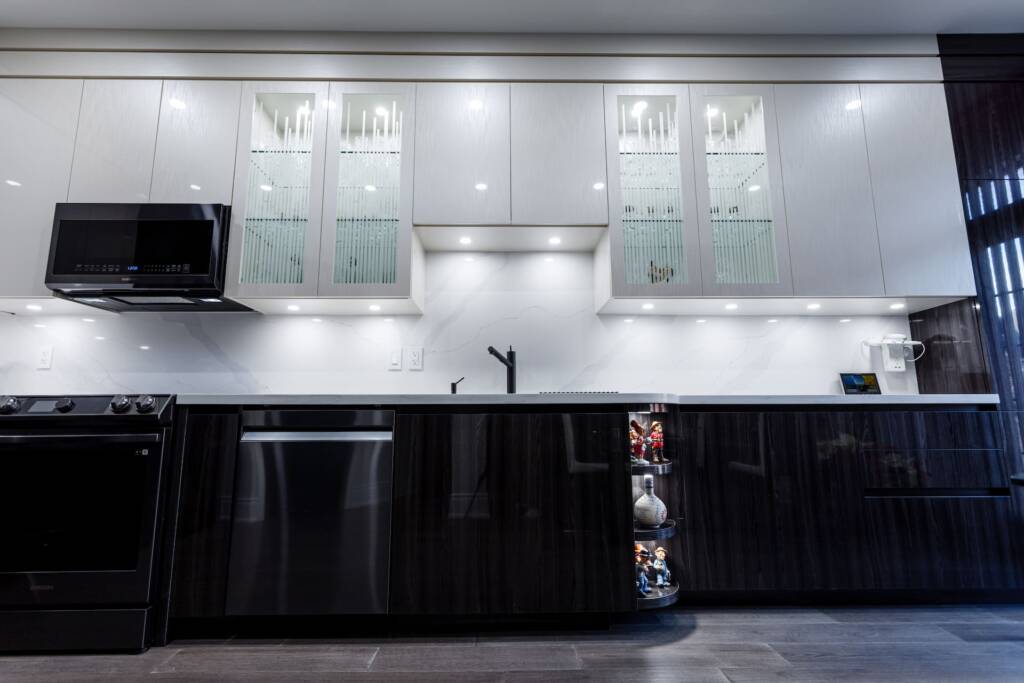 Break up the monotony
Solid cabinet doors can create a uniform look, however, one of the elements of modern homes is doing the unexpected, interjecting elements of spontaneity and breaking up monotony. If you're not sure whether you want to replace all of your solid cabinet doors with glass cabinet doors, think about replacing one or two, or form a pattern with every other cabinet door being glass.
This will give your kitchen a unique touch and give it additional appeal. Create an interesting look and flex your creativity muscles by exploring how best to incorporate glass cabinet doors. Have some fun with it!
Cons:
While there is so much to say about the wonderful reasons why glass cabinet doors are the future and give your kitchen a timeless look, there are some of the reasons why glass doors may not be the best choice for your home.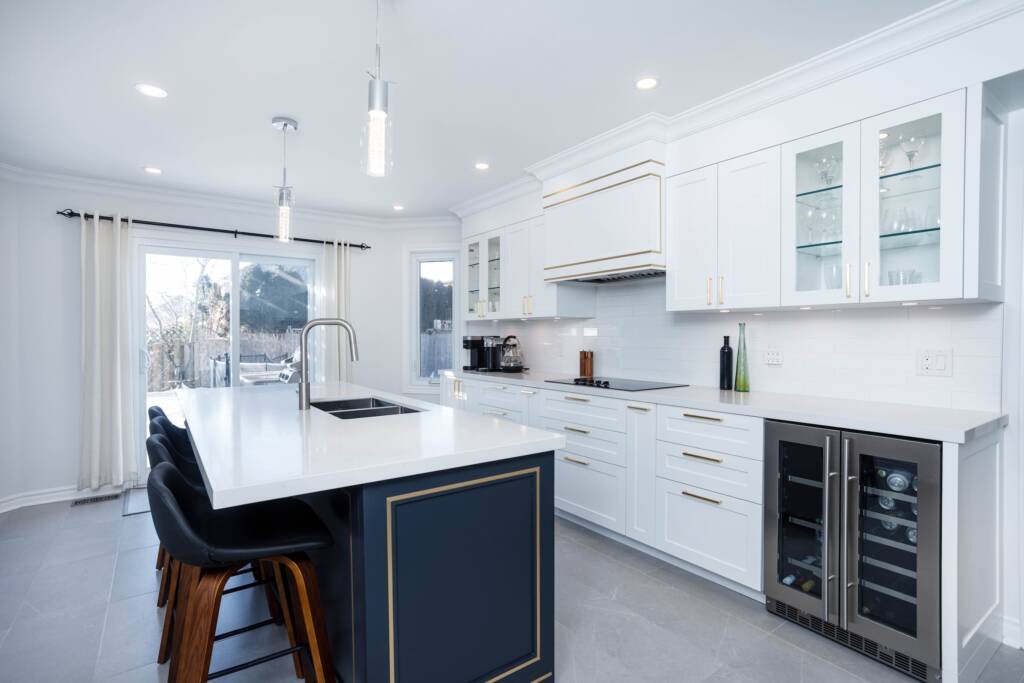 Tidiness required
If you have solid cabinet doors, you do not have to pay extra attention to how neatly items are stored in the cupboards because everything is hidden behind the solid door. However, you do not have this luxury with glass kitchen cabinet doors. Since everything is visible, you'll need to be extra vigilant in ensuring that your cabinets are neat and tidy at all times.
So if you struggle to keep things organized in your cabinets, you may want to either stick with solid cabinet doors or have a combination of solid cabinet doors and glass cabinet doors, keeping your most cluttered cabinets concealed behind a solid cabinet door.
Increased maintenance
While it is true that glass cabinet doors are easy to clean, glass can be very unforgiving. You'll have to clean them more regularly to keep them dirt and fingerprint-free.
Dust can easily create a film on the glass, making it unsightly. So it's critical that you make it a habit to clean your glass doors often to keep them looking pristine.
Elevated cost
Glass cabinets come at a higher cost than solid cabinet doors. This can be a huge deterrent if you have a tight budget or are looking for a more affordable option. All of the advantages that glass cabinet doors bring are reflected in the cost.
This is actually one of the leading reasons why many people are deterred from installing glass cabinet doors in their kitchens.
Fragility
Glass is a fragile material. While there are techniques used to manufacture high-quality glass that offer more durability, kitchen cabinets undergo a lot of handling each day that may include slamming or other rough behavior that can damage the glass. It's important to remember that class requires extra care. So if your household has a reputation of slamming cabinet doors or using more force than necessary to open and close cabinet doors, glass cabinet doors in your kitchen may not be the right choice for you and your home.
Contact Us
As we have explained, there are many reasons why glass cabinet windows may be an excellent choice for your kitchen. However, there are also reasons why you may want to stick with solid cabinet doors. Should you choose to replace your solid kitchen cabinets with glass door cabinets, Clearview Kitchens is the renovation expert you want to handle the job. We take great pride in our high standard of excellence and our reputation as the top choice in home renovations in the GTA.
Trust Clearview Kitchens for quick and reliable kitchen glass cabinet door installation. Reach out today to book your consultation.