Do you find your kitchen to be too dark and cluttered? Looking for a solution on how to make your kitchen look bigger? Condos and kitchens in older homes are often too small for today's modern appliances and conveniences. There are lots of easy and affordable ways to renovate and style your kitchen to increase visual space while improving functionality. By simply making some adjustments to how you use your space and integrating design elements that improve lighting and storage, you will quickly discover that you have more space than you think. So if you are ready to go bigger, let's look at some helpful hints on ways to make your small kitchen look bigger.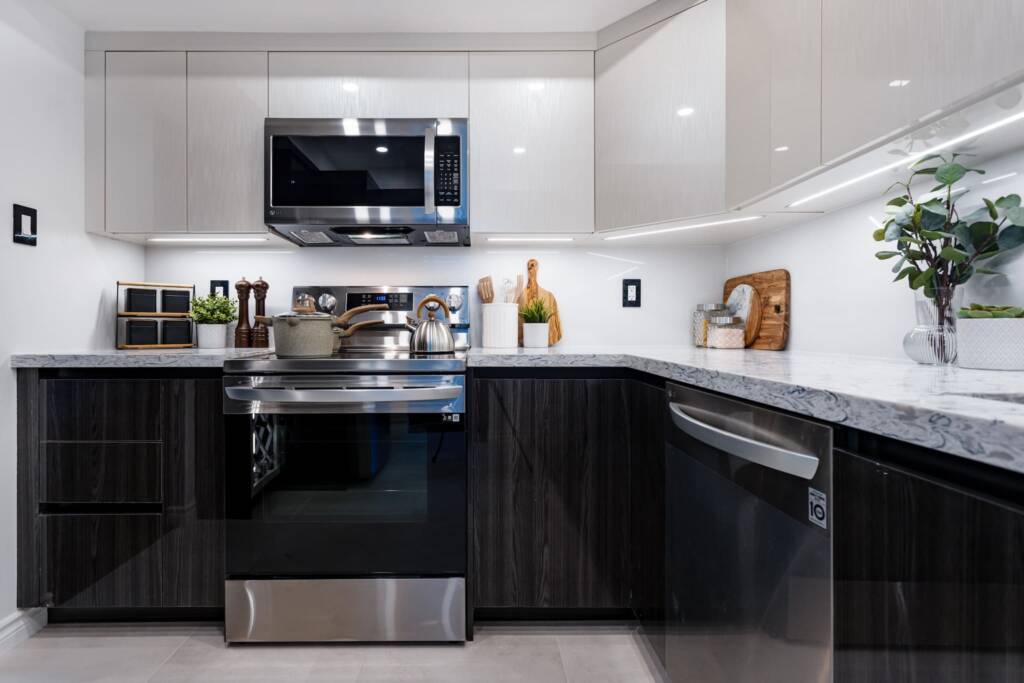 Use Colour
One of the easiest and best tricks to make a kitchen look bigger, or for any room, is the use of colour. Lighter colours give the feeling of more space and cleanliness. But this may leave you wondering, "what colour to paint a small kitchen to make it look bigger?". The answer is go with whites or creams if you want to create a more minimalist look. A light sage green or soft grey is also a great choice if you want to make a statement or if you want to give the feeling of a more rustic kitchen. Still can't decide? It's always best to stick with neutrals that match with just about any home decor and instantly give the feeling of more space.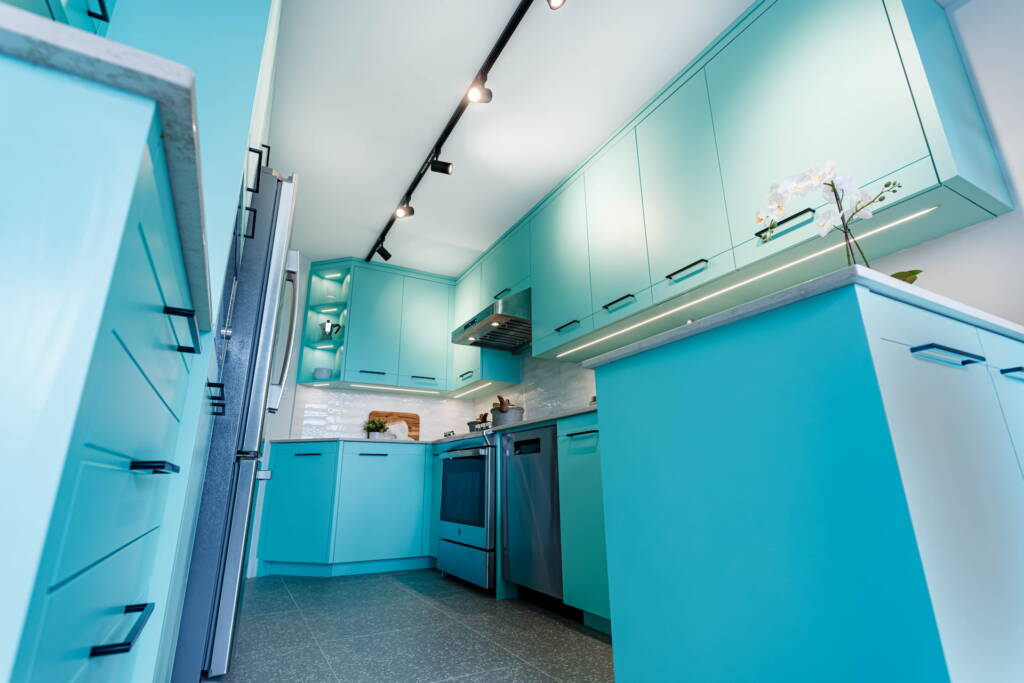 Add Geometric Patterns

Another great solution for how to make a kitchen look bigger is the use of geometric patterns. This can add depth and trick the eye into thinking there is more space. This could be an accent wall with a geometric wallpaper or the use of subway tiles on your backsplash to lengthen the look of a wall. Your kitchen contractor will be able to offer a variety of unique design suggestions that effectively integrate patterns into your kitchen.
Use See-Through Elements

Remodelling a small kitchen to look bigger starts with choosing the right architectural features. Using see through elements such as clean cupboards or glass walls is an excellent way to keep the kitchen looking open and spacious. Clean furniture such as acrylic chairs and glass tables will also elongate the look of your kitchen.
Add Mirrors

Making a small kitchen look bigger can be achieved with the use of mirrors. Mirrors give the illusion of a grander space. Think of the palaces of Europe that would use mirrors in ballrooms to create the illusion of grandeur and size. You can apply these tricks to even the smallest kitchens. A mirrored wall or backsplash can add depth to a room as well as reflect light to give a feeling of more space.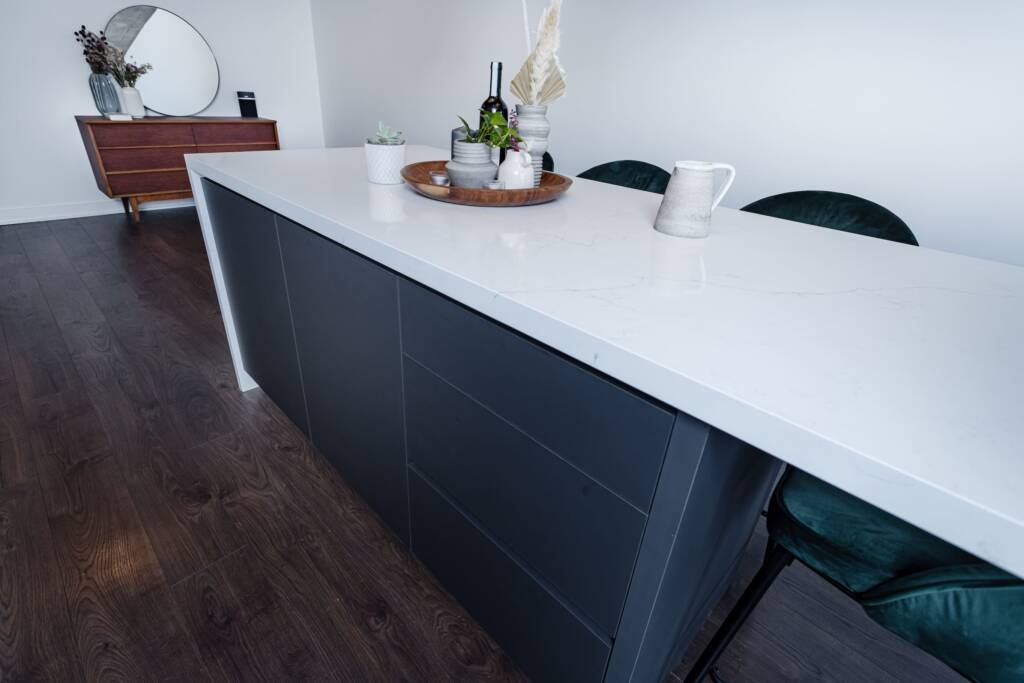 Choose Reflective Surfaces
Just like with mirrors, reflective surfaces can create the illusion of space and improve lighting. Choose materials that will have the most impact including high shine floors, glossy paint, stainless steel, and glass surfaces.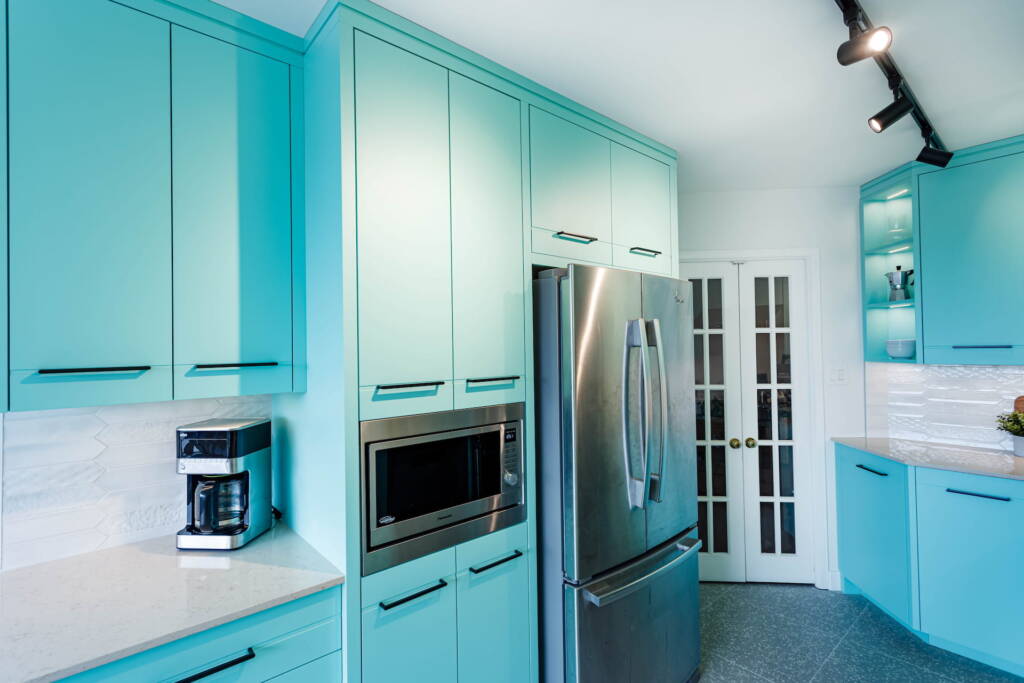 Opt for Open Shelving

Similar to glass cabinets, open shelving can make a kitchen look bigger by opening up the space in your kitchen. Remove the doors from your existing cabinets or switch to floating shelves to open up wall space and create more wall space in your kitchen. Remember if you are going to have open shelving then you will have to keep them neatly stacked. Choosing a single china pattern or a neutral color for your plates will keep your walls looking fresh and open.
Get Rid of Clutter
Whether you choose to go with open cabinets or not, it's still time to get rid of that old coffee cup from college. This leads to the next tip for making a small kitchen look bigger – getting rid of clutter. Start by emptying your cupboards. Get rid of excess or miss-matched dishes and cups. Toss anything that is chipped or cracked. This will quickly give you more space on your shelves and counters.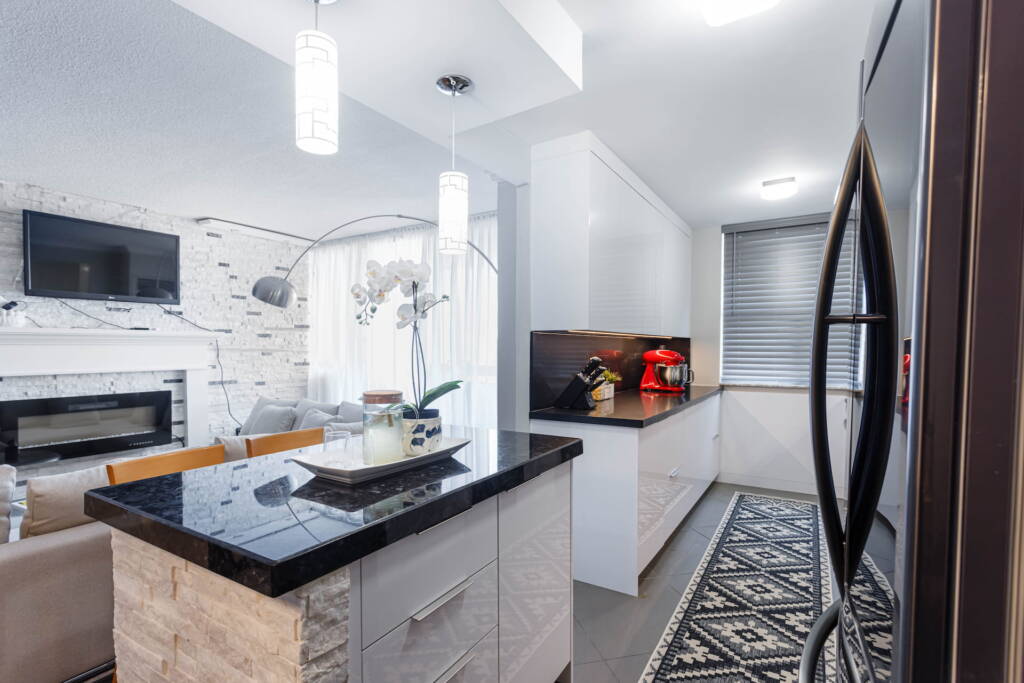 Choose Slimmer Cabinets
Older homes often have bulky cabinets that can reduce the size of your kitchen. Choose sleek and slimline cabinets that improve space usage and storage. Take advantage of gaps between cabinets for things like a sliding pantry for even more storage space. Don't forget to use your kitchen island for extra storage space too. Even a small island can house slim cabinets for things like pot lids or spices.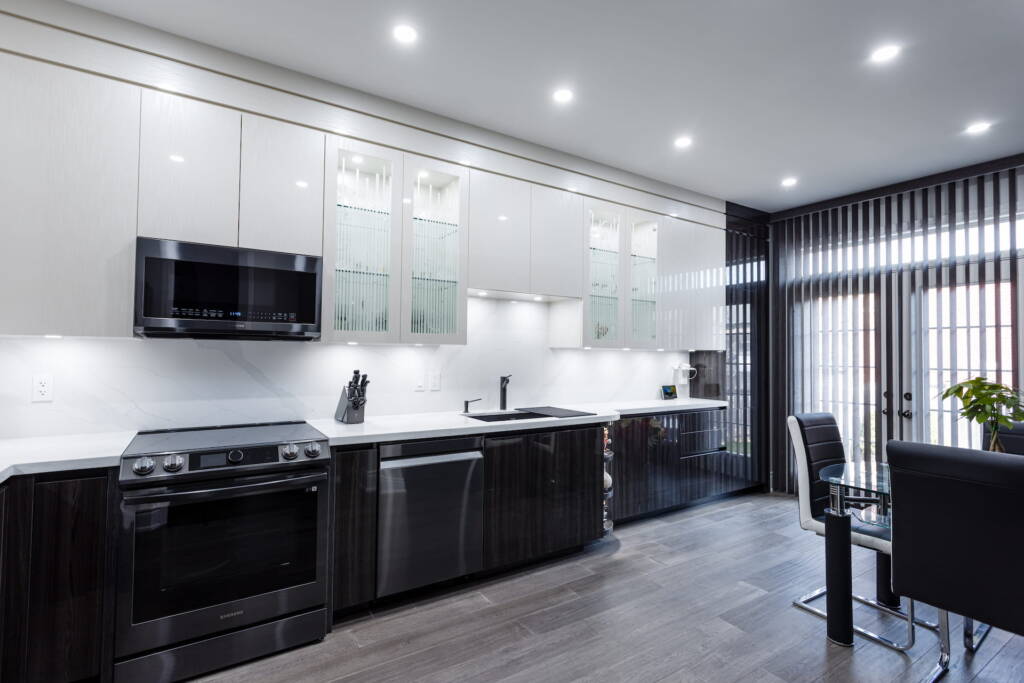 Stick to Clean Lines

One of the best tips for how to make a small kitchen look bigger is to use clean lines. Switch to push cabinets rather than using heavy hardware. This is particularly effective in galley kitchens or bachelor apartments.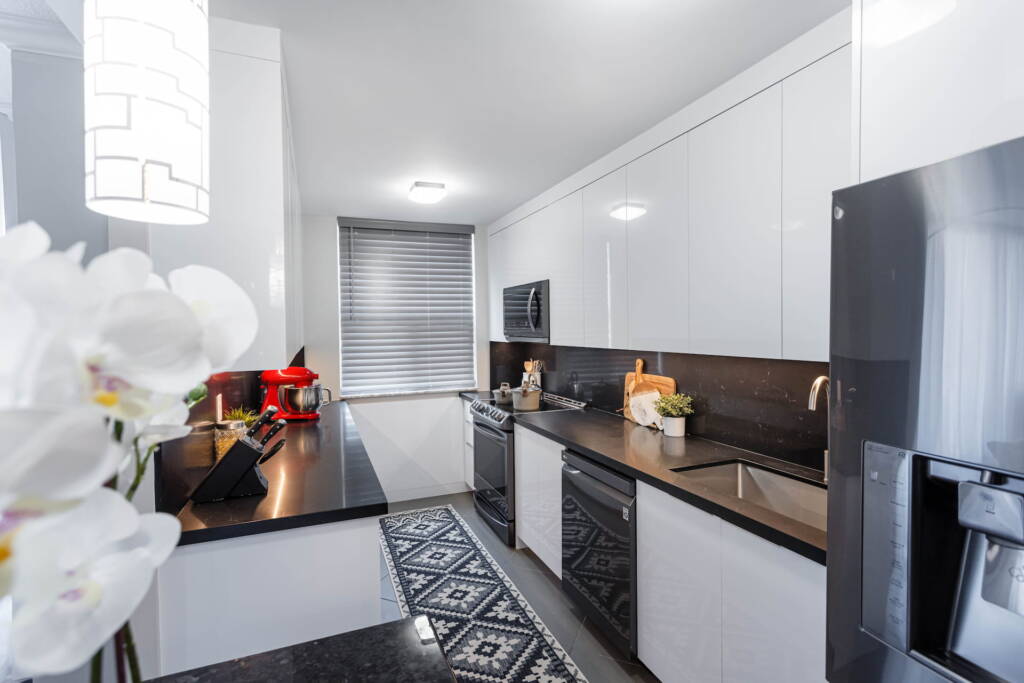 Opt for a Single Sink
Most homes contain a dishwasher so there is no need for two sinks in most kitchens anymore. Choose an elegant single sink to increase counter space. A tall swan neck style faucet can also add height to your kitchen and give your sink a sleek elegant look.
Choose a Compact Dishwasher
No one likes to do the dishes so choose a compact or countertop dishwasher to maximize floor space. Dishwashers can easily be built into existing cabinets and connected to your kitchen's plumbing without having to renovate your entire kitchen space.
Pick a Slimline Fridge
Love to eat out? Then switch to a slimline fridge. This will allow you to keep your food essentials fresh and cold, without the unnecessary bulk of a full-sized fridge. Always make sure to measure the space between the floor and cabinets around the fridge to make sure you get one that fits perfectly in your small space.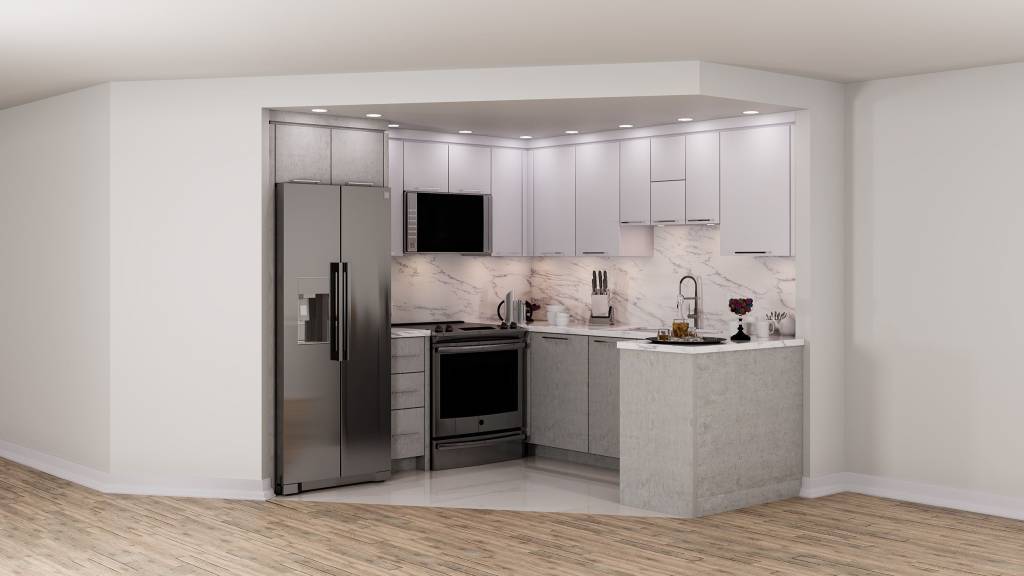 Choose Integrated Appliances
Integrated or built-in appliances such as dishwashers and ovens are great solutions how to make the kitchen look bigger. You get to keep extra floor space and improve functionality in your kitchen too.
Use Cabinet Lighting
A dark kitchen can seem small and uninviting. Interior and under-cabinet lighting can brighten your space and make it look bigger. Simple strip lighting can be installed under cabinets and turned on with the push of a button. This will give you beautiful lighting where you need it most and keep your kitchen looking bright and inviting.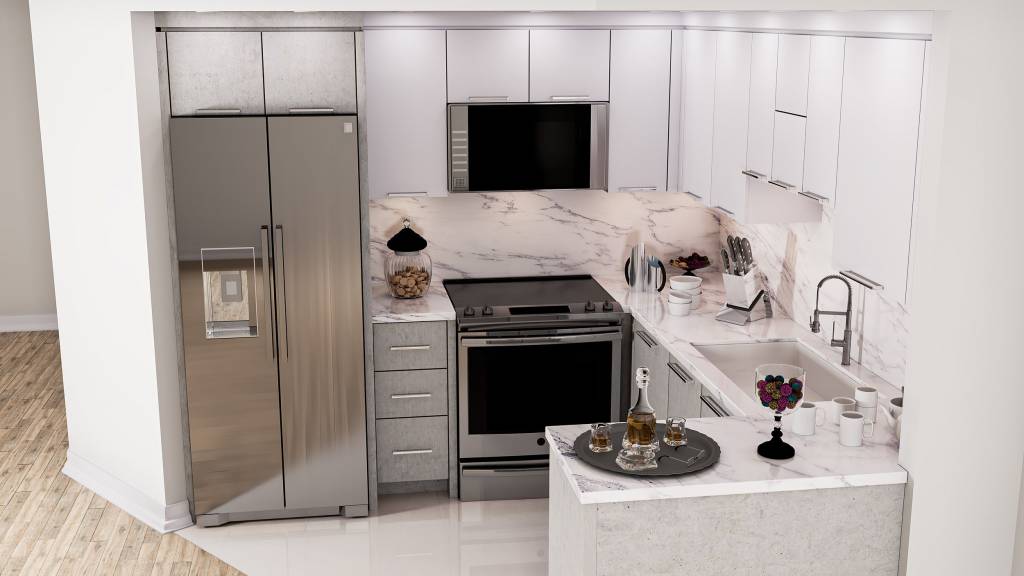 Use Cabinet Lighting
A dark kitchen can seem small and uninviting. Interior and under-cabinet lighting can brighten your space and make it look bigger. Simple strip lighting can be installed under cabinets and turned on with the push of a button. This will give you beautiful lighting where you need it most and keep your kitchen looking bright and inviting.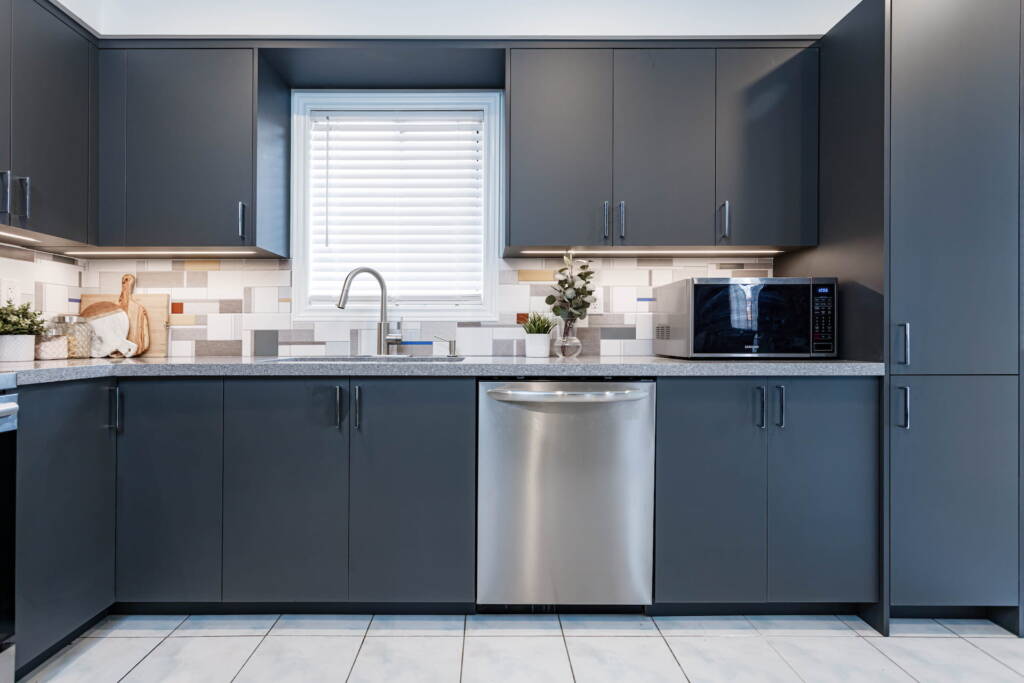 Guide the Eyes Upwards
Unique lighting features or the use of lines can guide the eyes upwards and make a room seem higher. Avoid large chandeliers or drop lighting if you have low ceilings. Choose recessed or pot lighting instead which will beautifully and subtly illuminate your room.
Let the Sunshine in
Take advantage of sunlight. Think about adding a window to your kitchen if it is on an exterior wall. Get rid of old bulky blinds and allow natural sunlight to flow through. A glass wall between your kitchen and outdoor living space is a great way to bring the outdoors indoors and make entertaining fun.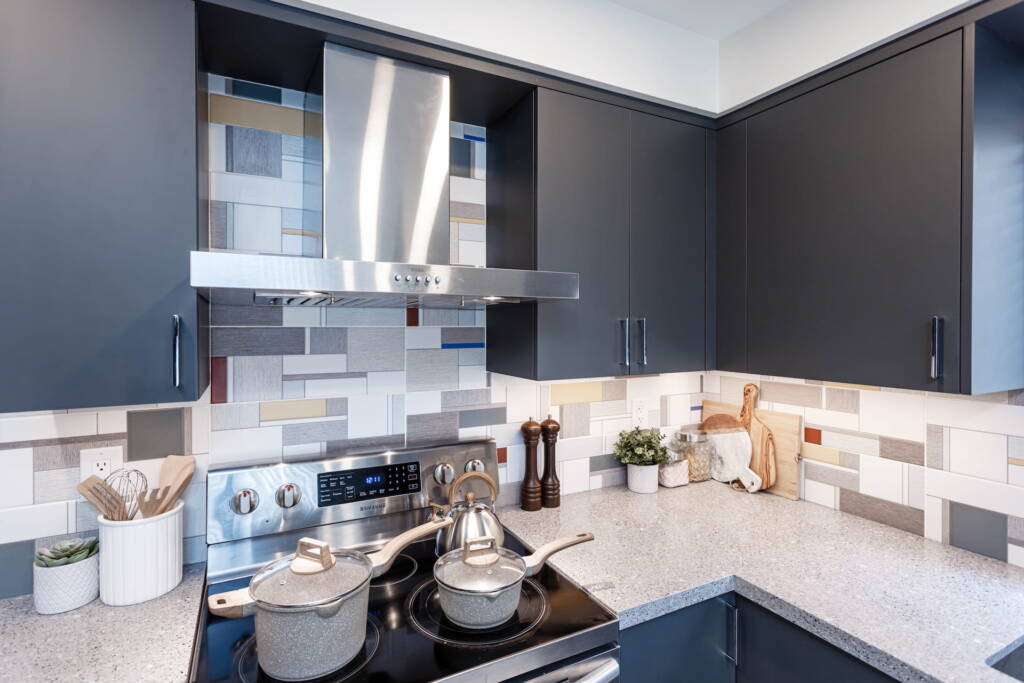 Use a Horizontal Stripe
Horizontal stripes can create length and make a room feel taller. This can be achieved with paint or wallpaper. Choose designs with thin stripes which still give the feeling of height without adding bulk or weight to your walls.
Consolidate your Workspace
Create designated spots for your kitchen appliances such as a coffee bar. An appliance garage lets you store small kitchen appliances like blenders, mixers, and toasters with easy access when you need them. For people who work at home, consider integrating a small office space into your kitchen such as a fold-down desk or table that can be hidden when it's time to cook or entertain.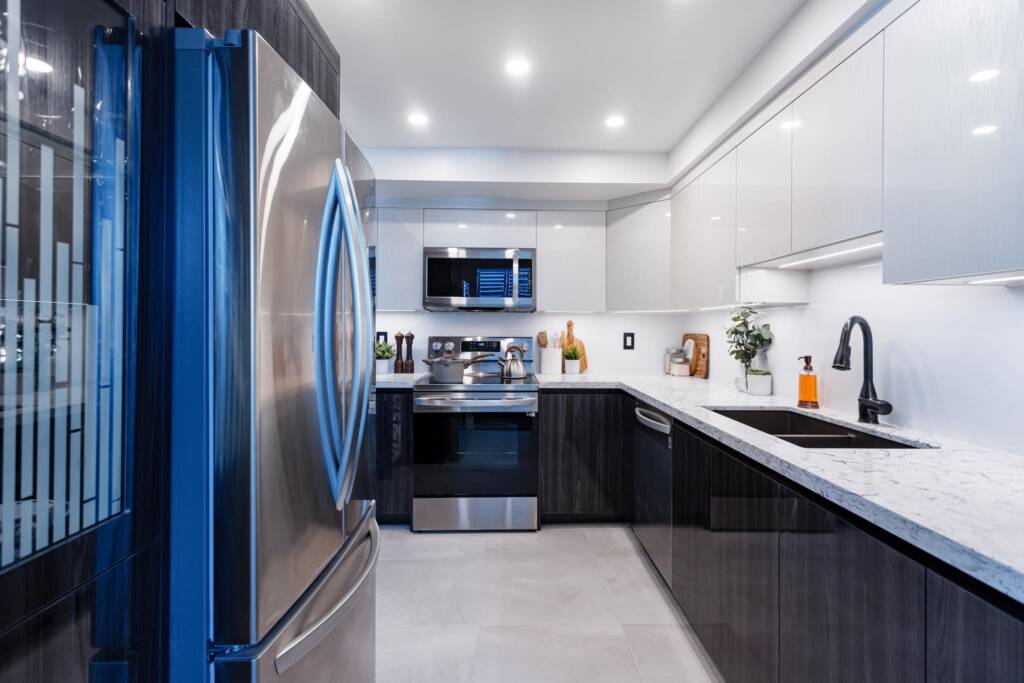 Keep the Personal Touches Small
A few moments or holiday snaps look great on the fridge but don't let them overwhelm your space. A few simple touches that tell your story are a great addition to your kitchen without creating more clutter. Save larger paintings and portraits for more intimate areas of your home. Don't let your kitchen become a catch-all for your family's personal items.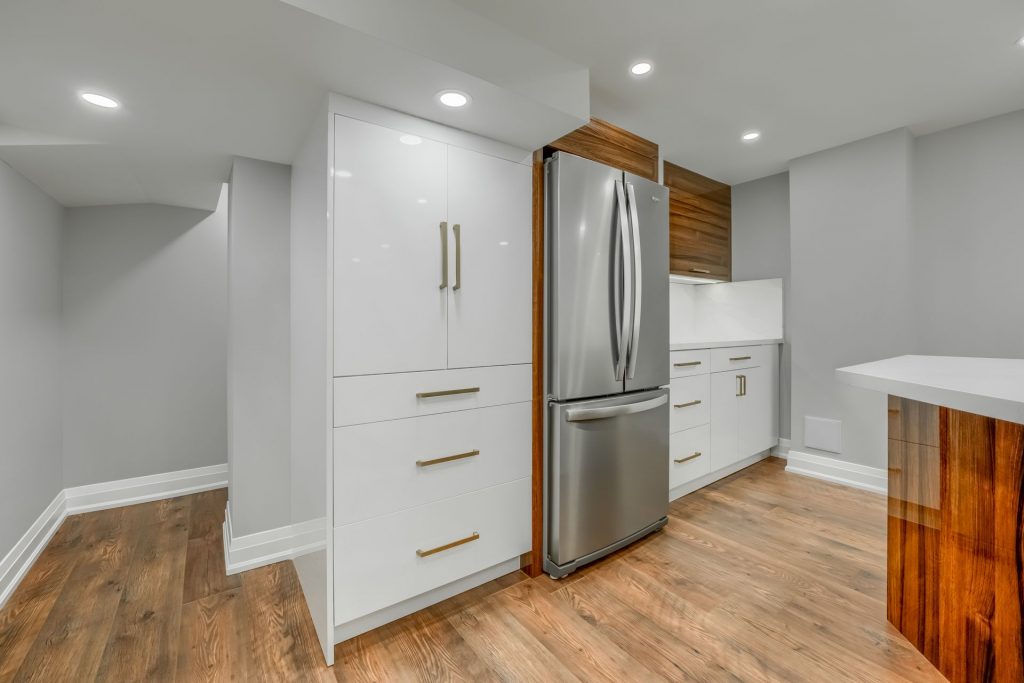 Make My Kitchen Look Bigger
How do you make a small kitchen look bigger? These tips should help you stylishly redefine your kitchen space and improve functionality. The kitchen design experts at Clearview Kitchens can help you make your kitchen look bigger with fast and friendly solutions you will love.
Call us today to learn more about our custom kitchen options.