Have you ever wondered how to design a kitchen? Designing a kitchen layout isn't as simple as you might think! The kitchen is the focal point of many homes so you want it to be functional and look amazing. That's why it's essential to carefully consider your design choices before you commit to buying any cabinetry or fixtures. In this blog, we'll offer some useful tips for any homeowner considering a kitchen renovation so you'll get a dream kitchen that meets all of your family's needs while increasing the overall value of your home.
1. Design Wide Walkways
Before you start designing your kitchen layout, think about walkways. As an industry-standard, professional kitchen designers will recommend that any pathways within your cooking zone should be approximately 40 inches wide, while every other walkway should be about 35 inches. Following these guidelines will ensure there's enough room between your kitchen island and cabinetry so you can comfortably move between the cooktop, the fridge and the sink.
2. Direct Traffic Through The Kitchen
If you want to design your kitchen, think about the placement of large appliances, including your fridge. You will want it to be easily accessible for people coming through for a snack as well as for the chef making dinner! Also, consider the cooktop placement. Try to keep this out of high-traffic areas where kids might run by to accidentally knock something over. Remember that a well-designed kitchen is also a safe kitchen.
3. Stay Clear Of Corners
When designing your kitchen, think about the placement of your appliances and cabinetry. As a golden rule, you should never plan to install appliances in the corners. When it comes to cabinets, think about the direction they'll swing outwards so they don't block or bang into each other. There's nothing more annoying than having two cabinet doors that hit each other when you need to open them at the same time.
4. Right Microwave Height
It may not be the most glamorous appliance in your kitchen, but it's an important one, and determining the most desirable height of your microwave all depends on who's going to be using it. A general rule for adult users is to place it approximately 15 inches above the counter. However, if you expect your kids to be using the microwave regularly, there are other options you can explore including setups below the countertop. This is a popular feature seen in many condominium kitchen designs.
5. Determine The Island's Function
You can pick out the prettiest kitchen island but you'll end up regretting your decision if you don't find it useful. When designing a kitchen floor plan, decide how you will use the island. Think about whether it's going to be used for food prep, dining or both. This will ensure you have enough space for all planned activities. You can also install appliances and amenities within your kitchen islands such as a dishwasher, cooktop or sink. Your kitchen island can also be equipped with lots of electrical outlets and act as a charging station, but more on that later!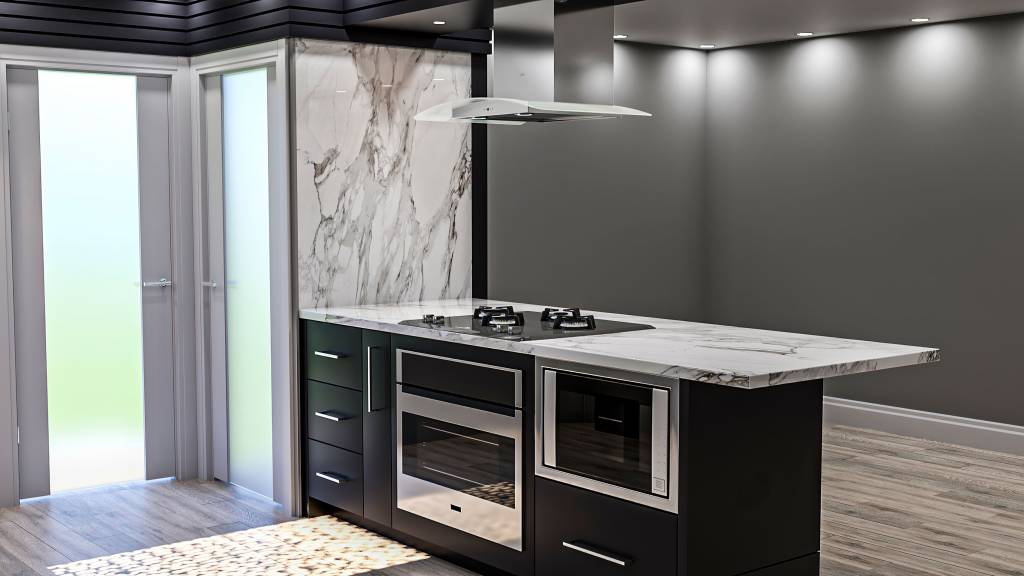 6. Plan Landing Space Near Appliances
Many people don't think about landing space when designing a kitchen, but it's essential. Landing space is what you use to set down items while preparing or cooking meals. If you neglect to think about the landing space, cooking will be a huge hassle and it'll be hard to avoid making a mess. Make sure to leave yourself at least 15 inches of countertop on either side of a refrigerator or cooktop. Also, plan for landing space near your smaller appliances including coffee makers, toasters and microwaves.
7. Consider The Countertops
You might think countertop planning is easy, but there are several factors to consider and every family is different so think carefully about how you prepare your meals. For example, if you're an avid home chef who cooks many meals each week, you may want a lot of extra counter space between the sink and the stove. Also, are you thinking about cooking alongside your kids? Consider having two heights of countertop to make it easier for your shorter family members to take part in the fun.
8. Double Up Kitchen Appliances
Is it time to double-down on some appliances to make your kitchen more efficient for your big family? In some homes, extra-large families might want two of certain appliances to accommodate those extra mouths to feed. If you decide to add a second microwave or refrigerator, you'll need to plan your kitchen accordingly because it's incredibly difficult to make space after the fact. This is especially important for electrical outlets. Consult an electrician to ensure that your kitchen can handle the extra wattage required for a kitchen floor plan with two fridges or two stoves.
9. Arrange The Stove Area
This is the so-called driver's seat of your kitchen and cooking experience so it has to be perfect. Around the stove area, design spaces to keep your most-used cooking utensils and tools near the cooktop. Installing hooks on the side of the range hood can be handy for storing your favourite pots and pans. Think about adding a nearby shelf for your spices and cooking oils.
10. Consider A Pot Filler
This is one of the trendiest kitchen design features available right now. Instead of filling up your pasta pots at the sink and precariously carrying them across the kitchen, you can get a tap that swings out over your cooktop! Fill the pot as it sits on the burner, saving you lots of time and hassle. This feature needs to be considered early in the design process so a plumber can make the necessary changes.
11. Storing Knives
Ideally, you will want all of your knives placed right where you do all of your food prep. Traditionally, people have knives sitting in a wooden block on the countertop or sitting in a drawer, but the more modern and safer way to store them is using a magnetic strip installed on the backsplash. This keeps them out of kids' hands and makes it very easy to spot the exact knife you need. And if you own a fancy set of knives, it's a great way to display these gorgeous cooking tools.
12. Recycling and Garbage
Consider where you'll stash your garbage, recycling and compost. Ideally, you'll want this somewhere easy to access during the food prep process. Add special sorting bins for glass and plastic or even a special space for old newspapers that you can repurpose into compost liners. You can even add a special receptacle in your countertop for food scraps with a removable metal liner that's easy to pick up, dump, wash and replace for the next meal.
13. Electrical Outlets
If you had an older kitchen before the renovation, now is the perfect time to add as many electrical outlets as you desire. Put outlets where your smaller appliances will sit on the counter. We are talking about toasters, coffeemakers, blenders and stand mixers. You'll want to put most of the outlets throughout your backsplash as well as on the side of your kitchen island. You can even add electrical outlets inside of some drawers with USB outlets for a very cool hidden charging station for all of your devices. You will not regret adding USB outlets to your kitchen drawer design plans.
14. Use Light Colours In A Small Kitchen
Dark colours can look sharp, but if you have a small kitchen you'll want to strongly consider opting for lighter colours instead. This kind of pallet will make your kitchen look bigger and give it a very inviting appearance. Another way to make your kitchen look bigger is to use soft shades on your cabinetry. On your windows, you should use translucent shades or blinds to let in lots of natural light without sacrificing your privacy.
15. Establish A Focal Point
Practicality is important, but it's not the only part of kitchen design. It's also important to have fun and make a statement. Our expert designers will always tell you to choose a focal point for your new kitchen. It could be countertops with an exciting pattern, a luxurious backsplash, elegant flooring or an impressive-looking range hood. Ideally, this feature is your "statement piece" that you use to build out the rest of your kitchen's aesthetic. While it's okay to add a few additional flashy details, you don't want to overdo it.
Ready to Design Your Dream Kitchen?
Are you ready to design and build your dream kitchen? Whether it's for your family to enjoy for years to come, or you are just getting ready to sell and want to maximize your return on the sale, our kitchen design experts are here to help. We use 2-D and 3-D modelling to plan every intricate detail of your kitchen to ensure we get everything perfect. Our fully licensed and insured contractors will consult you every step of the way to get the project done on time and within budget so you can start enjoying your new kitchen as soon as possible! Contact us today for a free design consultation.